June 21-28, 2006
home | metro santa cruz index | santa cruz county restaurants | review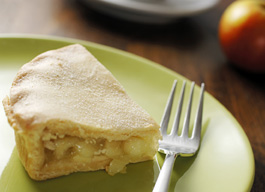 Life of Pie: The search for the perfect slice could lead to your kitchen.
In Search of the Perfect Slice
The quest for the best pie on the Central Coast
By Anina Marcus
This summer would be different. I knew it was time to learn how to bake a pie. My favorite cooking magazines were outdoing each other for the most glamorous pie photos, each new cover boasting the plumpest, juiciest and shiniest fruits. "Go ahead," they were saying. "Make your humble pie, just like your gramma did."
But as I soon as began my lessons, I began to suspect that the finer points of crust making might be beyond my abilities. Opening the book The Complete Book of Pastry Sweet and Savory (purchased for a buck at a garage sale), the recipe for basic pie crust was 15 pages long. I learned the two things a crust loves more than anything else: (1) to stay cool and (2) to hardly be touched. I could feel my resolve crumbling like the delicious crust of my dream pies. My palms already sweaty, eyes blurry, hungry for pie, I closed the book. Best to leave the grunt work to the professionals, I decided.
In that spirit, here are my recommendations for some of the best slices of pie on the Central Coast.
Voted "an American classic" by the James Beard Foundation, Duarte's Tavern in Pescadero is a three-hour round trip. In 1894 it served as the town saloon. Now, it's a full-service restaurant with soda fountain charm. The pies are sensational. They make apple, strawberry/rhubarb and extra-juicy olallieberry. Some berries are left whole and the crust melts in your mouth. You can even buy pies partially baked and finish them off at home in your own oven.
Sweet Elena's Bakery/Cafe in Sand City has strawberry/rhubarb and other seasonal varieties. Decorated with stars and stripes and glistening with turbinado sugar, the pies are not only beautiful but the crust is flaky, buttery and light. Call ahead for seasonal specialties.
Carpo's restaurant, with two locations in Soquel and Santa Cruz, is a local favorite that serves high-as-the-sky pies. The flavor of the olallieberry is great and it's almost jamlike in its texture with small seeds still visible. The edges can be broken off and eaten like a shortbread cookie but the bottom is easily cut. If you like your pies supersized, Carpo's is the place to go.
And for those of you who still insist on giving it the old college try and making your own pies this summer, here's my recipe for a simple and delicious crust.
INGREDIENTS:
4 tbsp. unsalted butter
5 tbsp. shortening
3/4 cup cake flour 3/4 cup all-purpose flour
1 tsp. sugar
1/2 tsp. salt
1/8 tsp. baking powder
1 egg yolk
2 tsp. white vinegar
1/2 cup ice water
DIRECTIONS:
1) Measure butter and shortening onto a plate; put into freezer for about 20 minutes.
2) Mix flour, sugar, salt and baking powder.
3) Take half of the cold butter and half of the cold shortening. Mix quickly with dry ingredients for about one minute.
4) Take the remainder of the cold butter and shortening and cut into pea-size chunks. Cut this into above mixture.
5) In a measuring cup, mix egg yolk and vinegar together, then add ice water.
6) Sprinkle approximately 4 to 5 tablespoons of the egg yolk, vinegar and ice water mixture into the flour/shortening, just until you have flour-coated particles that hold together. Don't overmix.
7) Place this dough into plastic wrap or plastic bag; chill for 30 minutes (May be chilled overnight or up to three days. May also be frozen for a few weeks at this stage for future use.)
8) Remove from fridge and roll out. Double the recipe for two-crust pie.
---
Duarte's Tavern
Address: 202 Stage Road, Pescadero
Phone: 650.879.0464
Hours: 7am-9pm
WHOLE PIES: $20 SLICE: $5.50
---
Sweet Elena's
Address: 465D Olympia Ave., Sand City
Phone: 831.393.2063
Hours: 7:30am-3:30pm Mon-Fri, 9am-3pm Sat, closed Sun
WHOLE PIES: $13-$18 SLICE: $3.50
---
Carpo's Restaurant
Address: 2400 Porter St., Soquel, and 2018 Mission St., Santa Cruz
Phone: 831.476.6260; 831.427.1800
Hours: 11am-9pm
WHOLE PIES: $18.90 SLICE: $2.95
Send a letter to the editor about this story.