July 5-12, 2006
home | the papers | metro santa cruz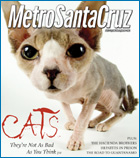 Cover: Other People's Cats
How essayist Art O'Sullivan fell for the felines next door.

News: Denice Denton
The Mourning After: Campus and community remember the UCSC Chancellor.
Nūz: Santa Cruz News and Politics
The city unveils new police surveillance rules.
News: The Real Hep C Crisis
A mix of high-risk conditions and denial by officials is leaving California prisons ravaged by outbreak.

Movie Review: 'Pirates of the Caribbean: Dead Man's Chest'
Because all pirate movies should be rated 'Arrrr!'
Movie Review: 'The Road to Guantanamo'
Michael Winterbottom's new docudrama is cinematically slapdash but politically important.

MORE MOVIE REVIEWS

SANTA CRUZ COUNTY MOVIE TIMES

Mūz: Santa Cruz Media, Music and Arts
Musings on media, music and the arts in Santa Cruz and beyond. Patrick McGoohan plays the drums, Dale Ockerman throws a party and the White Album Ensemble schedule a free gig.
Music and Nightlife Calendar Picks
Our critics pick this week's most interesting gigs: Meltone, Reverend Horton Heat, Family Stone Experience, Junior Reid, Morningwood, Vaughn Benjamin, Ray Vega, Diane Schuur, Trailer Park Rangrs, Son de Madera.

MORE MUSIC AND NIGHTLIFE

MUSIC AND CLUBS LISTINGS

Dining: Buttery
With the addition of a new corner café, the Buttery gets bigger and better.

BOOK A RESTAURANT RESERVATION

FIND A RESTAURANT REVIEW

Arts Preview: The Hacienda Brothers
The brothers and the legendary Dan Penn talk about the country soul thang.
Letters to the Editor
July 5-12, 2006.