July 12-19, 2006
home | metro santa cruz index | the arts | preview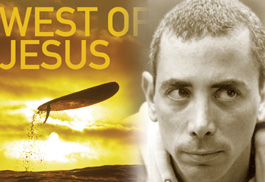 Welcome Back, Kotler: Lyme disease ravaged the author, but the the lure and lore of surfing brought him back.
Wave Theory
Surfing and neuroscience come together in 'West of Jesus,' Steven Kotler's entertaining search for the origins of 'the Conductor' legend
By Rick Kleffel
Steven Kotler was not a well man when he embarked upon his search for a mythical surfer called "the Conductor." His journey from staring at dust on his kitchen floor to riding the waves in Mexico, New Zealand and beyond is recounted in West of Jesus: Surfing, Science and the Origins of Belief (Bloomsbury; 262 pages; $23.95 cloth), a comedic and quixotic quest that slides from surf theory to neuroscience with the ease of a Santa Cruz surfer shooting the tube.
For all the wild adventures on waves around the world--and for all the wilder science that tries to explain why surfing can be so life-changing--it's Kotler's skill as a writer that shines as bright as the sunsets on those isolated, exotic beaches. He's serious about the sport and the science, but not about himself. As a result, West of Jesus is a grippingly funny vision of surfing and belief.
A writer for GQ, Wired, Discover and Outside, Kotler contracted Lyme disease and ended up spending years making lists to remind him that, among other things, "the dog is that furry thing sitting at your feet." He also lost the perfect girl and the perfect job, the disease leaving him so exhausted that he found himself lying on the kitchen floor, staring at the dust.
Though he'd never been a great surfer, he finally decided to travel to Costa Azul for a surf vacation. One moment, he was the living embodiment of "the unspoken dictum in surfing which states 'the best surfer in the water is the one having the most fun.'" The next, he almost drowned.
"That was just the Conductor, having his way with you," one of his companions remarked. The young Australian went on to tell him about an epic surf quest to meet a man who conducts the waves with a baton made from human bones. It was the beginning of Kotler's quest as well.
The best thing about West of Jesus is that you don't need to know or even care about surfing or neuroscience to enjoy Kotler's journey.
"I spent a real long time when I was starting out diagramming--which is a fancy way of saying almost copying--jokes by guys like Tim Cahill and Woody Allen and Douglas Adams to learn comedy structure," says Kotler of his eclectic influences.
Kotler is no stranger to Santa Cruz. "I've surfed Cowell's, Steamer's, Three Mile and Pleasure Point," he tells Metro Santa Cruz. "My first board was an 8-foot-8 Santa Cruz Fiberglass--without that you'd never have been reading my book. Plus, the damn thing is nearly indestructible. It's been almost 13 years and it's still the board I teach people to surf on."
In fact, Santa Cruz surf legend Robert "Wingnut" Weaver also finds his way into Kotler's story. "Wingnut's this great, legendary surf character," Kotler said. "I got to spend a day with him and Dana Brown surfing at Ranch--which is itself one of the sport's great legendary spots. It was just a perfect confluence of the mythic and the real, which is a bit of what this book's about."
Kotler says his book helps explain "the biology of our surf obsession, what happens in the brain while riding a wave, and why that experience is similar to so-called 'spiritual experiences.'" His search for the origins of the Conductor legend took him around the globe and left him at the intersection of science and spirituality. In West of Jesus, he makes readers want to laugh and surf their way through life--an epic feat for an unwell man.
Steven Kotler will read from and sign copies of 'West of Jesus' Thursday, July 13, at 7:30pm at Capitola Book Caf&aecute;, 1475 41st Ave., Capitola; 831.362.4415.
Send a letter to the editor about this story.