July 19-26, 2006
home | metro santa cruz index | the arts | stage | preview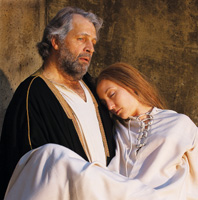 Photograph by Steve DiBartolomeo
Darkness Visible: Lawrence Hecht and Mary McCool in Shakespeare Santa Cruz's 'King Lear.'
Six Weeks of Transcendence
Previewing Shakespeare Santa Cruz's 25th anniversary season
By Joyce D. Mann
The transforming power of art and imagination is the theme of the 25th season of Shakespeare Santa Cruz. Artistic director Paul Whitworth is following through on that theme with a skillful selection of plays. The season opens Wednesday, July 19, with Shakespeare's As You Like It, continues with George Bernard Shaw's Pygmalion and concludes with Shakespeare's King Lear. The Fringe performance of Nahum Tate's Fools in the Forest is icing on the cake.
Each year, Whitworth scours the continent to bring together the best in professional theater talent. This year, he has assembled a superlative group of actors, directors, musicians, costumers, set designers and more. Their energy and enthusiasm is inspiring.
As You Like It reminds us how, when civilization goes wrong, people try to escape from their environment. Cousins Rosalind and Celia, accompanied by the clown Touchstone, escape the enmity between their fathers by fleeing to the Forest of Arden. There they encounter other refugees from the city, as well as bewildered native shepherds. They also find love and reconciliation. Kate Eastwood as Rosalind and Cody Nickell as Orlando make an engaging couple, and the Festival Glen is the perfect setting for them to play out their ageless love story. Newcomer to the festival Aaron Posner directs.
Pygmalion, which plays on the Theater Arts Mainstage, is another example of transformation. Bedraggled guttersnipe Eliza realizes that the only way out of her dreary life as a flower girl is to discard her Cockney accent and learn to speak like a lady. Under the tutelage of Professor Henry Higgins and Colonel Pickering, she achieves her goal, but also realizes that there is more to being a lady than just an upper-class accent. Shaw challenges the conventional mores of Edwardian England with a dazzling display of wit. Unlike the musical version, My Fair Lady, there is no neat and tidy Hollywood ending. Watching Paul Whitworth re-create Higgins is sure to be a highlight of the season. Julia Coffey takes on the challenging role of Eliza, while Tom Blair reprises his favorite role as the sympathetic Pickering. Director Randy White is a newcomer to SSC, and he brings new insight to this well-known play.
The Festival Glen is also home to King Lear. What a contrast there is between the idyllic Forest of Arden and the heath where Lear plummets to disturbingly dark depths and death, taking with him all in his purview--friends and enemies, his loving daughter Cordelia and his treacherous daughters Regan and Goneril. In an age where we have become accustomed to watching beheadings on the Internet, this play can still shock. The line from the play "'Tis the time's plague when madmen lead the blind" is sadly topical. However, even in the darkness, there are signs of redemption as we witness a journey from blindness to sight. Lawrence Hecht, well known to fans of American Conservatory Theatre, is the tragic Lear, while Mary McCool plays Cordelia. Newcomer Skip Greer directs.
There could not be a stronger antithesis to King Lear than Tate's version of the Lear story, Fools in the Forest. Strangely enough, this was the only version of the story performed between 1680 and 1830. Even stranger, the play has a happy ending. Eric Pearson directs.
Several local actors appear in this year's productions, including Tom Graves and Nick Bilardello, who is familiar to local audiences from his performances in the 2001 Shakespeare season and in numerous local theater roles. Director Eric Pearson is a graduate of Santa Cruz High School and UC-Santa Cruz.
Among the many events associated with this summer season is "Exits and Entrances," a retrospective of costumes and props from 25 years of Shakespeare Santa Cruz. The exhibition is open to the public until Oct. 31, at the Santa Cruz County Bank.
Shakespeare Santa Cruz is a jewel in the city's crown, bringing us the joy of live professional theatre for a brief six weeks each summer. There is one sad note: Live theater performances are ephemeral, and if you don't catch them on the fly, they are gone forever. You can't TiVo them or pick them up in reruns. You have to be there and become part of the experience.
Shakespeare Santa Cruz's 25th anniversary season runs from July 19 to Sept. 3. For festival and ticket information, visit www.shakespearesantacruz.org or call 831.459.2159.
Send a letter to the editor about this story.