July 19-26, 2006
home | metro santa cruz index | music & nightlife | mūz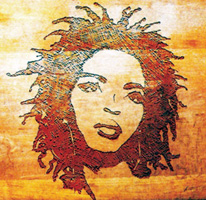 Hill Comes to Your House: Reinvention or rehearsal? Saturday's last-minute Catalyst show could have been either.
Mūz
Killing Us Loudly With Her Songs
By Bill Forman
Expectations for last Saturday's Lauryn Hill show at the Catalyst were nearly as high as the $65 ticket price at the door. Despite a complete lack of publicity owing to the show being booked two days earlier, word circulated quickly around town and fans turning out en masse to see the former Fugees frontwoman who, with no opening act on the bill, was supposed to take the stage at 9:30pm.
That didn't happen.
Instead, some two hours later, an emissary from the Hill camp offered up a perfunctory acknowledgment of the wait followed by the promise that what was about to follow would be the greatest show of all time.
That didn't happen either.
Instead, Hill's impressive 13-piece band took the stage without her for an extended instrumental piece combining elements of funk and free jazz--think On The Corner-period Miles Davis orbiting around the astral remnants of Sun Ra's Arkestra.
The playing was intense and audacious--at least what surfaced from beneath the murkiest live mix in recent memory. It's a large group, to be sure, but Hill's own sound man was behind the board, so you'd imagine he'd know how to deal with it. Instead, the standup bass could be felt--it was loud enough to make your pantlegs flap--but was not clean enough to be heard. Three horn players and two keyboardists took turns drowning each other out, while three guitarists were virtually indiscernible. Mix in a phenomenal and extremely busy drummer and three background vocalists and you have one serious wall of sound.
And that was all before Lauryn Hill came out onstage.
Which, as it turned out, was just about the time things started to go downhill.
As much credit as Hill deserves for taking such a musically risky approach when she could so easily have rested on her laurels, her vocal style really was not in sync with the rest of the arrangements. Her scatting, initially one-dimensional and, in some cases, based on the repetition of a single note, eventually grew more and more melismatic, approaching the point where you expected a drug-addled Bobby Brown to show up and carry her offstage at any moment.
Yet, even at her most quavering, there was a coldness to her singing that perfectly matched her onstage demeanor. Throughout the two-hour set, Hill only addressed the audience once, and that was to say, "This is our last song." The rest of the time, she had her back or side to the audience, preoccupying herself with directing--and correcting--the band. At a number of points, it seemed as if Hill was working out the background vocal arrangements live onstage. As for repertoire, the evening ranged from radical reworking of old material, including the Fugees' Ready or Not, to shaky fakebook covers of Will You Still Love Me Tomorrow? and Do You Know the Way to San Jose?
Santa Cruz has a tradition among musicians as a staging ground for working out the kinks before a tour heads out to more major markets. Neil Young has done it, as has Nine Inch Nails and, if memory serves, Van Morrison. Yet most of these artists don't make it so painfully obvious (although Morrison's Catalyst appearance was close). Ultimately, the show boiled down to audience members paying $65 to watch Hill and her band rehearse. And, for some fans, that may be money well spent. But next time, Hill would do well to bill the event accordingly.
Send a letter to the editor about this story.