July 19-26, 2006
home | metro santa cruz index | news | santa cruz | news article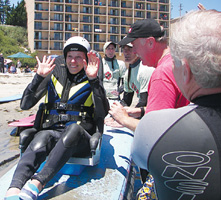 A special ride: Volunteers sing happy birthday to Nancy Cantrell, as she is wheeled into the ocean for her first time surfing.
Ocean of Opportunity
Two local groups ensure disabilities are no obstacle to surf experience
By Laura Mattingly
Nancy Cantrell was handicapped at 17 years old, and is now unable to walk. But on her 54th birthday she went surfing for the first time. Shared Adventures (SA) and Ride a Wave (RW) are both nonprofit volunteer-based organizations dedicated to helping disabled people participate in outdoor events. They met Saturday morning at Cowell's Beach to give 31 children and adults with a variety of disabilities the chance to experience the ocean in a new way: from on top of a surfboard.
Cantrell had watched her son Barry surf since he was in the fourth grade. "I know the waves and I know the language. I had just never done it before," says Cantrell, face dripping with seawater, smiling like a young girl. Barry had been surfing himself that day, when the tents and novice surfers caught his attention. So he walked up to see if his mother, though not pre-registered, could be fitted into the schedule. A ramp laid down in the sand between the beach parking lot and the SA tent enabled visitors in wheelchairs to roll out onto the beach. From there SA volunteers helped them into wet suits.
Susan Steinberg, an eighth-year volunteer, says RW designed special beach wheelchairs made out of hollow PVC pipe with outdoor furniture cushions to make them comfortable. "The wheels are really cool," she says, "because they're bouncy and they float." Some participants are wheeled into the ocean in the floating chairs first to get used to the water. For others, a wheeled platform, called a "launcher," is used to hold the surfboard on the sand while the surfer is lifted onto the board. "Each person is different, where and how they need to be placed on the board, depending on their situation, weight and size."
Some participants lie on the board belly-down, and others use boards equipped with a metal seat, so as to sit upright. RW uses 15-foot boards so that an experienced volunteer can kneel on the board behind the participant to paddle. With every novice surfer, three or more volunteers paddle out on separate boards to provide help and support.
Wesley McCoy, a 58-year-old California native, went surfing for the third time on Saturday. Sitting in the beach wheelchair, looking at the ocean as he waited to go out, McCoy said, "It's like being in another world. It's spiritual. You see nature, and it's up close and you're a part of it"
"We need a little help. We have our disabilities," says McCoy. "But with these guys, they make it all normal for a minute. When I'm out there, I'm visualizing I'm standing up and I got all the moves!"
Foster Andersen founded SA as a program facilitating snow-skiing in New York state following a spinal injury he suffered in a motorcycle accident that significantly altered his mobility. He surfed for the first time in 1992 at 38th Avenue on Portola. "They took a bunch of us, carried us down the stairs and off we went. I remember going past the breaker waves, and there was just this big wall of water, and bam, it's wild. So we took it down here, and we've been doing it ever since."
Next weekend, SA will host the 14th annual Day on the Beach, held on Saturday, July 22, also at Cowell's Beach in Santa Cruz, offering kayaking, outrigger canoeing, scuba diving, motorized beach wheelchairs, sand-castle building and live music. While advance registration is closed, people can still sign up on the wait-list. "Everyone should come on down and check it out," says Steve Miller, president of the board of SA. "We try to accommodate everybody."
Send a letter to the editor about this story.