October 4-11, 2006
home | the papers | metro santa cruz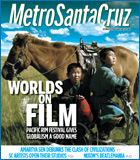 Pacific Rim Film Festival
Get global with our guide to Santa Cruz's premier international film fest, including interviews with the directors of 'ESL' and 'Long Tack Sam,' reviews of 'Innocent Voices' and 'The World,' and a schedule of the complete festival.

Amartya Sen Interview
The Nobel Prize laureate, who speaks at UCSC Saturday, rejects essentialist views of religion and national identity.
Nūz: Santa Cruz News and Politics
KPIG's Dallas Dobro moves to KZSC: The radio veteran will preach his roots music gospel to a younger audience.

Film Review: 'The U.S. vs. John Lennon'
Nixon's brand of Beatlemania included intervention from the INS and FBI.
Film Review: 'Keeping Mum'
Dame Maggie Smith walks softly and carries a big blade.
Cult Leader: Harlan Ellison vs. the Terminator
When cult culture gets hijacked.

MORE MOVIE REVIEWS

SANTA CRUZ COUNTY MOVIE TIMES

English Beat
Dave Wakeling talks about living his own legacy.
Music and Nightlife Calendar Picks
Our critics pick this week's most interesting gigs: Asobi Seksu, Robert Earl Keen and Todd Snider, Hot Tuna, Kayo Dot and Depth Charge Revolt, Dark Star Orchestra, New Music Works, Bruce Molsky, John Scofield, Thrice and Gov't Mule.

MORE MUSIC AND NIGHTLIFE

MUSIC AND CLUBS LISTINGS

Dining: Michael's on Main
Make al fresco dining plans while the sun still shines.

BOOK A RESTAURANT RESERVATION

FIND A RESTAURANT REVIEW

Open Studios
More than 300 artists are opening their homes and studios to the public. Here are three you'll want to meet.
Letters to the Editor
October 4-11, 2006.