September 27-October 4, 2006
home | the papers | metro santa cruz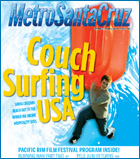 Couch Surfing
How people--and their furniture--are coming together to make a better world.
Sylvain 'Syrun' Quenel
The man who wants to run the world ... and couch-surf along the way.

Burning Man
Part two of Laura Mattingly's Burning Man travelogue.
Nūz: Santa Cruz News and Politics
Arts 2020: Thursday's special meeting of the General Plan Advisory Committee (GPAC) promises to be both upbeat and energetic, with exhibitions of local art and live tunes from local musicians.

Film Review: 'School for Scoundrels'
A golden braid of twerpiness connects early Woody Allen to Jon Heder's hapless hero in 'Road Trip' director Todd Phillips' latest comedy.
Film Review: 'The Science of Sleep'
A date movie for people who still wear footie pajamas.

MORE MOVIE REVIEWS

SANTA CRUZ COUNTY MOVIE TIMES

Music Preview: Pele Juju
The all-woman band regroups and finds a way to heal.
Mūz: Santa Cruz Media, Music and Arts
Jaguares: The perfect excuse for a columnist to exorcise his white guilt?
Music and Nightlife Calendar Picks
Our critics pick this week's most interesting gigs: Rogue Wave, Hell's Belles, Cherry Poppin' Daddies, Buju Banton, Alan Holdsworth, Shooglenifty, Alejandro Escovedo and Chuck Prophet, Peter Tork and James Lee Stanley, the New Thrill Parade and Tony Joe White.

MORE MUSIC AND NIGHTLIFE

MUSIC AND CLUBS LISTINGS

Dining: Eggplant
Escape the kitchen and enjoy late summer's favorite nightshade.

BOOK A RESTAURANT RESERVATION

FIND A RESTAURANT REVIEW

Author Profile: Erik Davis
'The Visionary State: A Journey Through California's Spiritual Landscape' explores our cultural backroads in search of a uniquely Californian spiritual topography.
Letters to the Editor
September 27-October 4, 2006.