September 13-20, 2006
home | the papers | metro santa cruz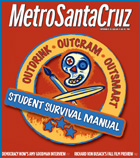 Student Survival Manual
Managing university life in Santa Cruz is easy, all you need is affordable clothes and furnishings, tolerable roommates, correct politics, proper eating habits, vast quantities of caffeinated beverages and, of course, proper etiquette.

Amy Goodman Interview
The woman behind 'Democracy Now!' talks to Metro Santa Cruz on the eve of her appearance at the Rio Theatre.
Nūz: Santa Cruz News and Politics
Parking Meter Task Force?: The SCPD's gang task force may be a myth, but our parking meters are safer than ever.

Fall Film Preview
Richard von Busack anticipates the triumphs and tragedies of the coming season.

MORE MOVIE REVIEWS

SANTA CRUZ COUNTY MOVIE TIMES

Music Feature: Blowfly
The Godfather of x-rated rap returns to claim his crown.
Mūz: Santa Cruz Media, Music and Arts
Larry Kirwan rallies the masses.
Music and Nightlife Calendar Picks
Our critics pick this week's most interesting gigs: Southern Culture on the Skids, Elvin Bishop, Yellowjackets, Sneaky Thieves, Laura Love, Cache Valley Drifters, Hit and Run Bluegrass Band, Jaguares, Kelly Joe Phelps, Rosalie Sorrels.

MORE MUSIC AND NIGHTLIFE

MUSIC AND CLUBS LISTINGS

Dining: Los Molcajetes
From oversize tamales to baby crickets, this Watsonville restaurant delivers the flavors of Oaxaca.

BOOK A RESTAURANT RESERVATION

FIND A RESTAURANT REVIEW

Stage Preview: 'Vincent'
Sam Lovett returns to Santa Cruz with a one-man portrait of the artist as a driven man.
Letters to the Editor
September 13-20, 2006.