September 13-20, 2006
home | metro santa cruz index | the arts | stage | preview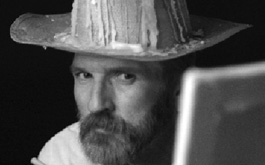 Honky chapeau: Sam Lovett burns the midnight oil as Vincent van Gogh.
Hats Off to 'Vincent'
Sam Lovett and Cynthia Parks return home for a special engagement at the Actors' Theatre
By Joyce D. Mann
Anyone who was part of the Santa Cruz theater scene in the 1990s, either as audience or actor, will remember the contributions made by native Santa Cruzans Sam Lovett and Cynthia Parks, through their theater company, Central Coast Theatre Works, and with other local groups. People still talk about outstanding productions of Bent, Six Degrees of Separation, Oleanna, and the ambitious two-part Angels in America. When Lovett's "day job" called for a move to Los Angeles, there was a collective sigh of regret in the local theater community.
In September, Lovett and Parks will be back in Santa Cruz, for an all too short visit, bringing their production of Leonard Nimoy's Vincent to the Santa Cruz County Actors' Theatre. This biographical one-man show features Lovett as both Vincent van Gogh and his brother Theo. The play is directed by Parks and is presented under the aegis of their theater company, Chapeaux Productions.
In a recent discussion with Metro Santa Cruz, Lovett brought us up to date on life in Los Angeles and how Vincent has become such a powerful force in his life.
Lovett actually first performed the original Vincent in 1994 at the Santa Cruz Art Museum. He considered the play again in 1999, but with reservations. However, Parks saw the potential for a purely character-driven play and, with authorization from Nimoy, made critical changes, turning what had originally been Theo's monologue into a dialogue between the two brothers. Lovett couldn't resist the challenge of playing the dual roles. Parks also dispensed with what had become a tired old slide show of Vincent's paintings, replacing it with vivid reproductions. Lovett's L.A. performance garnered rave reviews from the press, including the Los Angeles Times.
The play stresses Vincent the man and the artist, rather than Vincent's mental state (which ultimately led to self-mutilation and suicide). Theo van Gogh, the down-to earth art dealer, is Vincent's alter ego. He supported his brother both financially and emotionally. The brothers' devotion to each other is obvious, and Theo survived his brother by only six months. During his lifetime, Vincent sold only one painting. Recognition came in 1903, 13 years after his death.
Lovett says L.A. has provided both the best and worst theatrical experiences of his life. All too often, he says, the people involved in community theater are movie-star wannabes, and film-acting techniques don't work onstage, or vice versa. Theater space is plentiful, but rent is prohibitively high. Cheaper downtown venues fail to attract audiences, since many people, even critics, are unwilling to go east of Hollywood. Then again, Lovett tells how actor William Hurt happened to be passing the theater where Vincent was playing. Hurt canceled his dinner date, went to see the play and loved it.
If you want to act and direct, Lovett suggests, get involved with your local community theater. L.A. is full of beautiful, young, rich people seeking fame and fortune. Most of them end up disappointed. And as much as he enjoys living in L.A., Lovett admits to missing the community spirit he experienced in Santa Cruz, and the rush that comes from team work and accomplishment.
Lovett recently completed a screenplay about the last two years of Vincent's life. It features the brothers and Theo's wife, Johanna, who kept the van Gogh flame alive. He continues to read everything he can get his hands on related to the artist, including hundreds of Vincent's letters. Lovett and Parks traveled to Amsterdam to view Vincent's work in the artist's home country and to soak up the ambience. They found the colors and textures of the paintings overwhelming. In fact, it was in Amsterdam that co-founders Lovett and Parks came up with the name, Chapeaux Productions. Members of community theater wear many hats, they figured, so what better name?
Vincent runs Sept. 21-Oct. 7, Thursday, Friday and Saturday nights at 8pm, at Santa Cruz County Actors' Theatre, 1001 Center St., in downtown Santa Cruz. For reservations call 831.515.4118.
Send a letter to the editor about this story.