September 13-20, 2006
home | metro santa cruz index | features | santa cruz | feature story
Santa Cruz Student Survival 2006:
Etiquette for College Students | Thrift Shops | 'Freshman 15' | The 'Daily Show' Effect | Roommates from Hell | Santa Cruz Coffeehouses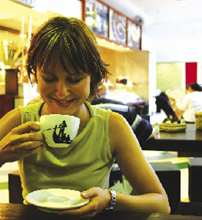 Fuel for Thought
Your student guide to local coffeehouses
By Marlow de ville and Rachel Stern
Once the taboo taverns of the Middle East and now the sprawling study halls of today, coffeehouses make late-night--and early morning--cram sessions all the more enjoyable. They're also the hot spots to meet people, cozy up to daydreams or pitch philosophies from Hegel to Heidegger. For students in Santa Cruz, a caffeine fix is only a stumble out of bed to a short bus ride away.
On Campus
Banana Joe's (BJ's)
Crown College, UCSC
Although sparsely furnished, the killer sandwiches and smoothies of this place compensate for its lack of décor. The coffee gets a thumbs-up for being largely fair-trade, although the hot chocolate--containing generic chocolate syrup--is so-so. Located right next to the Crown/Merrill dining hall, its hefty oven-roasted subs have been known to lure unsuspecting freshman away from their meal plans. No phone; Monday-Friday 9am-4pm.
Cowell Coffee House
Cowell College, UCSC, 831.459.2710
While not exactly brimming with ambience, this easy-to-miss cafe has all the goodies, from $1 gigantic fresh-baked cookies to cheap coffee, as well as--for all you health junkies out there--orange juice and tofu stir-frys. The large size of the few tables inside makes it a prime location for group study sessions. You might by chance notice this hidden nook while wandering between the Eloise Smith Gallery and the dining hall. Monday-Friday 8am-4pm and Sunday-Thursday 8pm-midnight.
Hungry Slug
Porter College, UCSC, 831.427.2608
Located above the Porter College dining hall, the Slug offers aid and comfort--plus some very nice burritos and pizza slices--to scholars and slackers alike. The lattes are bracing, though the regular coffee often malingers in the realm of the wimpy. Everybody ends up here sooner or later, and the outdoor seating on the umbrella-filled deck gives nice views of sculpture, lush plantings, redwoods and the ocean. Monday-Thursday 7:30am-midnight, Friday 7:30am-4pm, Saturday-Sunday 4-10pm.
College Eight Cafe
UCSC
With a large pool table consuming one corner of the room, and frequent multicultural performances and poetry slams staking their claims on the other, the College Eight Cafe may just be the most fun place to "study" on campus. It's also a comfort zone of steaming lattes and the soup of the day--often a creative and flavorful vegan or vegetarian concoction. If need be, its large, rectangular tables are great spots to spread open the books--whether or not students get around to reading them is another story. Monday-Thursday 7:45am- 11:30pm, Thursday 7:45am-5pm.
Perk Coffee Bar
Baskin Engineering; Earth and Marine Sciences; Physical Sciences, Bldg. 2, UCSC
Strategically located in the midst of students' trails to classes, Perk's coffee may lack a cafe to accompany it, but lives up to its caffeine-jolt name--due to a delicious selection of lattes, expressos, coffees and teas. Pastries and yogurt also glitter beneath glass displays. Look for a line of sleepy students, and most likely you've discovered Perk, as well as the community that has grown dependant on its quick fix. No phone; Monday-Thursday 7:30am-4pm, Friday 7:30am-2pm (Physical Sciences: Monday-Friday 8am-2pm).
Stevenson Coffee House
Stevenson College, 1156 High St., UCSC, 831.459.2433
The Stevenson Coffee House is the acknowledged pacesetter of all coffeehouses on the city on the hill. Couches, huge tables, a sprawling outdoor terrace and excellent fresh food all make this vintage campus pit stop part salon, part intensive-care unit. You can spread out your books and papers for days on end, stopping only to inhale some gargantuan sandwiches and cappuccinos. Professors will invariably find you, since they also use this place as an academic retreat. This fortified haven has great attitude and a killer location. Monday-Thursday 7:30am-11:30pm, Friday 7:30am-5pm, Saturday 8-11:30pm.
Downtown Santa Cruz
The Attic
931 Pacific Ave., 831.460.1800
OK, so it's a teahouse, but sometimes you need a break from the hard stuff. Even if you've already discovered the Attic as a place to see cool indie-type acts like Devendra Banhart or Camper Van Beethoven, you may not have noted that the Attic serves a bitchen cup of tea. Even a complete tea whore can find something exotic to tweak the taste buds in a barely legal manner. If you're a bit on the traditional side, get your feet wet with a fine Earl Grey (wait till it cools down, though, otherwise you'll burn your toes). Everybody else should jump straight into the crazy stuff, like Green Rooibos Oasis (my favorite), Lychee Red or Elderflower Gold. Militant Tea Party loyalists trying to win over their coffee-swilling friends should introduce them to Mate Chino or Roasted Twig (I haven't personally seen a Hoji-Cha there, but that's another good switch-up tea). When you're in the mood to raise a different kind of brew while you catch some live music, this is the place. Daily 11am-9pm.
Caffé Bene
1101 Cedar St., 831.425.0441
Miniscule and homey, Caffé Bene provides relaxing atmosphere and blood-racing espresso, as well as a fully stocked humidor. These locally roasted beans underlie espressos made by top coffeehouses all over the county. A couple of tables outside provide seating for those who favor sun and nicotine or just want a view of Santa Cruz's interesting streetlife. Monday-Friday 6:30am-6pm and Saturday-Sunday 7:30am-6pm.
Caffe Pergolesi
418 Cedar St., 831.426.1775
A coffeehouse to some and a home to others--especially the young, the fashionable and the terminally hip--this landmark serves up attitude and bracing espressos until midnight. Students stake out study space in the back rooms, where many a seminar has been conducted. The sprawl of alfresco seating practically cries out for intense existential debate. The Perg prides itself on being downtown's original coffeehouse, and the Dr. Miller Victorian in which it resides is a vintage gem. Daily 8am-11pm.
Lulu Carpenter's
1545 Pacific Ave., 831.429.9804
The former Lulu Carpenter's saloon still exudes old-brick-and-hardwood atmosphere. Behind the long faux-granite counter, a young staff does a brisk, high-volume morning business turning out textbook lattes and cappuccinos from the house-brand beans. Thanks to a sea of tables hugging those historic brick walls, an enclosed courtyard for loud philosophical discussions and the largest bathrooms in town, this is a haven for the bookish and the studious. Daily 7am-midnight.
Peet's Coffee & Tea
1409 Pacific Ave., 831.457.8170
Dark wood and exquisite, full-bodied coffee is the appeal of this relatively new entry into the overflowing downtown SC coffeehouse inventory. The place feels like an urban coffeehouse and Peet's award-winning beans make even the house regular coffee taste cosmic. Pastries complete the picture, though regulars have been known to chew the coffee itself. Monday-Friday 6:30am-10pm (Saturday-Sunday from 7am).
Santa Cruz Coffee Roasting Company
Palomar Arcade, 1330 Pacific Ave., 831.459.0100
Bustling with traffic all day long, SCCRC offers plenty of study archipelagos for lengthy sipping amid its busy banks of artwork and conversation. If you can concentrate in the middle of a fairly nonstop scene, you can join the regulars who write poetry and term papers while swilling custom-brewed coffees dispensed from behind the long curve of an updated art deco counter. In addition to high-voltage cappuccinos, SCCRC offers a full deck of muffins, cookies, pies, sandwiches and hot dishes. The outdoor sidewalk patio provides a prime vantage for people-watching distraction, a.k.a. study-avoidance behavior. Daily 6:30am-11pm (Friday-Saturday till midnight).
Starbucks
1335 Pacific Ave., 831.459.7681
The Masters of the Caffeine Universe have set up their prime Santa Cruz meeting spot in a charming little cottage of a cafe on Pacific. Glittering galaxies of chocolates, pastries and croissants greet the eye--and stomach--from gleaming display cases. Shelves filled with every conceivable variation on espresso, decaf or industrial-strength java make this member of the Seattle-based chain an institution. Monday-Thursday 6am-10pm (Friday-Saturday till 11pm, Sunday 7am-9pm).
Send a letter to the editor about this story.