September 13-20, 2006
home | metro santa cruz index | features | santa cruz | feature story
Santa Cruz Student Survival 2006:
Etiquette for College Students | Thrift Shops | 'Freshman 15' | The 'Daily Show' Effect | Roommates from Hell | Santa Cruz Coffeehouses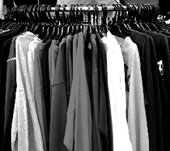 Cheap Thrills
From the trendy Crossroads to the trashy Bargain Barn, secondhand opportunities to outfit you and your environment have never been so plentiful
By V. Murphy
Tuition's paid, books are bought and rent's taken care of; if you're like most students, the pockets will be just about running on empty. But you still need to clothe yourself (somewhat) and have at least a vague semblance of furniture in what you now call home. Herein, a rundown of where to get the most bang for your buck, as long as you're not picky about who the first owner (or two) might have been.
Downtown Santa Cruz is an interesting mixture of high-end boutiques and specialty shops balanced by stores that cater to the not-quite-so-carefree student budget. The lower end of Pacific Avenue, in fact, seems to be geared to the young and the restless, and that's where you'll find a nice cluster of thrift and vintage clothing stores. Anchored in the middle is the Salvation Army, a spacious two-level store with clothes, furniture and accessories galore. Like all thrift shops, inventory moves fast, so if you see something you like, don't wait. Behind the multitude of clothing racks on the right is household stuff: dishes, curtains, knick-knacks; bigger furniture and even appliances and mattresses (refurbished) fill the entire left side. Upstairs is where the "good stuff" is: anything vintage, current or really fancy or unusual. Leather jackets, silk shirts, name-brand jeans and shoes--it's all here. You can score big; you just have to look carefully and be ready to pounce.
Nearby, across Pacific Avenue is Crossroads Trading Company, an entirely different sort of used clothing shop. Here, folks just like yourself bring in their barely used and still-very-hip clothes, shoes and accessories and sell them on-the-spot for fairly big bucks. That means you'll pay more than $1.99 for a pair of jeans--but it also means you can find Diesel jeans for $10 or so--a fraction of what you'd pay new. Here too, inventory moves fast, and if you like it and it fits, you'd best buy it. Try not to be sidetracked by the few new items scattered throughout the store, which are at regular prices.
A few doors away is Cognito, a Santa Cruz institution when it comes to vintage clothing. Like '40s-style dresses? Real Hawaiian shirts? Then this is the place. Sometimes it's hard to even turn around in here because the racks are so full, and as Halloween nears, the costumes come out--and so do the wigs. Nearby you'll find Moon Zoom, another vintage and eclectic clothing shop that's chock-full of all the feathers, satin, velvet, et al., you might need or want to make that perfect fashion statement.
Question: Did Retro Paradise position itself directly across from the Catalyst to allow for last-minute wardrobe changes? (Judging by some of the fashion choices you see in this town, let's hope that certain people do take advantage of this prime location.) At any rate, Retro Paradise has gently used men's and women's better vintage clothing: dresses, pants, skirts, shirts and blouses, hats, shoes, boots, accessories and jewelry. The store is small, but clean and intriguing.
The red canopies on Front Street signal Front Street Thrift, truly a thrift shopper's thrift shop. You'll either love this place or hate it: let's just say that if there's an organizational method here, it's a mystery waiting to be solved. General directions: clothing in front, furniture in back, bric-a-brac everywhere. (Need a simple glass vase for flowers? This is the place.) Shoes, bedding, odd items--upstairs. A word to the wise: dressing rooms are not the best, nor in abundance, so wear something you can try things on over. That's the quick and easy way to do it. One of the best things about Front Street Thrift is its half-off sales, which seem to coincide with holidays, specific days of the week or maybe just too much inventory. A fringe benefit is that you'll get a chance to practice your Spanish speaking and reading skills: "Hoy! 50 percent todo la tienda."
Perhaps the nicest of the standard-issue thrift shops is the Goodwill store on Union Street. It's clean, it's organized, prices are reasonable and there are lots of dressing rooms. Often, students work here, so there might be a kindred spirit behind the counter who'll understand your excitement about that coffee table for $4.99, even if it is slightly funky. You'll find clothing, accessories (like shoes, belts, ties and purses), books, furniture, working lamps and small appliances, curtains and bedding, dishes, glasses and pots and pans. Of note here are the refurbished mattresses and box springs, all sizes, for much, much less than you'd pay retail (and much, much cleaner than what you'll find at a yard sale). As October nears, this becomes Halloween headquarters; all year, the store culls out anything vaguely usable for a costume and then transforms into a giant costume shop.
You've probably heard rumors about the Bargain Barn; it's run by Goodwill and it does indeed exist. Located in the Harvey West area near Costco, this is the warehouse for donated items that for various reasons will not end up in a Goodwill store. Instead, they are here, piled and stacked and quite literally strewn about. Come early for the best selection; professionals wait each morning for the doors to open and their chance to rummage through furniture, clothing, linens and what can only be generously called flotsam-and-jetsam.
OK, it's Sunday morning and you have friends coming for a party in just a few hours. The extent of your "dining room set" is a half-barrel with a board on top and two (matching) milk crates. What to do? Head to the Skyview Flea Market at the drive-in on Soquel Drive. The $2 entry fee will be more than covered by the extent and array of goods you'll find, laid out through the huge parking lot like side-by-side yard sales--which in effect, most of them are. All kinds of folks come here to get rid of everything, and there are also regular vendors selling inexpensive clothing (basics like socks, T-shirts and boxers are a steal), fresh produce (with lots of Mexican specialties like chile peppers, mangos and papayas), luggage, incense, toys and knock-off sneakers. But for used furniture, cheap clothes, and if-you're-lucky, working appliances, the flea market can't be beat. The most difficult things will be finding a place to park and then fitting that fantastic bookshelf into your tiny car.
Pleasure Point, where Portola Drive meets 41st Avenue, has more than its fair share of used and vintage clothing shops. You can spend a few hours browsing here and never see the same thing twice. Again, for Halloween (or club wear, hey!) you'll want to come here: boas, pleather, platform shoes and boots, faux fur and lamé--if there's anyone who doesn't bare back, I'd suggest they have a look here.
Not really a thrift shop, but certainly not to be overlooked, is the omnipresent Craig's List.com. Anything--and we mean anything--you want can be found here, often at unbelievable prices. Check the yard sales the day before or early the morning-of; often people don't post their listings till the last minute, to avoid an influx of the dreaded early bird. The only catch when searching for specific items for sale is that you may have to drive over the hill and beyond (or at least to Aptos) to pick up that killer sleeper couch or dresser-and-mirror set--one more reason to stay on good terms with that truck-owning friend.
Send a letter to the editor about this story.