August 30-September 6, 2006
home | the papers | metro santa cruz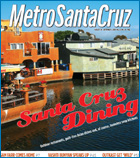 Santa Cruz Dining Special
Your personal guide to outdoor eating, guilt-free Asian cuisine and of course, homeless soup kitchens.

Charge of the Night-Light Brigade
Time is running out on Kirby Scudder's International Peace Day project.
Nūz: Santa Cruz News and Politics
A Bridge to Farr: Congressman Sam Farr comes home; constituents rejoice.

Movie Review: 'Idlewild'
Outkast puts on a Depression-era musical.
Movie Review: 'The Illusionist'
Writer-director Neil Burger's film gets by on skilled performances.
Movie Review: 'The Quiet'
Indie film is a step up for Jamie Babbit but a step down for Edie Falco.

MORE MOVIE REVIEWS

SANTA CRUZ COUNTY MOVIE TIMES

Music Feature: Vashti Bunyan
Devendra Banhart's ethereal inspiration returns from her 35-year hiatus.
Mūz: Santa Cruz Media, Music and Arts
A founder of Red Elvises runs off to joins the gypsy circus at Don Quixote's.
Music and Nightlife Calendar Picks
Our critics pick this week's most interesting gigs: Catwalk, Scottish Fiddlers, Tommy Castro Band, Y&T, Goons of Doom, Trio Los Panchos, Kacey Jones, Hothouse Flowers, Trachtenburg Family Slide Show, Mammatus.

MORE MUSIC AND NIGHTLIFE

MUSIC AND CLUBS LISTINGS
Letters to the Editor
August 30-September 6, 2006.