August 30-September 6, 2006
home | metro santa cruz index | santa cruz county restaurants | feature
Santa Cruz Dining Special:
Santa Cruz Dining | Homeless Dining | Asian Dining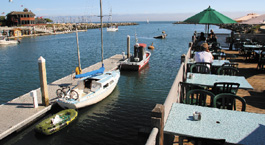 I cover the waterfront: Summer's sublime at Aldo's, the quintessential ocean-front restaurant.
Out Is the New In
From Aldo's to Zelda's, outside eating in Santa Cruz can become a full-time avocation. In the opening essay to our summer dining issue, writer Janet Blaser and photographer Carlie Statsky present for your perusal a selection of our local seaside, garden and patio dining destinations.
Tucked onto the north shore of the Santa Cruz Harbor like driftwood left by the tide, Aldo's Harbor Restaurant (616 Atlantic Ave., Santa Cruz; 831.426.3736) is the quintessential "ocean-front" restaurant. Unless, of course, you happen to look down beneath the patio and notice the waves gently lapping below. Yep, Aldo's is built out over the water, and diners are surrounded by water and sky (and seagulls) for breakfast, lunch or now, finally, dinner. Operated by the same family for almost 50 years, Aldo's serves fine Italian specialties, lots of fresh seafood, homemade pasta and gnocchi, and is known for its tender fugasa bread--baked from scratch in the family bakery in nearby Soquel. It's barely arm's length from the jetty along Seabright Beach, where the lighthouse beckons those with a mind for a wee bit of walking after dinner.
Just across the harbor sits the Crow's Nest (2218 East Cliff Drive, Santa Cruz; 831.476.4560), a venerable institution known and loved by tourists and locals alike. Upstairs, a myriad of outdoor dining areas beckon: note that all have clear glass surrounds, to prevent that pesky offshore wind from disturbing your meal (or your hair). Come for a drink--there's an impressive wine list, Illy caffe and your choice of fine cocktails--and watch the sunset, or, better yet, come for lunch or dinner, where the unlimited salad bar, house-smoked salmon, fresh seafood entrees and aged beef are legendary.
If simple is your credo, downstairs next door you'll find your bliss. Early in the morning, espresso and pastry at the Kind Grind (2222 East Cliff Drive, Santa Cruz; 831.476.9136) will make you feel like, well, you're on vacation--even if you live here. Steps from the volleyball nets and outrigger canoes beached at Twin Lakes, a stone and cement patio undulates through the sand; tables and chairs are scattered in between several wide permanent benches, providing the perfect place to start the day. If you linger too long and the noon hour is upon you, there's a deli here, too, with fresh-made sandwiches and cold salads made-to-order. Or, follow the sounds of musica Mexicana and visit the other neighbor, the Café El Palomar (2222 East Cliff Drive, Santa Cruz; 831.477.0371), where breakfast, lunch and dinner are served the South-of-the-Border way. A big menu features Mexican favorites, with an emphasis on seafood and freshness--like corn tortillas made to order. Place your order inside, wait to hear your number and then claim one of the patio tables as your own.
Long known to locals for its great house-brewed beers, free live music on Friday nights and classic California menu, the Seabright Brewery (519 Seabright Ave., Santa Cruz; 831.426.2739) is also home to a giant patio that's been successfully "weather-proofed" against that pesky coastal fog that creeps in just when you least expect it. The beach is a scant few blocks away, making this corner the perfect weekend (or weekday) stopover. Here, people-watching is an accepted activity, and the clientele at Java Junction (831.423.5282) next door adds to the fun. The Junction's also the place to go if you need a caffeine fix, from early morning to late-night, and this patio is big enough that bikers--the Harley kind--ride right up and park on their way into the Brewery.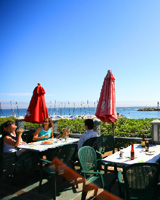 Secret retreat: The patio at Café Cruz lets the sun in while keeping the fog at bay.
If all this beach talk has you yearning for Hawaii, I'd suggest you head over to the Aloha Island Grille (1700 Portola Drive, Santa Cruz; 831.479.3299), where you'll find Manapua, lots of prawns and mahi mahi, traditional rice plate lunches, chicken katsu and, yep, even grilled spam on the menu. The patio out front'll make you feel like you're eating at a friend's house, and although the view is only East Cliff Drive, the camaraderie of the neighboring tables will more than make up for the lack of oceanfront property.
Next up would be Rock of the Sea (3910 Portola Drive, Santa Cruz; 831.464.1104), whose big brick patio fronts Portola Drive (formerly known as East Cliff Drive) just a few minutes south in Pleasure Point. Here you'll find a decidedly Mexican flavor, with lots of seafood specialties like ceviche and Camarones a la Diabla. Exotic ingredients abound, tucked into familiar favorites like flautas, quesadillas, tacos and burritos, or even Eggs Benedict. Breakfast, lunch and dinner can be enjoyed outside, with or without that shot of Don Julio or an ice-cold Pacifico.
Take a left on 41st from Portola and pull over by the colorful umbrellas; that would be Hank's at the Hook (800 41st Ave., Santa Cruz; 831.479.3662), a relative newcomer on the block that fits the neighborhood like an old glove. The big raised patio looks toward the ocean, and is one of the best people-watching spots around. It's set up like a cafeteria in one sense--you take a tray and go through the line as smiling staffers get your order--but the similarity stops there. Hank's uses local, organic ingredients, like steamed veggies, a Create-Your-Own Salad Bar, roast chicken and turkey and tri-tip, to create a menu full of mix-and-match meals that are sure to delight. Choose a glass of wine or beer and head out to the patio to watch the world go by.
Nearby Soquel Village sports two notable places to eat outside. While you can glimpse the front patio at Theo's (3101 N. Main St., Soquel; 831.462.3657) from the street--it's the big rambling one out back that's the real secret. A cute side patio is lattice-covered and leads past a free-standing wood-fired pizza oven to the rambling back patio, that's bordered by a beautiful lawn and functioning garden beds that provide lots of the produce that appears on the menu. Great for lunch or dinner, it's also available for private events and is frequently home to wine-tastings as well. Michael's on Main (2591 Main St., Soquel; 831.479.9777), known to regulars as "MoM's," offers "comfort-edge cuisine," live music and a sultry, tree-covered patio overlooking Soquel Creek. Here you'll find familiar favorites with a contemporary touch, an extensive local wine list, and most likely, a few of your friends. We'd be remiss if we forgot to mention Gayle's Bakery & Rosticerria (504 Bay Ave., Capitola; 831.462.1200) with its cozy, floral-lined brick patio. Coffee and pastries, hot or cold lunches, and their famous "Blue Plate Dinners" can all be enjoyed comfortably outdoors.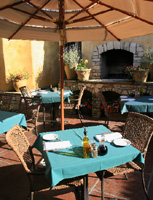 Paradise found: Almost every restaurant on the Capitola Esplanade offers some kind of outdoor seating.
Another local's favorite, Café Cruz (2621 41st Ave., Capitola; 831.476.3801), sits in an unlikely location on busy 41st, just off the freeway. Tucked inside, though, is one of the most charming patios around: its tall walls covered with flowering vines that keep the fog out but let the sunshine in. Lunch is especially popular here, and the rotisserie chicken and excellent wine list sweeten the pot even more. A fine collection of full-meal salads, plus creative pasta entrees and fish, poultry and other dishes, keep the regulars and newcomers happy.
You've read about Santa Cruz's "Banana Belt"; you may even live there. But what you may not know is how many restaurants in that area have outside eating spaces--each one with a personality all its own. The stretch of Soquel Avenue from the Buttery Bakery (702 Soquel Ave., Santa Cruz; 831.458.3020) at Branciforte Drive to just past the Rio Theatre is a literal oasis of fresh air dining opportunities. The venerable Crepe Place (1134 Soquel Ave., Santa Cruz; 831.429.6994) hides a lush, greenery- and fountain-filled patio out back, where you can enjoy sweet or savory crepes, giant '60s-style salads, tiny loaves of house-baked wheat bread and one of the loveliest brunches in town, complete with mimosas. Charlie Hong Kong (1141 Soquel Ave., Santa Cruz; 831.426.5664), surrounded by bushy bamboo, has a bigger patio than dining room. Just down the street is another hidden treasure, the Black China Café (1121 Soquel Ave., Santa Cruz; 831.460.1600), cloistered from the traffic on Soquel, tacked onto the back of Ironwood, a charming housewares and what-not shop. During business hours, just walk through the store; but early in the mornings, sneak through the brightly painted alley between the buildings to the secret garden entrance of this tiny cafe, where yummy baked goods, simple breakfast and lunch items, and espresso drinks, coffee and teas can all be had.
Downtown Santa Cruz has become home to a festive array of places to eat outside; from one end of Pacific Avenue to the other--with a few spots on the sidelines--tables are waiting for you.
Anchoring what some would call the center of town is Kianti's Pizza and Pasta Bar (1100 Pacific Ave., Santa Cruz; 831.469.4400), a bustling Italian restaurant with award-winning pizzas, family-style dinners and a well-rounded wine list. Its spacious patio is notable for many reasons: the big, working fireplace, the luscious aromas wafting to passers-by, the infectious fun of the clientele.
Next door, Hoffman's Bakery Café (1102 Pacific Ave., Santa Cruz; 831.420.0135) greets its guests with a cozy handful of tables enclosed by the front door. A bakery, a lunch spot, a jazz and dinner place, Hoffman's menu offers all your favorites and then some.
Home to what may be the only rooftop patio downtown, 515 Kitchen & Cocktails (515 Cedar St., Santa Cruz; 831.425.5051) is one of the newest kids on the block. You'll have to tear yourself away from the luxurious lounge and dining rooms inside to get to the patio--but it's well worth it. Lunch and dinner are available from a wonderfully executed menu of organic California-style specialties, but even just a cocktail is a good enough reason to sit up top. Café Mare (740 Front St., Santa Cruz; 831.458.1212) can claim to have the only outdoor dining-in-the-round: tables ring the restaurant, hidden from the surrounding shoppers by a big, ever-blooming garden. True to its name, and Italian to the core, here you'll find an extensive selection of seafood and classics, as well as traditional weekend brunch specialties.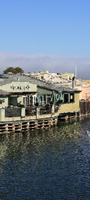 If I were a carpenter: Patrons enjoy the New Orleans-style brick-enclosed courtyard at Lulu's.
Chocolate (1522 Pacific Ave., Santa Cruz; 831.427.9900) brings to mind bistros in Italy or France, with its gurgling fountains, greenery-ringed patio, irresistible wine list and decadent menu of Italian specialties and rich desserts. Another very special patio is Lulu Carpenter's (1545 Pacific Ave., Santa Cruz; 831.429.9804), where you have a trio of outdoor options to enjoy your coffee, pastries, lunch and desserts: a cluster of tables and umbrellas on the sidewalk; the coveted half-in, half-out pair of tables near the front door; and more specially, the New Orleans-like, brick-enclosed courtyard out back.
Just want a good sandwich? A really good sandwich? Follow the crowd, then, to Zoccoli's Deli (1534 Pacific Ave., Santa Cruz; 831.423.1711), where all your deli desires will definitely be satisfied. There's a great selection of hot and cold sandwiches--made to order by one of the most pleasant and efficient staff around--plus an assortment of cold salads and drinks, all of which can be enjoyed outside in a pleasant sidewalk dining area.
In Capitola Village, almost every restaurant on the Esplanade offers outdoor seating of some sort, from Mr. Toots' tiny balcony to the Paradise Beach Grille (215 Esplanade, Capitola; 831.476.4900). At the Paradise, a small patio overlooks Soquel Creek and features one corner that's roofed with a fireplace yet open to the sea breeze as well. The few tables here are highly coveted, and if you're lucky you'll get a seat at the bar that separates inside from out. On a sunny day, the open patio with its decorative stonework and postcard-perfect view is unrivaled. Tasty appetizers hint at the full menu of California/Mediterranean-inspired dishes, including a wonderful array of innovative salads. But the mother of them all has to be Zelda's (203 Esplanade, Capitola; 831.475.4900), whose deck straddles Capitola Beach and has been the scene of many a memorable meal for many, many years. Service is quick and efficient; breakfast, lunch, dinner and anything in-between can be enjoyed on the deck; and sunsets, people-watching and the beautiful Monterey Bay provide ample if gentle entertainment.
Amazingly, we're still just skimming the surface of outdoor eating options here in Santa Cruz. Following are some additional locations you're sure to enjoy:
Acapulco 1116A Pacific Ave., Santa Cruz. 831.426.7588.
Blue Water Steak House 110 Monterey Ave., Capitola. 831.475.6544.
Cafe La Vie 429 Front St., Santa Cruz. 831.429.6746.
Cafe Pergolesi 418 Cedar St., Santa Cruz. 831.426.1775.
E3 Playhouse 433 Front St., Santa Cruz. 831.421.9688.
Ideal Bar and Grill 106 Beach St., Santa Cruz. 831.423.5271
La Bruschetta 5447 Hwy. 9, Felton. 831.335.3337.
Margaritaville 331C Capitola Ave., Capitola. 831.476.2263.
Mobo Sushi 105 S. River St., Santa Cruz. 831.425.1700.
Ristorante Italiano 555 Soquel Ave. #150, Santa Cruz. 831.458.2321.
Sestri 655 Capitola Road, Santa Cruz. 831.479.0200.
Severino's Bar and Grill 7500 Old Dominion Court, Aptos. 831.688.8987.
Stockton Bridge Grille/Lido 231 Esplanade, Capitola. 831.464.1933.
Thai Orchid 2238 Mission St., Santa Cruz. 831.425.2206.
Send a letter to the editor about this story.