August 30-September 6, 2006
home | metro santa cruz index | santa cruz county restaurants | feature
Santa Cruz Dining Special:
Santa Cruz Dining | Homeless Dining | Asian Dining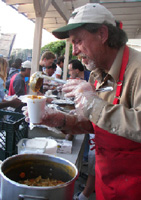 Al's on Ladle: Al volunteers regularly for the Elm Street Mission, and here he serves vegetarian and 'meatatarian' soup to the line.
Looking for Soul Food and a Place to Eat
A review of homeless dining options in Santa Cruz
Story and photos by Laura Mattingly
'You're searching, you're hungry for things, but nothing seems to satisfy." I sat awkwardly among the pews of the Elm Street Mission, on a Friday evening, in the first church service I'd been to in years.
"Yes, you can feed and you can clothe, but those are only temporary things. They'll help a little until the next day when you're hungry again."
A youthful pastor, Ben Palm, stood at the pulpit with shaggy hair, a little stubble and an old gray T-shirt that said "Warrior" on it. He looked out from the front of the church into pews filled with mostly homeless, mostly needy people waiting to fill their stomachs.
"Jesus wants to help you. He wants to help you find a peace and a joy that you won't get from anything else, any physical stuff."
I'd come to Elm Street Mission to find out about the food that I'd heard they serve for free on Friday, Saturday and Sunday evenings to anyone who wanders in, and found myself getting a helping of something else as well.
Palm asked the congregation for prayer requests.
"How about a prayer to keep us safe and warm out there, because the nights are getting colder," said one person.
Another asked for a prayer that the conflict in Iraq be resolved.
"Can we get a prayer for a new president?" one asked.
Another requested a prayer for a place to park his RV.
After the service we filed into the courtyard outside to get a plateful of whatever they were serving up.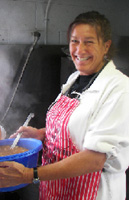 Stirring the Pot: Longtime volunteer at St. Francis Soup Kitchen, Beatrice Easter, prepares for the midday meal.
Everyone on the staff has been on the streets, so we know what's going on here," says Palm with a smile. The Elm Street Mission at 117 Elm St. in Santa Cruz, a block from Pacific Avenue, could be known as a family-run operation: Palm's parents came there for assistance decades ago, and his father and uncle eventually went on to run it. After leaving his job as a contractor, Ben became head pastor this past February.
"I've been here off and on since 1976. My parents were some of the first people who got help here. I've been running around here since I was 2 years old, so I've seen a few people come and go," says Palm.
According to Palm, the Elm Street Mission was the first homeless food service in town, begun as a far smaller operation, the food being given out of a car until the building was procured 23 years ago.
Palm explains that food is not the only assistance provided at the Mission.
"The main objective is to show them Jesus and to get them off the streets, and obviously it works because it did for my family."
Ben describes his parents as participants in a characteristically Santa Cruzan counterculture, "hippie people, up in the mountains, with a lot of drugs involved," but they were helped into a different lifestyle by the Mission.
"We also have a program to send people home," says Palm. If a visitor to the Mission has family in another place that wants them to come back, funds can be lent for bus transportation.
The Mission has put people up in hotels for the night in emergency situations, and as of Sept. 6 a 12-step program will be offered regularly.
Local merchants, including Upper Crust Pizza, Safeway, Hostess and others, donate food, and money also comes in through private donations.
According to Palm, on weekends the Mission gives out about 150 meals a day, reaching 4,500 to 5,000 meals in a month. About 75 percent of their visitors are homeless.
Monday nights at the Mission are known as "Coffee House," specifically for people 29 and under. "We play games and talk with them if they're going through hard times or whatever," says Palm.
Palm recalls how, when he was young, the only food provided was soup and sandwiches. But in the last 10 years, the menu has become far more elaborate, often offering Upper Crust pizza, pasta, rice, beans, bread, various types of salads and soups.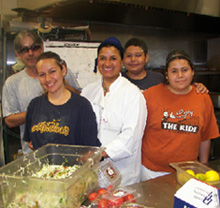 The Heart of the House: Teresa Scott Rodriguez is the culinary expert at the HRS, choosing this kitchen over her last position at the Seascape Resort.
During my visit to the Elm Street Mission, I was impressed by the fresh and crispy green salad, with iceberg lettuce, and sliced tomatoes and mushrooms, and a variety of salad dressings to choose from. The fresh fruit salad was a medley of melons, grapes, and strawberries all doused in yogurt.
Though many praise Elm Street Mission for the best breakfast in town on Wednesday mornings, not everyone is as enthusiastic about the dinners.
During my visit, a number of fellow lunch-table diners grumbled about the soup and main course, consisting of refried beans, an interesting mixture of macaroni and cheese and bean chili, boiled carrots and warm garlic bread.
Contrasted with the inconsistent and not always balanced diet of a journalist, I thought the meal was impressively hearty and square, incorporating all main food groups, more produce than I'd eaten in a weak, and even a cookie or donut to finish it off.
But some of the more regular customers were critical of the food's blandness.
"The cook needs to learn how to cook. He doesn't put any spices and stuff. He can ruin a perfectly good box of Mac and Cheese. And the soups sucks," says Maximus Heaven, who visits all the hot-meal locations in Santa Cruz on a regular basis.
Christal Williams has been in Santa Cruz since September, a refugee of Hurricane Katrina, and also frequents the Mission.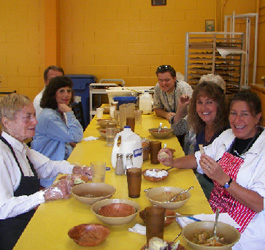 Only One of Many Suppers: The Volunteers at St. Francis Soup Kitchen, some of whom have been coming for decades, gather to eat before serving.
"I'm always here [at Elm Street Mission]. Today's soup is way too greasy with not enough spices in it," says Williams.
"And the spaghetti doesn't have enough spaghetti sauce," adds Heaven.
But whatever the spice deficit, dozens of visitors come to the Mission early, because the doors close at 5:30pm, They sit through the church service, which is, for some, an inconvenience endured for the sake of the food promised afterward.
Ward, through not homeless, has visited the Elm Street Mission's mealtimes for years. Weakened by a rare bone disease, he often finds it difficult to prepare his own food.
And Ward is one of the many I spoke with who contrast the homey environment of the Mission with other food operations.
"I feel like here there's more love put into the food than at the River Street Shelter. There it's more industrial, more kind of a grade-school environment, where they throw your food on a tray," says Ward. "It's not a church environment."
For those arriving after 5:30, whether you're running late, or prefer not to sit in on the church service, sandwiches and soups are offered from a table at the gate of the Mission.
But churchgoer or not, if it's good soup you want, St. Francis Soup Kitchen is your destination.
St. Francis Soup Kitchen, at 205 Mora St., behind San Lorenzo Lumber on River Street, serves lunch at noon five days a week and there's a different volunteer cook every day. I happened to drop in to St. Francis on a "Tony Tuesday."
I milled outside at 11:30am in the sunny courtyard outside of St. Francis with the other hungry guests, some drinking coffee, listening to one visitor play classic pop tunes on his portable keyboard.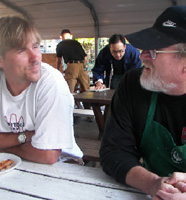 Feeders and Leaders: Pastor Ben Palm (left) and Elm Street staffer Steve Smith (right) talk as they digest.
A tall bearded man with a small dog pawing at his leg said hello as I walked up to the building.
"Lately I've been coming here almost every day, for the last week or two," said the man who, for the purposes of the article, wanted to go by "Jesus Freak." "I'm freaky for the Lord," he said. Jesus Freak sported a T-shirt with the words "Jesus Hardcore" printed on it, so I believed him.
"The food here is most excellent," said Freak. "And very nutritional. It's served with love, and there always seems to be a jovial crowd.
He crooned to his tiny dog, affectionately calling him "Ministry Man" and "Point Man."
"I go to the River Street Shelter in the morning. I like it best here, though," said Freak. "It's more casual, it's more free here, it's more open. There you've got to stand in a single file line. Here there's no rules and regulations, they let people be who they are."
Tuesday's soup was a magnificent minestrone, with everything in it a person could possibly ask of a soup. Noodles, white beans, basmati rice and assorted carrots, celery, broccoli, onions and zucchini were accompanied by fresh homemade bread (yes, there was butter on the table), and fresh salad topped with a special homemade avocado dressing.
"I'd say the meal we serve is probably more nutritious than the meals most people eat on their lunch breaks every day," says Richard Crowe, the director of St. Francis Soup Kitchen.
Crowe is very conscious of the quality of the food served by St. Francis Soup Kitchen, and before serving on the day I visited, he spoke to the volunteers concerning a 30 percent (and rising) rate of diabetes among homeless, due to poor nutrition, alcohol and drugs. He advised volunteers to monitor the amount of dessert taken by each guest.
"If someone doesn't eat a complex carbohydrate and just takes a lot of donuts, it's no longer a nutritious meal," says Crowe, also warning about the negative effects of excess sugar intake on some mental illnesses.
But the meals are accessible to everyone.
"There's no litmus test at the door besides behavior. Proper behavior is mandatory," says Crowe, stressing the need to uphold a safe environment in the face of rising drug use among the homeless.
"There's been more homeless-on-homeless violence lately with the methamphetamine epidemic," says Crowe. "But the vast majority here do not create any problem."
Showers are offered at St. Francis between Monday through Friday 11:30am and 1pm, and clothing is offered Monday, Wednesday and Friday, from 11:30am to 1pm.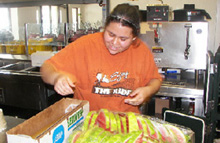 A Whole Lot of Watermelon: HRS, the hot-meal location at River Street, serves well-balanced meals, including produce.
We refer to the River Street Shelter affectionately as the 'criminal act-out zone,'" says Jeff Turner, resident of a halfway house in Santa Cruz, and a regular at St. Francis Soup Kitchen since it opened in 1984.
But despite the River Street Shelter's not-so-hot reputation among the free-food connoisseurs of Santa Cruz, the cluster of buildings at the corner of River Street and Coral Street remain the central location, the haven and the solace of many homeless and needy in Santa Cruz. The commonly used name "River Street Shelter" is actually a euphemism for a half-dozen individual shelters and programs at 733 River St., some of whose services provided are distinct, and some of which overlap. Among these are the River Street Shelter, for individuals who are dual diagnosed with substance abuse and a mental health disorder, and the HRR, a shelter serving families.
Walking into the large quad of buildings from the Coral Street entrance, to the right is where the Homeless Services Center (HSC) is, offering use of phones, shower, mail services and drop-in meals, among other services.
Trader Joe's donates an estimated $9,000 retail value of food to the HSC weekly.
Marcus Banuelos, coordinator and case manager for the Day Services Program of HSC, stood in front of dozens of bags and crates of food in the dining area waiting to be sorted by volunteers. "There's no reason homeless should go hungry in Santa Cruz if they know where we are," says Banuealos.
Banuelos also knows that there are many homeless in the city that are not being accommodated by the 300 beds available through homeless services.
"We need funding to keep these people going. Santa Cruz is a very rich county. People need to reach into their pockets. All walks of life have come through here, lawyers, doctors. ... Just because you have a job now doesn't mean you will always have a job. It could happen to any one of us at any time," says Banuelos.
Mike Nason has been coming to HSC and volunteering in the kitchen for 16 months. "I used to own a house in Glenwood, but my house collapsed and then my family life collapsed, and then the drugs came in and it happens for a lot of people like that. And they just don't recover."
Nason has a night job in San Jose and then comes into the HSC kitchen every day.
"If you work an extra eight to 10 hours a day, it keeps your mind off the dope," says Nason, affectionately referred to by the staff as "Michael, the Super Volunteer."
Breakfast and dinner are served every day to drop-ins, and up to 200 people are served a day. Line up for breakfast begins at 8am and the meal usually includes hot and cold cereal, pancakes and eggs. An early dinner is served at 3:30pm for any families with children, and for people taking advantage of the overnight program offered by some local churches. Dinner for the general public is served at 5pm.
On Wednesday evening, after witnessing a minor fork altercation in line, I sat down to a tray of lasagna, salad, bread and cookies in the dining area of the HSC. Nason had explained that the kitchen could only use what was available, so the lasagna didn't have quite enough tomato sauce and they'd run out of lasagna shells, so some of the pans had elbow macaroni noodles to substitute.
"It's all right, I can't complain," says Damon Witherbee, a resident at the Page Smith Community House, a transitional housing program. "The best thing is we get ribs every once in a while."
He pointed at the lasagna with his fork, "But this isn't too bad," says Witherbee. "Can't beat the price."
I picked at my salad that was swimming in a little-too-healthy dose of Thousand Island dressing. The short, chatty woman next to me pointed to it.
"They must have liked you. I didn't get any dressing," she said, being friendly. Annette Strong is a frequent visitor at HSC. "I do community service here, and I volunteer." She stood up briskly with her tray, leaving to meet her husband, and said goodbye to me warmly. I asked if she was homeless. "Me and my husband live in our car," she said, curtly. "You can call us clients."
Eating In?
In addition to meals for the homeless, Second Harvest provides groceries for the poor
Most food banks and hot-food locations in town receive a significant portion of their food, specifically produce, from the Second Harvest Food Bank in Watsonville.
Lee Mercer, the Education and Outreach director for the food bank, says that if you're looking for food-pantry locations (places where bags of food are handed out for home preparation), it's important to first call the food hotline at 831.662.0991. You'll then be directed to the location that best suits your needs. This system also allows visitors to be evenly distributed among the locations, so that no one location will be swamped and run out of food.
Live operators answer the hotline from 9am to 5pm Monday-Friday, providing information on all free food sources in Santa Cruz County. Calls during off-hours get a recorded list of hot-food locations.
Send a letter to the editor about this story.