August 9-16, 2006
home | the papers | metro santa cruz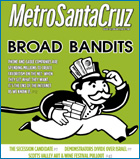 Broad Bandits
Phone and cable companies are spending millions to end the internet as we know it.

News & Views: A City Divided
Middle East tensions find their way onto the streets of Santa Cruz.
Nūz: Santa Cruz News and Politics
Tough Gov: Elisa Shapiro, Nihilist Party candidate for governor, talks secession on the eve of his Santa Cruz campaign stop.

Movie Review: 'World Trade Center'
Nicolas Cage struggles to survive Oliver Stone's good intentions.
Movie Review: 'Little Miss Sunshine'
Shirley Temple goes Sundance in this artier take on the 'Vacation' movies.

MORE MOVIE REVIEWS

SANTA CRUZ COUNTY MOVIE TIMES

Music Feature: Bleeding Edge
Go for the Yo La Tengo and Brightblack Morning Light, stay for the blood and edginess.
Music Review: Cabrillo Music Festival
Percussionist Evelyn Glennie and composer in residence Kevin Puts bring the audience to their feet.
Music and Nightlife Calendar Picks
Our critics pick this week's most interesting gigs: John Waite, Darol Anger, David Grisman, Jon Dee Graham, Dirty Dozen Brass Band, Chip Taylor, Brave Combo, The Adolescents, Louisiana Red, Dave Alvin.

MORE MUSIC AND NIGHTLIFE

MUSIC AND CLUBS LISTINGS

Dining: Market Force
The Aptos Farmers Market and Shop with the Chef series bring out the locals.

BOOK A RESTAURANT RESERVATION

FIND A RESTAURANT REVIEW

Arts Preview: Scotts Valley Art & Wine Festival
Wine, beer, art and nature—what more do you need?
Stage Review: 'Pygmalion'
Shakespeare Santa Cruz's take on the Shaw classic is absolutely fabulous.
Letters to the Editor
August 9-16, 2006.