August 9-16, 2006
home | metro santa cruz index | the arts | stage | review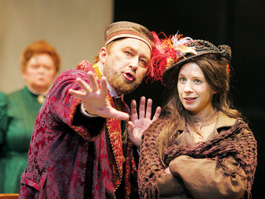 Photo courtesy of Shakespeare Santa Cruz
Absolutely Fabulous: Paul Whitworth as Henry Higgins and Julia Coffey as Eliza Doolittle in Shakespeare Santa Cruz's production of 'Pygmalion.'
The Pygmalion Effect
Henry and Eliza put each other through changes in Shakespeare Santa Cruz's production of the Shaw classic
By Joyce D. Mann
The season of transformation continues at Shakespeare Santa Cruz, with George Bernard Shaw's story of Eliza and her conversion from guttersnipe to beautiful lady through the tutelage of phonetics professor Henry Higgins. Told with wit, humor and insight, Pygmalion is a story of deeper truths, brought to us by the Anglo-Irish playwright whose belief in the value of universal education was part of who he was.
Paul Whitworth is the quintessential Higgins. He maintains an ambiguity in his relationship with Eliza. While viewing her as a project, his concerns obviously go further. In the upper-class environment he inhabits, Higgins does not expect Eliza to be upset by a little benign neglect, and his surprise at her outbursts is genuine. Whitworth's timing is impeccable, his changes in mood and humor delicately nuanced. His transition from blustering professor to inept schoolboy in the presence of his elegant mother (beautifully played by Beth Dixon) is precious.
As one of the most delightfully cheeky Elizas I've seen in a long time, Julia Coffey can go from fishwife to lady and back in the flash of an eye. The sort of spunky woman Shaw loved, she holds her own with Higgins. Coffey does a wonderful job with the accents, both cockney and upper class.
Tom Blair's kindly Col. Pickering provides a nice contrast with Whitworth's Higgins in appearance and demeanor. But his lack of military bearing makes it hard to imagine him in the British army in India.
Higgins may be the first voice of Shaw, but Alfred Doolittle is surely the second. His pragmatic commentary on the working classes, with their views on marriage, money and drink, is truly Shavian, and while cynical, rings true. Gary Armagnac captures the essence of this role. His unwilling transition from grimy dustman to wealthy inspirational speaker is convincing and very funny. Even his ill-fitting new togs reflect his discomfort.
Laura Kenney, whose perfect accent and subtle regional tones would make one swear she's a native Briton, plays the sympathetic and frequently exasperated Mrs. Pearce to perfection. Her scenes with Higgins and Eliza are among the highlights of this wonderful production.
Supporting roles are well cast, with Kate Hawley as the genteel Mrs. Eynsford-Hill and Ally Gordon as her shrill daughter, Clara. I was a little baffled by the casting of Zach Evenson as her hapless son Freddy, but on the whole it still worked.
While individual actors are brilliant, the ensemble work is most impressive, particularly in the early scenes with Eliza, Higgins, Pickering and Mrs. Pearce. Kudos to director Randy White for the staging. However, the last two acts do slow down, perhaps because we find Eliza more entertaining as a cockney flower girl than as a lady.
The music, composed by Gregg Coffin, is intriguingly reminiscent of the more serious music-hall songs of the early 20th century, while Lydia Tanji's costuming is elegant and colorful. The sets (Louisa Thompson) are nicely dressed in the period, and scene changes are smooth and speedy.
Those familiar with the musical version of Pygmalion (My Fair Lady) may find certain events and characters missing, since this production goes strictly by Shaw's text. Many of the changes made for the musical appear to have come from the 1938 film Pygmalion, for which Shaw wrote an Oscar-winning script.
Shaw's plays always have a strong social commentary, and Pygmalion is no exception. Ibsen, to whom the young Shaw is often compared, invariably put a serious slant on important social issues. Shaw gets similar messages across using the weapon of comedy. He recognized that the way people speak could limit their opportunities. Things changed in the 1950s, with a group of English writers known as the "angry young men." Working-class accents became almost chic. However, Shaw's message in Pygmalion still resonates. Although it may no longer be accents that influence us, most of us still retain some superficial standards by which we judge people.
Pygmalion plays at the Theater Arts Mainstage, UCSC, through Sept. 3. For performance dates and tickets, go to www.shakespearesantacruz.org, or call 831.459.2159.
Send a letter to the editor about this story.