August 9-16, 2006
home | metro santa cruz index | the arts | visual arts | review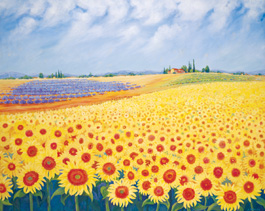 Flower Power: 'Tuscan Harvest' by Sharon Medler, whose works will be on view at the Scotts Valley Art and Wine Festival
Hot Fun in the Summertime
The living is easy at the Scotts Valley Art and Wine Festival
By Rachel Stern
Good wine, at least according to the first-century poet Ovid, "gives courage and makes men more apt for passion." For those of a more recent era--many who see the savory liquid as more about fun and festivity than bottled poetry--there's the Seventh Annual Scotts Valley Art and Wine Festival, which takes place Aug. 12-13 in Sky Park. The festival features 12 wineries and two microbreweries, all from the heart of the Santa Cruz Mountains. The aptly titled Heart O' the Mountain Winery, making their first time appearance, will pour their samples straight from the barrel. Hunter Hill Winery--who won Best of Show at the 2005 California State Fair--will also be in attendence.
For those whose alcohol desires drift deeper in the direction of the perfect microbrew, there's the Santa Cruz Mountain Brewing Booth, where the Dread Brown Ale--winner of the first place ribbon at the California State Fair--can be enjoyed. To complement their drinks, festivalgoers can indulge in foods ranging from Kountry Kettlecorn to lobster-stuffed artichokes.
In addition to wine and beer tasting, the festival includes 90 artists from around California offering painting, photography, ceramics, sculpture, textiles, wooden bowls and more. Sharon Medler, in her fifth year at the festival, is this year's winning "Summertime" Poster Artist. "It's always a really happy, colorful show," said Medler, a favorite of festivalgoers with her lively acrylic paintings of still-lifes, landscapes and beach scenes.
Sue Procise, who has served as a wine-pouring volunteer for the past five years, decided that the festival would be the perfect venue to display her handmade jewelry for the first time. "It's a really nicely run show with such a great variety of artists," said Procise. "It's always fun picking a new favorite."
The festival is kid-friendly as well, with a KidsArt booth and Santiago the magician strolling about with a few tricks up his sleeve. "We wanted to be a place where you can bring everyone," said festival coordinator Sharolynn Ullestad, who predicts a crowd of 3,500 to 4,000 people at this year's festival.
Under the shade of the festival tent, there will be musical accompani-ment ranging from Aryeh Frank Furter, a Celtic folk harpist, playing at various times throughout the fair, to the Sunday 3-5pm appearance by the Joe Sharino Band, who have won 15 Best Band Awards in Northern California, including a most recent "Best in Silicon Valley" from the San Jose Mercury News. Saturday's music scene will be jazzed up with the Midnight Mambo Quartet, combining Afro-Cuban and Puerto Rican rhythms, and soulfully rocked by Freesound, hailing from Hawaii. Sunday's music ensemble also features Sadza, a professional marimba and mbira band that plays both the traditional and the contemporary music of Zimbabwe.
"We're really excited to have such big crowd-drawing entertainment," said Ullestad, "It's going to be a really fun few days."
The Scotts Valley Art and Wine Festival happens Aug. 12-13, 10am-6pm, in Sky Park, 361 Kings Village Road, Scotts Valley. Admission is free. For more information, call Scotts Valley Chamber of Commerce at 831.438.1010.
Send a letter to the editor about this story.