August 30-September 6, 2006
home | metro santa cruz index | music & nightlife | feature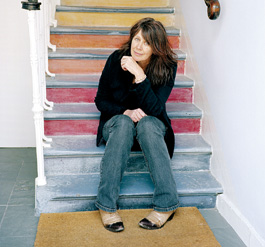 Photograph by Jason Evans
Making Up For Lost Time: 'It never occurred to me I'd do anything with music again,' says Bunyan. 'I thought I was no good.'
From Bunyan to Banhart
Vashti Bunyan returns from a 35-year hiatus with a little help from her freak-folk admirers
By Paul Davis
It's the sort of thing that doesn't happen in real life as much as in sepia-toned biopics that take wide liberties with the truth: Deep into the '60s, a withdrawn songwriter is discovered by the Rolling Stones, and through their patronage, releases a critically acclaimed debut CD. Despite a positive reaction, the album languishes on store shelves, and the record label quickly forgets about the young singer. Despairing and already sick of the machinations of the music industry, the songwriter buys a horse and cart and abandons her music, moving to the British countryside with her boyfriend. Thirty years later, her obscure debut 1970 album, Just Another Diamond Day, is embraced by a young generation of like-minded musicians, who are inspired by her spare and meditative transmissions as they broadcast across a decades-wide gulf. Through their encouragement, the songwriter is coaxed from her long retirement to write, perform and release her second album.
If you were to find such a tale too artfully romantic to believe, you'd be forgiven. But in the case of ethereal folk singer/songwriter Vashti Bunyan, it rings true. And though there is ripe territory to be romanticized in Bunyan's story--enough to trump any Behind the Music episode for sheer dramatic potential--the songwriter is as bluntly direct in person as she is soft-spoken and mysterious musically. When she disappeared in 1968, Bunyan put the music behind her completely and began a new life, having internalized the indifferent--yet ultimately mistaken--response of the industry and the record-buying public.
"It never occurred to me I'd do anything with music again--I thought I was no good," says Bunyan. "I didn't play at all after that--I just assumed I was wrong in the first place to try, and it never occurred to me to try and find that part of my mind."
Considering the homespun, earthy appeal of her music, it may be perversely fitting that it was through the Internet that Bunyan discovered the impact her music had made. "In [the '60s] it was harder to deal with no feedback, but now with the Internet there's much more feedback between the artist and the audience," explains Bunyan. "At the time all I had to go by was sales and so I thought no one liked what I was doing. But over the years, here and there I found reference to the album on the Internet."
Discovering online recognition for an album that had long attained cult status, Bunyan set about rereleasing Just Another Diamond Day, which quickly found a even wider audience via Internet word-of-mouth. "This time," Bunyan explains, "my first album reached much more sympathetic ears and I started writing songs for the first time in 30 years."
It just so happens that at the same time, a loose collective of young upstarts were developing an audience, performing music that owed much to Bunyan's sparse, intimate and weightless folk airs. Soon, these musicians were calling, and she began collaborating with some of the most accomplished artists in the recent "freak-folk" revival, including Devendra Banhart, Joanna Newsom and the Animal Collective. Writing and recording once again, Bunyan set to work on her second album in 35 years, Lookaftering. Despite the decades separating Bunyan from her previous musical efforts, she found that her approach had changed little.
"Quite strangely, the first songs I started writing were very similar to the first songs I wrote when I was 17 or 18," says Bunyan. "I expected it to feel a little strange, but it doesn't."
She credits this long-delayed, yet seamless, continuation of her career as the reason why it was so easy for her to share a creative space with the likes of Banhart and Newsom. "In terms of musical development I'm at the same stage as them--I've just picked up where I left when I was first writing and recording. People have asked me if I feel entitled to the [younger generation] and I don't really--I just wish they had been around when I was playing before," she notes. "It's strange that there is this gap of years between us."
But as she embarks on her first-ever tour of the United States, Bunyan anticipates visiting the Bay Area, a hotbed for the contemporary folk scene that has embraced her work and encouraged her second go at a musical career. In the cultural history of the region, Bunyan sees a kindred musical spirit that eluded her in mid-'60s England. "I've often thought I should have gone to San Francisco in 1968," says Bunyan, with a slight twinge of regret in her voice. "I think things might have turned out much differently."
Vashti Bunyan performs with Lauren Shera and Cat and Shout on Wednesday, Sept. 6, at 7pm at the Attic, 931 Pacific Ave., Santa Cruz. Tickets $18 advance/$20 day of show; 831.460.1800.
Send a letter to the editor about this story.