August 23-30, 2006
home | the papers | metro santa cruz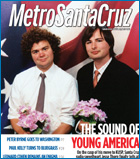 'The Sound of Young America'
On the cusp of his move to KUSP, Santa Cruz radio sweetheart Jesse Thorn finally tells all. Plus, just what is 'The Sound of Young America,' anyway?

Your Tax Dollars Not Working
Our leaders may be sending us to hell in a handbasket, but at least they're concerned about getting famous singers to teach children 'The Star Spangled Banner.'
Nūz: Santa Cruz News and Politics
The Queerest of Them All: The Advocate rates UCSC in its Top 20 best campuses for LGBT students.

Movie Review: 'Leonard Cohen: I'm Your Man'
Built around a tribute concert, this documentary devoted to the man Bono calls 'our Byron' ends up revealing more about the music than the man.
Movie Review: 'Quinceañera'
Against the high rises of Los Angeles, a Latino rite of passage takes centerstage in directors Richard Glazer and Wash Westmoreland's emotional drama.
Cult Leader: 'The Brak Show'
Adult Swim's cultiest show gets its due.

MORE MOVIE REVIEWS

SANTA CRUZ COUNTY MOVIE TIMES

Music Feature: Paul Kelly
Australia's revered singer/songwriter hitches his wagon to the Waifs and heads out to Santa Cruz.
Music and Nightlife Calendar Picks
Our critics pick this week's most interesting gigs: Don Edwards, Herman's Hermits with Peter Noone, The Drifters with the Bad Boys, Northern Rail, the Waifs with Paul Kelly, Jesus Diaz, Quijerema, Curtis Salgado, Dave Weckl, Frank Black.

MORE MUSIC AND NIGHTLIFE

MUSIC AND CLUBS LISTINGS

Dining: Hank's at the Hook
A new family-owned restaurant brings healthy fast food to the Pleasure Point neighborhood.

BOOK A RESTAURANT RESERVATION

FIND A RESTAURANT REVIEW

Stage Review: 'Timon of Athens'
Disturbingly contemporary overtones mark Pacific Repertory's production of the seldom-produced Shakespeare work.
Letters to the Editor
August 23-30, 2006.