August 16-23, 2006
home | the papers | metro santa cruz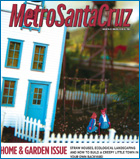 Home & Garden Issue: Build a Town in Your Own Backyard
An Aptos hobbyist creates his own reality with garden-scale trains, trucks, people, buildings and the obligatory smoking volcano.
Home & Garden Issue: Straw Into Gold
How a straw-bale granny unit suggests a way out of Santa Cruz's housing crisis.
Home & Garden Issue: Ecological Landscaping
Aesthetic and environmental concerns come together at Terra Nova.

News & Views: Ayuredic Fertility
Dr. Sarita Shrestha, Nepal's "Mother of Ayurveda," will lead a fertility seminar at Mt. Madonna.
Nūz: Santa Cruz News and Politics
NAFTA Performance Art: Nancy Nisbet is bringing her traveling Radio Frequency Enhanced Identification-enhanced barter truck to Santa Cruz.

Movie Review: 'The Proposition'
Australian rocker Nick Cave spews out the screenplay for this overindulgent Aussie western.

MORE MOVIE REVIEWS

SANTA CRUZ COUNTY MOVIE TIMES

Music Feature: Shakira and Wyclef Jean
The "Hips Don't Lie" team takes aim at America's ampitheaters.
Mūz: Santa Cruz Media, Music and Arts
Musings on media, music and the arts in Santa Cruz and beyond. Aptos label S.A.R. aquires the Slits, plus Robert Weisberg's "Waging a Living" documentary.
Music and Nightlife Calendar Picks
Our critics pick this week's most interesting gigs: Dagger Van Gogh, Jack Shit, Anton Schwartz Quintet, The Rebirth, the Chop Tops, Stymie & The Pimp Jones Luv Orchestra, Sonny Landreth, Lee Ritenour with David Grusin, and Thor.

MORE MUSIC AND NIGHTLIFE

MUSIC AND CLUBS LISTINGS

Dining: Mollie's Country Cafe
Breakfasts are way big at this Scotts Valley neighborhood diner.

BOOK A RESTAURANT RESERVATION

FIND A RESTAURANT REVIEW

Stage Review: 'King Lear'
The tormented monarch shines in Shakespeare Santa Cruz's newest production.
Letters to the Editor
August 16-23, 2006.