September 13-20, 2006
home | metro santa cruz index | music & nightlife | preview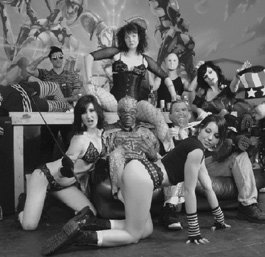 Riding Dirty: Blowfly's world is not for the easily offended.
Blowfly Confidential
The self-proclaimed 'Godfather of Dirty Rap' waxes philosophical on dinosaurs and Jello Biafra's member
By Paul Davis
You don't interview Blowfly, the progenitor of dirty rap and skewed R&B, the '60s soul crooner who once was sued by the president of ASCAP for his early release, "What a Difference a Lay Makes." Just give him a topic, and he'll tell you the whole story, with 30 years of background thrown in as well. Ask the nearly 70-year-old soul singer how he got wrapped up with Jello Biafra's Alternative Tentacles label and ended up fronting a cover band that performs twisted versions of punk classics, from "Keep Her Penetrated" to "I Wanna Be Fellated," and he's likely to tell you about the former Dead Kennedys frontman's penis.
Tread carefully from here on in, gentle reader, as Blowfly's world is not for the easily offended. If you choose to go along for the ride with Blowfly, you are best advised to leave common standards of propriety at the door--Reid can spin a not-safe-for-anywhere yarn about any topic in a way that will make anyone who once hid 2 Live Crew tapes from their parents giggle in delight. Consider the artist also known as Clarence Reid's re-enactment of that first meeting with Biafra:
Blowfly: I know about you, Jello.
Biafra: You know about me? I know about you too, Blowfly.
Blowfly: Yeah, but I got some disgusting things to tell you about Jello Bi-Africa.
Blowfly: The reason they named this cracker-ass that shit ...
Blowfly: When we was in Africa one of those warlords put a curse on this dick. This dick would get so hard elephants could skin a cow on it. It could buttfuck dinosaurs.
Blowfly: No, it was only good in Africa. The curse was the minute his ass was up out of Africa his dick became like Jello.
For the uninitiated, Blowfly is sort of the Rosetta Stone of dirty rap music, bridging the "soul talking" of '50s Southern radio DJs with early hip-hop through an underground R&B career that thrived in the '60s. While moonlighting as a soul songwriter, Reid recorded covers such as "Shitting on the Dock of the Bay" and the 1965 album Rap Dirty, which laid the groundwork for 2 Live Crew, Kool Keith and countless other porn-obsessed rappers. Reid never tasted the mass success of those he influenced, darting between shady deals and label disinterest for much of the '80s and '90s. While a 1991 collaboration with Fishbone and Flea helped, it wasn't until Reid met journalist, drummer and fellow Miami resident Tom Bowker (who assembled Blowfly's backing band and serves as his manager) that he came across his first dependable label in over 20 years.
But while Blowfly may be turning out the punk rock hits on Blowfly's Punk Rock Party-- serving up covers of the Ramones, Turbonegro and the Dead Kennedys (on the topical "R. Kelly in Cambodia") --he's more interested in his own history. Ask him about playing punk rock and instead he'll explain in elaborate detail how he received his name, back when he was plowing fields. "The boss and his friends were around, and I'd start my act," he explains. "White people would just crack-- 'Why, that dirty little bastard'--and give me money. I was supposed to be making $2 a day, I would go home with $20. When I explain where I got it from--my grandmother would call--[they would say] 'We gave him the money.' 'Well why?' 'Because he sang dirty songs,' and at the end she said, 'You're a disgrace to the black race and you're no better than a blowfly."
Considering Blowfly's subject matter, it may come as a surprise that Reid is a devout Christian who was long known for writing clean and radio-friendly songs for K.C. and the Sunshine Band and Sam and Dave. Still, his scriptural interpretation would likely send William Bennett running for the hills, proving that he's likely better off running with the Jello Biafras of the world than the Jesse Jacksons. "All the preachers, they say you should ban all the nasty shit," he states. "I say, 'You know what book you should start with is the Holy Bible.' Ask me what's in the Bible that's disgusting--John the Baptist got his dick cut off, his head cut off and served on a silver platter 'cos he wouldn't fuck a dancer. Here I am part nigger, part German, part Sioux Indian, but I never drink or smoked or used drugs in my life. I could be like Prince--he's a Jehovah Witness now. Seems all you've got to do is sin all you want to and when your time's run out become a minister."
Blowfly performs with Bob Log III on Sunday, Sept. 17, at 7pm at the Attic, 931 Pacific Ave., Santa Cruz. Tickets are $10. (831.460.1800)
Send a letter to the editor about this story.