September 6-13, 2006
home | the papers | metro santa cruz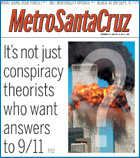 9/11 Five Years On
In 'Unquestioned Answers,' non-conspiracy theorist David Ray Griffin takes aim at the official 9/11 story. Also, New York City 'house band' Black 47's Larry Kirwan looks back in sorrow.

'Broad Bandits' Update
In an update to our cover story, tube boob Ted Stevens and his clueless colleagues in Congress try to pull the plug on net neutrality.
Nūz: Santa Cruz News and Politics
What Gang Task Force?: Monterey and Salinas' anti-gang efforts grab state grants while SCPD's so-called 'gang task force' goes without.

Movie Review: 'Hollywoodland'
Ben Affleck makes George Reeves' sad end that much sadder.
Movie Review: 'Factotum'
Matt Dillon brings a Bukowski barfly to the big screen.
Cult Leader: 'A Nightmare on Elm Street'
Wes Craven's 1984 slasher flick reconsidered.

MORE MOVIE REVIEWS

SANTA CRUZ COUNTY MOVIE TIMES

Music and Nightlife Calendar Picks
Our critics pick this week's most interesting gigs: Vashti bunyan, Lavay Smith and her Red Hot Skillet Lickers, Geoff Muldaur, Sound of Music Sing-a-long, Poop with Rikk Agnew et al, Jerry Miller Band, Dick Dale, AFI, Paul Brody and Sadawi, Sasha Dobson.

MORE MUSIC AND NIGHTLIFE

MUSIC AND CLUBS LISTINGS

Dining: Portola House
Let celebrity chefs open up their trendy urban steakhouses—Santa Cruz's Portola House is the real deal.

BOOK A RESTAURANT RESERVATION

FIND A RESTAURANT REVIEW

Book Review: 'Lost Girls'
Alan Moore and Melinda Gebbie put the graphic back in graphic novels.
Letters to the Editor
September 6-13, 2006.