September 13-20, 2006
home | metro santa cruz index | santa cruz county restaurants | review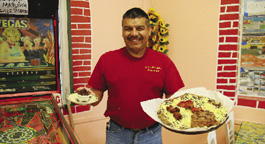 Photograph by Carlie Statsky
Los Molcajetes: Home of fried crickets and the world's largest tamale.
Something to Chirp About
From oversize tamales to baby crickets, Los Molcajetes delivers the flavors of Oaxaca
By Selene Latigo
Yesterday I felt an early autumnal gust of wind, an abrupt reminder that this incredible summer will come to a close soon. Don't get me wrong: I think fall is the best of the four seasons, but the reality of the cold, gray days of winter looming so close behind makes me shudder with icy remembrance. Did I mention that our old beach shack of a house has no insulation? Born and raised in coastal Massachusetts, Dave has little patience with my California whimpering and frozen appendages, but he never complains when I start planning a trip somewhere warm and/or tropical over the darkest months. Our last winter vacation found us in Oaxaca City, Mexico, a glorious, vibrant, traditional yet contemporarily cultured place that quickly made it onto our return destination list. Of course, we ate our way through the two weeks with zeal, and any reference to Oaxacan food is exciting now. A few recommendations brought us to Los Molcajetes in Watsonville in an attempt to satiate those warming memories of Oaxaca.
Hand-written specials are taped up all over the windows of this little, unassuming place on Riverside. Walking into the nearly empty restaurant, we were greeted by bold and cheerful colors from the flowered tabletops to the "brick" archways painted on the peach-hued walls, as well as by the very friendly proprietor, helpful in every step of our meal. While a few menu items were captured in classically unappealing photos up above our table, we remained firmly dedicated to choosing from the Oaxacan selections as opposed to the Mexican-American standards.
The only thing missing from our walk down memory lane was alcohol. A Negro Modelo, a shot of local mescal and a bowl of salty peanuts with chiles and garlic was our typical anytime respite. However, the thick, crunchy chips and the chunky chop of nopales, tomato, onion and cilantro, and a dark roasted smoky salsa, were a welcome substitution.
My initial urge was to order the tlayuda or clayuda (depending on which sign you look at), a "pizza" created out of a massive crisp-baked tortilla, its $11.25 price making it the costliest menu item. But I ended up opting for a wide range of appetizers. Although the simplest choice, I selected one regular quesadilla ($2), longing for the fresh pockets of masa, cheese and squash blossoms that we would buy hot off the streetside comal. This version was made with thick, homemade corn tortillas, tender and fresh tasting, with gooey cheese escaping from every opening. It could have benefited from a longer cooking time on the grill due to the extra thick masa. I piled on the cactus salsa and alternated bites of the quesadilla with my crispy taco dorado ($1.50) filled with creamy seasoned potato, tomato slices, onion, crema and Cotija cheese. The taco shell was perfectly fried and not cloying or overly greasy at all, while every ingredient was texturally balanced with both rich and light elements.
Dave was definitely out to capture his food experience of Oaxaca, and proceeded to order the chapulines al mojo ($3), a baby ramekin of fried crickets. I could never bring myself to sample this bug delicacy, but Dave loves these crunchy, salty, sour-sweet snacks that he describes as "not like chicken," but rather a shrimplike ocean flavor with a hint of tamarind tang.
His tamal Oaxaqueno ($5) was the largest tamale I've seen. The dense masa was tidily packed into two banana leaves, adding a subtle herbal quality along with the chocolate earthiness of mole mixed in with the shredded pork filling. A dollop of crema was a bold contrast to the dark green envelope.
We also tried the memelita ($3.25), a supple tostadalike item that was spread with smooth refried beans and topped with cilantro, Cotija cheese and salty, chile-seasoned chunks of pork, cecina. In Mexico, the memelitas we tried usually came with a thin layer of pork fat that was absent here, a flavor I didn't miss at all.
With such cheap prices and larger than expected portions, Los Molcajetes is a destination-worthy combination of taqueria and sit-down restaurant. Some items, such as the tamale, are probably fresher during lunch hours, which can be a busier time for them. With so many places to choose from in Watsonville for great Mexican food, I would hate to see Los Molcajetes fade into the crowd, especially given its hard-to-find authentic Oaxacan classics.
---
Los Molcajetes
Address: 51 Riverside Drive, Watsonville
Phone: 831.722.4960
Hours: Daily 7am-9pm
Cuisine: Mexican
Price Range: $1.50-$11.25.
Send a letter to the editor about this story.