September 27-October 4, 2006
home | metro santa cruz index | santa cruz county restaurants | review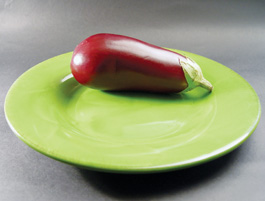 Serving suggestion: Nine out of 10 respondents prefered the dishes described below to the one shown above.
The Eggplant and I
Escape the kitchen and enjoy late summer's favorite nightshade
By Selene Latigo
To praise the bounty of a late summer harvest is like explaining why I enjoy chocolate--some things are just so obviously great that there's little reason to expound on them. However, with people who hate eggplant still out there, I find the need to discuss one of my favorite seasonal standouts. Eggplant holds its own special aura in the garden--from its spectacular star-shaped blossom to its mysteriously seductive shades of black, purple, pink or white. Every culture seems to incorporate this nightshade in some way or another into its cuisine, oftentimes paired with other summertime beauties growing alongside.
Even though I take pride in our extensive home garden menu--utilizing every vegetable we grow, even if it means a few months of zucchini bread, salsa and a whole cucumber for each of us at every meal--there is one dish that I hardly ever make for myself. Eggplant Parmesan is, in my opinion, better left to the neighborhood Italian restaurants. The amount of oil, frying and cheese involved in creating a traditional serving of this classic concoction is appalling and it just tastes better when I'm far from my own kitchen. To fully satisfy this summer's annual craving, I conducted a little tour of eggplant Parmesan around town.
To begin, I visited Santa Cruz's quintessential Italian restaurant. Shelves packed with basket-clad chianti bottles, red-checkered tablecloths, candle-lit booths and a classic Italian-American menu have made Ristorante Italiano a festive and fun destination since 1980. I'm drawn in by the sunny outdoor deck, dappled in shade from the huge sycamore trees overhead, a cheerful three-story mural and lilting jazz tunes that almost drown out the bustle of Soquel Avenue. The eggplant Parmesan ($9.95, lunch) consists of three generously fried big rounds of eggplant, thickly coated in breading, topped with melted mozzarella and doused in oil-glistening marinara. The sauce was just a backdrop, lending tomato flavor to the salty cheeses and eggplant. The small pile of slightly overcooked veggies on the side was a welcome green respite.
A newcomer to our food community, Papa O's in Capitola offers a very different take on eggplant Parmesan ($11.95, dinner). On a Thursday, we stumbled upon "community night" which means customers receive a second entree half-off, and a shockingly affordable wine list considering the excellent selections. Their version was layered and cut into a large lasagna-style square, with strips of tender thin eggplant, summer squash, chard and just a touch of mozzarella. The marinara was very fresh and chunky with onion and bits of carrot, making the whole dish more reminiscent of a stacked ratatouille than its actual title. The house-made blue cheese dressing with my side salad (included in entree) and the decorative herbed pats of butter that came with our basket of warm bread deserve special mention. However, Dave's mashed potatoes held an unfortunate powdery, reconstituted flavor and texture and he noted the grilled polenta at the next table as a better substitute.
I'm not surprised that my favorite stop along this tour was Ristorante Avanti. With a dedicated philosophy of supporting local farms and using sustainable products, I knew that this eggplant was at its peak, probably picked not long before I enjoyed it. The plate ($10, lunch) held three slices of eggplant in graduated diameter, aesthetically splayed atop one another, sandwiching a balanced ratio of melted fresh mozzarella. The eggplant was fried to its ideally supple state with just a dusting of crisp breading and slightly charred skin. The sauce tasted long-cooked, deep and dark, with a sweet concentrated tomato flavor. It came with a small pool of smooth soft polenta, rich, cheese-infused and enhanced by the intense marinara spilling over. Lunchtime here is a great deal.
Initially, I expected to be overwhelmed by options when I started my search for eggplant Parmesan on local menus, especially since it happens to be at its seasonal prime. However, my hasty assumption that this dish has practically become as American as pepperoni pizza proved wrong. And so, my advice is to order it if you see it, just in case this is a disappearing trend, or just suck it up and pull out your cast iron pan and fry away.
Ristorante Italiano, 555 Soquel Ave., Santa Cruz; 831.458.2321. Papa O's, 427 Capitola Ave., Capitola; 831.465.6605. Ristorante Avanti, 1711 Mission St., Santa Cruz; 831.427.0135
Send a letter to the editor about this story.