September 27-October 4, 2006
home | metro santa cruz index | features | santa cruz | feature story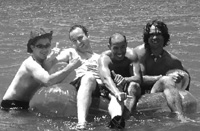 The real couch surfers: CouchSurfing.Com founder Casey Fenton in Hawaii with buddies and co-founders Daniel Hoffer, Sebastian Giao Le Tuan and Leonardo Bassani de Silveira.
Couch Surfing USA
How people--and their furniture--are coming together to make a better world
By Rachel Stern
In her two months traveling throughout Europe, Cabrillo College student Amanda Lehr discussed politics with Anarchists in Bordeaux, France, was charmed by a puppeteer who performs his magic on Los Ramblas in Barcelona, and experienced Saint Patrick's Day as more than just an alcoholiday through the many festivals of Tralee, Ireland. All without footing one hotel or hostel bill, or staking a single tent into the ground. Rather, the 22-year-old Lehr received free accommodations--including priceless conversation with locals--by using the Internet-based CouchSurfing Project 2.0, which aims to create international connections between people by setting them up with a temporary home-away-from-home.
Or, as CouchSurfing.com itself proclaims, the project--armed with a recently revamped philosophical mission--gives people the tools to "participate in creating a better world, one couch at a time."
Lehr prioritizes couch surfing ahead of other forms of accommodation as it allows her to gain an unique insider's cultural perspective while acquiring friends from all around the world.
"Camping is a great way to stay confined," says Lehr, who now hosts both Americans and international guests at her Santa Cruz residence. "Hostels are great, but you're usually just with other travelers. With couch surfing, you can see the town you're in as the locals see it."
Lehr is among 111,866 registered couch surfers in 207 countries and 15,989 cities who enjoy giving, and receiving, hospitality. They speak 922 languages ranging from English to Siswati, and range in age from 18 to 89, with the average age being 24.
Registration on the website is free, and participants don't even have to possess a sofa--they can just opt to be a surfer, or offer accommodation in other ways, such as through camping space in their back yard or a spare bedroom.
Joe Guilmette, 21, a UC-Santa Cruz student who has a couch, an oversize utility closet and plenty of floor space in his Santa Cruz home, has made numerous cross-cultural friendships without even having to cross the threshold of his front door.
"When you travel, you make friends quicker than you do in real life, and you get the same experience from hosting people," says Guilmette, who takes the time to cook--and savor--dinner every night with his guests. "It's great fun. At one time, we had nine people staying in the house, and two Austrians who'd been staying with us for two weeks. After those two weeks, you feel like you've known the people you've been hosting for years."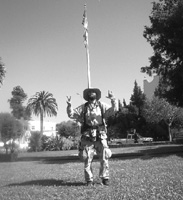 Photograph by Rachel Stern
Coming to a couch near you: Santa Cruz's Little-Star Svedar sees couch surfing as a 'major peace-making instrument.'
Where It All Began (and Almost Ended)
When then 20-year-old Casey Fenton made a solo trip to Reykjavik, Iceland, in 1999, he wanted an experience outside of the Lonely Planet universe. Seeking to gain an insider's perspective into the strange land, Fenton, a self-taught computer programmer, got a hold of the University of Iceland student mailing list, and spammed over 1,500 students.
He got 100 responses within the next 24 hours.
After having more than a few Bjorns, Brynjas, Hrafns and Svanas host him--and show him their version of Reykjavik--Fenton was inspired to register the domain of CouchSurfing.com when he returned to the States. Yet it was not until the age of 25 that Fenton decided to sell his stake in a successful dotcom, and move from his native New Hampshire to Anchorage, Alaska, to bring to life his nonprofit ocean of CouchSurfing International Inc.
On June 27, 2006, due to a hard drive crash and the loss of essential data, Fenton wrote a letter to the couch surfing community stating that the site was no more. Within the next day, he received over 2,000 emails from members saying they didn't want to see the demise of the site, and didn't mind if it started over from scratch.
In an explanation of the crash posted on the website, Fenton wrote: "I was reminded that the CS community is not about the data, or about the furniture, it is about the network and the friendships that have already been created."
By July 7, "CouchSurfing 2.0" had been redesigned, reorganized and rebuilt through the Montreal Collective--or members who gathered together to get the site on its feet again. By Aug. 2, the CouchSurfing Project had hit its milestone of 100,000 members.
Eriq Leasag, 35, a CS administrator and collective participant who has hosted a grateful Fenton more than a few times on his Montreal couch, attests to all positive experiences through the website.
"You can't clique with everyone," says Leasag, a photographer by day who's known to the couch surfing community as "Mr. Rico." "Everyone, though, has been nice and respectful. In the end, what I cherish most from meeting people is the learning I've acquired."
Lehr, whose only negative experience as a host was when a man from England left her spare bedroom in a tornadolike state of disorder, believes all couch surfers simply need to have common courtesy.
"Sometimes your personalities and politics don't match well," said Lehr. "But if you follow common sense things in someone's home, like doing the dishes, smoking outside and doing what's asked of you on their profile, you can still appreciate each other."
But Is It Safe?
The CouchSurfing Project encourages prospective roommates and hosts to communicate by phone and email to become comfortable with each other before a stay. The CS website also offers a few safeguards, such as a credit card verification system--an optional process available on a sliding scale ($25 suggested) fee. When completed, a letter is sent to the couch surfer's snail-mail address, and they are given a special code to change their online status to "verified."
Participants can be vouched for by people who stay at their home, and by hosts that they themselves stay with, in the "recommendations" section of their profile.
Still, Leasag recommends that the travelers always be vigilant of their hosts.
"Don't let the verifications and references make you too confident," says Leasag. "You have to travel with your sixth sense and use your feelings and instincts."
That applies to both men and women, says Leasag. At the time of this writing, 50.1 percent of couch surfers specified themselves as male, 33.5 percent as female, 11.2 percent as unknown and 5.3 percent--in which a group profile was created--as 'Several people.'
Jen Cohen, 20, a student at UC-Santa Cruz, attributes the lower numbers of female couch surfers to what she deems a valid fear many women have about staying at strangers' homes.
"There's definitely a stigma about being a woman and traveling," says Cohen, who couch-surfed for five weeks through Berlin, Switzerland and Prague with a female friend. "We realized the risks because they are legitimate. We made sure we met the people before just crashing at their house."
Shannin Prather, a 25-year-old retail manager in Santa Cruz, who couch-surfed for two months through Germany and the Netherlands with her best friend, Aurora, always felt "completely safe" with her hosts.
"Usually, as a woman, you get a good feel for someone's profile," says Prather. "If you get a bad feeling [upon arrival], you can always say, 'I'm sorry, but this is not going to work,' and leave."
The website offers safety tips for solo women surfers, such as letting friends and family know where they will be staying, checking if the host has been vouched for by other women, and having a backup plan for where to stay in case that sixth sense warns against a particular host.
Occasionally concern has been expressed to Fenton and the CS administrators that some participants use the CouchSurfing Project just as a dating site. Fenton has fervently urged against this, stating that while the site should be used to foster friendship, a safe, platonic environment is what the CouchSurfing Project intends to facilitate for the host and surfer.
While Alex McCausland, 25, of Cork, Ireland, uses the website for making international connections and finding a cheap place to crash, he does not rule out the possibility of a more-than-friends relationship forming.
"If [while looking for a place to stay] I get a reply from a guy and a girl," he says, "I'm gonna go to the girl's place."

Herculean couch surfer: Founder Casey Fenton with his inflatable sofa.
A Way of Life
Little-Star Sevadar of Santa Cruz, who legally changed his name and considers himself 41-years-young, believes that couch surfing is a "major peace-making instrument," as it bridges the gap between cultures and ideas.
"Couch surfing is like practicing something that ought to be natural among humankind," says Sevadar, who has given and received hospitality in five countries. "We can go beyond the money-slavery system, and just be freely giving and sharing our hearts."
Instead of paying their hosts to thank them, Sevadar feels that surfers can provide an even more valuable gift--sharing their multicultural abilities, such as cooking special dishes from their country, or being part of a language exchange.
"All those experiences will make travelers and their hosts less prejudiced against people of other cultures," says Sevadar. "For the rest of their lives they will appreciate diversity more."
Scott Symons, 48, a martial arts instructor in Santa Cruz, also believes that no one is too old to travel sans paid accommodations. Symons has used the CouchSurfing Project to travel through Russia, Mexico and Brazil. While he may not need to save as much money as some of his younger counterparts, he uses the website for many of the same reasons: "I like to get involved with the culture and find out the inside scoop," says Symons.
Symons and Sevedar belong to the 4.7 percent of couch surfers ages 40 to 49, and 12.6 percent of couch surfers over the age of 35. Symons attributes the low numbers to a comfort factor those of an older demographic desire.
"Older people usually aren't willing to rough it as much," says Symons, who is currently single. "They like privacy, and if they can get a hotel, they will."
Symons points out younger people have more workless gaps in their lives--such as after graduating high school or college--and hence more opportunity to spontaneously surf without a sure set of plans.
To make couch surfing accessible to a larger audience, the site also offers various lists of "tips for travelers," including "Family CouchSurfing," "CouchSurfing in Developing Countries," "Gays, Lesbians and Bi-Sexual Travelers" and "How Not to Starve on the Road"--a guide for vegetarians and vegans that includes a global veggie store and restaurant directory.
Part of a Larger Ocean of Hospitality Exchange
While the CouchSurfing Project may be well known enough to have its own Wikipedia article--not to mention an infomercial and music video available on the website--the idea of online communities helping set people up with free hospitality is not unique. Websites like hospitalityclub.org, globalfreeloaders.com (41,214 members in 199 countries), travelhoo.com (6,551 members from 114 countries) and the much smaller stay4free.com, which offers no verification system, all exist with the purpose of bringing people from different cultures under the same roof.
The Hospitality Club, founded in 2000 by Veit Kuehne, is the largest such site with 188,888 members in 207 countries. Santa Cruz alone has 92 registered members--more than any medium-size city in California.
Kuehne, 28, who has traveled to 62 countries, just began a three-year hitchhiking trip around the world to facilitate the idea of hospitality exchange to as many people as possible.
"On a deeper level I think it's important that people get some intercultural understanding," said Kuehne, who frequently hosts travelers in his Dresden, Germany, home. "That way they realize that other cultures are different, but not bad or evil or whatever is reported in the media."
Kuehne based the Hospitality Club on Servas, a hospitality exchange network founded in 1949 by Bob Luitweiler, a conscientious observer during World War II. Today Servas--which is also an NGO with rights and representation in the United Nations--has 13,000 hosts around the world opening their doors to foreign travelers. Unlike the HC, however, travelers and hosts are interviewed before they are invited to join the network and must pay an annual fee: $85 for international travel, $50 for domestic.
Like the CouchSurfing Project, the Hospitality Club has a few safety protocols--though not optional--for its members. When soon-to-be guests contact members they want as their host, they must provide their full names, passport numbers and user names--all of which the hosts check upon arrival.
While Leasag feels that all free hospitality sites are valuable resources, he thinks that the CouchSurfing Project is the most organized and personable for its members.
"I think that the other sites are great things," said Leasag. "Still, Couch Surfing is the most user-friendly, and the most caring."
Kuehne, on the other hand, feels that the difference between the websites is arbitrary.
"They're all the same idea," he said. "Just a different form."
Whatever site the Couch Surfer--or Bed Seeker or Floor Space Freeloader-- chooses, Prather believes it's simply important to travel, and receive travelers, without reservation.
"You have to save up, follow your dream and go," she says. "There are people all around the world who will help you because they themselves like to travel. And when you help travelers, it's like encouraging your own dream."
Send a letter to the editor about this story.