September 20-27, 2006
home | the papers | metro santa cruz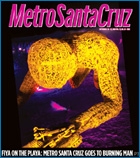 Fiya on the Playa
A Burning Man Travelogue, part one.

Deportation Demonstration
Santa Cruz activists vow to create safe haven for undocumented workers.
Nūz: Santa Cruz News and Politics
A Movement Grows in Live Oak: The unincorporated town is tired of the being the forgotten stepchild of Santa Cruz county.

Film Review: 'All the King's Men'
Sean Penn does his best Huey Long as the ballot-stuffing politician in this re-adaptation of the Robert Penn Warren novel.
Film Review: 'House of Sand'
Lots of sand and one hot sex scene are the highlights of this otherwise drowsy drama.
Cult Leader
Giving 'Twilight Zone' 2 its due.

MORE MOVIE REVIEWS

SANTA CRUZ COUNTY MOVIE TIMES

Music and Nightlife Calendar Picks
Our critics pick this week's most interesting gigs: David Lee Roth, Planet Drum, the Mermen, Jackie Greene, Cass McCombs, Bone Thugs 'n' Harmony, Jimbo Mathus, Flora Purim & Airto, Good Charlotte and Ferron.

MORE MUSIC AND NIGHTLIFE

MUSIC AND CLUBS LISTINGS

Dining: Los Molcajetes
From oversize tamales to baby crickets, this Watsonville restaurant delivers the flavors of Oaxaca.

BOOK A RESTAURANT RESERVATION

FIND A RESTAURANT REVIEW

Books: 'Only Revolutions'
Mark Z. Danielewski, who debuted with the acclaimed experimental novel, 'House of Leaves,' is coming to Bookshop Santa Cruz.
Theater Review: 'The Woman in Black'
Pac Rep puts on London's perennial dark and stormy favorite.
Letters to the Editor
September 20-27, 2006.