September 27-October 4, 2006
home | metro santa cruz index | music & nightlife | mūz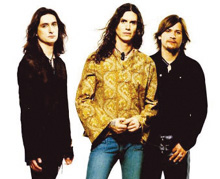 Jaguares: The perfect excuse for a columnist to exorcise his white guilt?
Mūz
Dance Dance Revolution
By Bill Forman
A Jaguares show was one of the last places I'd have expected to see signs of revolution, musical or otherwise. After all, the crossover promise of the rock en espanol movement has long since passed its sell-by date; even pundits who subsequently predicted mainstream success for reggaeton have quietly begun to turn their attention toward other musical trends.
Yet, the line for Jaguares' show at the Catalyst two weeks ago was the longest I've seen, extending for blocks down Pacific Avenue in spite of a hefty $40 ticket price (which the band's incendiary performance would more than justify). Celebrating their 10th anniversary together, Mexico's premier rock export has managed, in spite of language barriers and mainstream radio indifference, to build a fervently loyal fan base that filled the club with the kind of post-Beatlemania reverie reserved for the likes of U2.
Although Jaguares sing mostly about the love and loss that are the stock and trade of rock musicians worldwide, frontman Saul Hernández (whose band has performed benefits for Amnesty International to fight the ongoing murder of young women in Juarez) used his microphone between songs to call out for community and rail against the coldness of latter-day capitalism. The crowd responded in kind, hoisting Mexican flags, wearing the occasional skull-teeth-emblazoned bandana (although Jaguares banners and T-shirts far outnumbered overtly politicized messages) and creating one of the biggest yet friendliest mosh pits in recent memory.
Lest anyone feel left out, Hernández made a halting venture into English to dedicate a song to those in the audience who don't speak Spanish, declaring that we are all together regardless of language. It was an endearing if largely unnecessary gesture, given the fact that, if you didn't count Catalyst or Metro Santa Cruz staffers, you'd be hard-pressed to find a half dozen non-Spanish-speaking folks in the whole club.
Hanging from the balcony to the left of the stage, a hand-printed sign read "AMLO Presidente! Fuck V. Fox," a protest of the contested Mexican presidential election in which exceedingly suspicious returns for Felipe Calderón, the hand-picked successor to former Mexican President (and Bush family elections strategist) Vincente Fox, are still being contested by Andrés Manuel López Obrador (AMLO). What a refreshing contrast to a docile American populace who are largely too complacent to bother voting, let alone protest the "irregularities" that helped throw two successive elections to the first president to lose the popular vote in more than 100 years.
The contrast between these two mind-sets reminds me of a comment former county supervisor candidate Jonathan Boutelle made to Metro Santa Cruz last April: "There seems to me to be a tendency for some people in this county to say, 'Now that I've arrived, Santa Cruz is complete.'" Sometimes it seems like our whole country is operating in that mode. Never mind the fact that we remain a nation of immigrants. Or that our most vociferously exclusionary residents appear to be the same ones who can trace their roots back to ancestors who helped take this country by force in the first place.
Of course, many generations have since passed, but it's worth remembering that much of the hardest work along the way continues to be done by a long line of noncitizens who, when you look beyond the intermittent political posturing, are pawns of a system that tacitly endorses undocumented workers as another corporate welfare benefit offered to companies that find the minimum wage an obstacle to maximizing profits.
All of which is my roundabout way of saying that the Jaguares concert at the Catalyst earlier this month gave me hope. And a big part of that hope is that future immigrants will be decent enough not to do unto us what we have done unto them.
Send a letter to the editor about this story.