October 4-11, 2006
home | metro santa cruz index | music & nightlife | band review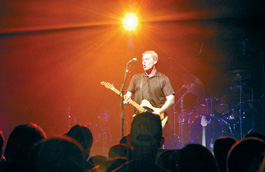 Roger & Me: Dave Wakeling does double duty as singer and toaster.
He Got the Beat
English Beat frontman David Wakeling knows what the audience wants to hear
By Todd Inoue
'I know I might appear a bit like a retro act at the moment, but it's not with intention of sitting on laurels, because when you do, they get squashed." The voice of experience belongs to English Beat co-founder Dave Wakeling. Born and raised in Birmingham, England, Wakeling and his cohorts set much needed examples of racial harmony to a punk ska beat.
Wakeling settled in Southern California in 1987. "It's home to the point that, when I go back to England, I don't fit in," he says. "I'm a stranger in my hometown. I go back to Birmingham, and the buildings still look the same, and I try to act like it's the same places I remember. But sometimes it's tiny, it's frustrating, and other times it's pure danger."
The same could be said about revisiting his musical past. Dave Wakeling, who plays the Catalyst on Friday, was part of the second-wave ska movement that influenced bands like No Doubt. After the band broke up, Wakeling and Ranking Roger formed General Public, gave its sound more pop appeal and scored singles "Tenderness" and "Never You Done That." Today, Wakeling plays under the name English Beat. He is the sole original member, yet it may be unfair to label his current band mates "apprentices," as the core members have been playing longer than the original band--Roger, Everett Morton, Saxa, David Steele and Andy Cox--who are scattered to the four winds (the group failed to fulfill the title of a 2004 episode of VH1's Bands Reunited).
Over the years, interest in the Beat's music has endured, and different variations of the lineup have toured. Wakeling acknowledges that with all the post-Beat permutations (International Beat, Special Beat, the Beat U.K., Twist & Crawl and the New Beat), it can be confusing. The key, he says, is that the band's output--I Just Can't Stop It, Wha'ppen? and Special Beat Service--has aged nicely. The group called it quits before damaging its legacy. "Luckily, there weren't any crappy records," he says. "We never got big enough to cause any grave damage."
Though Wakeling may fall into the retro category and play the occasional private party ("I've been getting a lot of 40th birthday party requests"), he enjoyed two high honors recently. His signature Vox teardrop guitar was inducted in the Rock & Roll Hall of Fame, and Pete Townshend, during a recent webcast taping of In the Attic, played an acoustic version of Wakeling's composition "Save It for Later." Townshend can be seen talking about the obscure tuning and his love of the song. "The Who was such a big part of my growing up," Wakeling says. "The idea of writing a song and one of them playing it is stunning."
At the Catalyst show, Wakeling can be expected to perform English Beat and General Public hits with a three-song Specials miniset in tribute to touring guitarist, original Specials rude boy Lynval Golding. Wakeling keeps any new material, which he plans to record in the fall, off the setlist. In fact, he doesn't have a setlist; he follows the audience's cue.
"I definitely think there's an element of service industry when performing," he says. "I've had the conversation with people who say, 'I don't play any of my old songs.' My feeling is, they should be bloody lucky there are any old songs that they remember at all, because you wouldn't be here tonight. I always feel obliged, because that's what people like to hear. My job as a singer is to send them home feeling about as good as they possibly can. It doesn't get boring for me to sing a song I've sung for many years. I take the attitude that I'm going to try to sing it better than I ever have before."
The English Beat play Friday, Oct. 6, 9pm, the Catalyst, 1011 Pacific Ave., Santa Cruz. Ages 16 and over; tickets $15 adv/$18 door; 831.423.1336.
Send a letter to the editor about this story.