October 4-11, 2006
home | metro santa cruz index | santa cruz county restaurants | review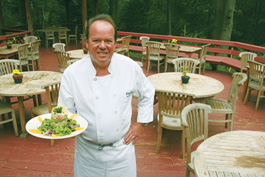 Photograph by Carlie Statsky
When life gives you global warming, dine alfresco: Michael's on Main's terrific Tuesday buffet provides the right gazebo for the weather.
Garden of Earthly Delights
Creekside dining at Michael's on Main is a perfect way to say farewell to summer
By Selene Latigo
For the first time that I can remember, the characteristically thick Santa Cruz fog, which casts a dark gloom on any beachside residence, was eerily absent this summer. I've been reveling in tank top nights and sweaty garden mornings, soaking up every hot beach day in spite of the hard-to-escape fact that this is global warming's creation, not just a stroke of magnificent summer luck. My favorite part about long, lazy, warm days is the alfresco dining possibilities, in which a few simple ingredients and a beach towel can become an abundant gourmet picnic. We decided to search out some new settings where someone else cooked for us. Michael's on Main has one of the ultimate outdoor dining venues, and on Tuesday nights, from 6:30 to 8pm, the creekside deck is transformed into a thematic buffet with wine pairings and live music.
A group of us met up for this event, taking over the roomy gazebo with a magical view of the lush creek. The guest winery this week, Martin Ranch, set up along one side of the deck and generously offered generous tastes of five wines, as well as an opportunity to learn more about their passionate winemaking. We started with a crisp 2005 rosé, which tasted bright with strawberry, and then moved on to their three featured cabernet sauvignons, an interesting chance to compare the exact same wine both filtered and unfiltered.
After some schmoozing and tasting, we set our glasses down and headed over to the buffet, ready to dig into the Southern-themed fish fry of the evening. As all Southern-style menus should be, this one was complete with greasy decadence and bold flavor. However, at 7:15, only 45 minutes into the buffet time frame, we encountered the tail end of several dishes and were disappointed to find that some food items were not being replenished. On our next Tuesday outing, we'll be sure to arrive right at 6:30 for the full, fresh buffet offerings. We piled our plates with what was available and sat down to enjoy this summertime event with a mellow acoustic guitar ambience.
The tender slabs of jalapeño and cheddar-laced cornbread may have been one of my favorite parts about this meal. Spicy, sweet, and salty flavors were combined in just the right ratio, all enhanced by the crusty baked corners.
The good old-fashioned potato salad was thick with creamy dressing and big buttery chunks of yellow potato, all sprinkled with green onion and lots of black pepper; this wonderful picnic standard never disappoints.
I was lucky to get a taste of the marinated vegetables, as this antipasto-style salad was the first item to disappear for good. Fresh cherry tomatoes, artichoke hearts, onion and grilled mushrooms were dressed in a tangy vinaigrette for a light contrast to the otherwise rich meal.
The superlative and vital corn on the cob was prepared in a way we Californians had never encountered—deep-fried. Coated in a thin, oily crisp lace, the corn kernels remained juicy and sweet. The purist in me still leans toward the unadulterated, barely cooked corn on the cob as summer's signature, but I can give this version a Southern curtsy for staying true to the theme.
Two types of fish were featured on the menu, served with mayo-rich tartar sauce flecked with tart pickled capers. The snow white and flaky cod was reminiscent of fish and chips, thickly battered and fried to a golden color before being perked up with a squirt of lemon. We passed the last remaining lukewarm cornmeal-dusted catfish around our table, and noticed a slightly earthy freshwater flavor that was texturally elevated by the fried cornmeal bits.
As a finale we served up some hot peach cobbler to complement the smooth, subtle and award-winning 2003 syrah. The peaches were excellent, not mushy or overly doused with sugar, in tune with their perfect silky summer existence and topped with a tender yet crisp, somewhat indistinct crust. A dollop of whipped cream would have made this dessert go from good to great.
Garden lights twinkled on as the sun began to fade and our dining companions trickled out. For $25 we were treated to a well-rounded evening of music, food and abundant drink in an unmatched location that reminds us how lucky we really are to be here.
---
Michael's on Main
Address: 2591 Main St., Soquel
Phone: 831.479.9777
Hours: 11:30am-2:30pm and 5:30-10pm Tue-Fri; 5:30-10pm Sat; 11am-3pm and 5:30-10pm Sun
Price Range: $5-$20 (regular menu), $25 (Tuesday buffet including wine).
Send a letter to the editor about this story.