December 27, 2006-January 3, 2007
home | the papers | metro santa cruz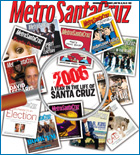 2006 Year in Review
A lurid but luminous look at the year's hypes and highlights.

New Year's Eve's DIY Last Night Parade
Santa Cruz gets ready for another DIY New Year's Eve.
Nūz: Santa Cruz News and Politics
The Department of Housing and Community Development grants Santa Cruz County conditional certification for its Housing Element.

Movie review: 'Dreamgirls'
The heartbreak, the gowns and the vocal runs are preserved from the hit Broadway show.
Movie review: 'The Good Shepherd'
Robert De Niro's latest directorial effort wants to be 'The Godfather IV,' but Matt Damon is no Michael Corleone.
Cult Leader: 'Fitzcarraldo'
Herzog vs. Coppola: Bet on 'Fitz.'

MORE MOVIE REVIEWS

SANTA CRUZ COUNTY MOVIE TIMES

Music and Nightlife Calendar Picks
Our critics pick this week's most interesting gigs.

MORE MUSIC AND NIGHTLIFE

MUSIC AND CLUBS LISTINGS

Dining: Rockroom Lounge
Oven-hot food and Wednesday specials make the lounge a perfect place to garner inner warmth.

BOOK A RESTAURANT RESERVATION

FIND A RESTAURANT REVIEW

Book review: 'Against the Day'
Thomas Pynchon returns with another crowded show of erudition and funny names.
Museum review: 'California as Muse: The Art of Arthur & Lucia Mathews'
A new show at the Oakland Museum of California shows how Arthur and Lucia Mathews created an idealized vision of the Golden State.
Letters to the Editor
December 27, 2006-January 3, 2007.