December 27, 2006-January 3, 2007
home | metro santa cruz index | santa cruz county restaurants | review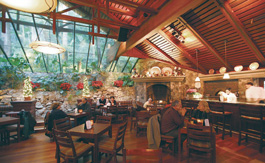 Photograph by Carlie Statsky
Casual luxury: Rockroom Lounge's hearty food and roaring fire provide a winter escape.
Winter Wine
Oven-hot food and Wednesday specials make the Shadowbrook's Rockroom Lounge a perfect place to garner inner warmth
By Selene Latigo
Have I mentioned that our house is cold? The main topic of conversation during the winter months revolves around how to cope with our lack of insulation. We bundle up just to sit and read on the couch, huddling closely to the heat of the fireplace. Naturally, we jump at any opportunity to go somewhere warm after dark. Even on those nights after a long day at work when renting a movie and eating hot soup is all that is desired, the sight of our breath indoors propels us out to a meal in warmer surroundings. The promise of wine gave further reason for us to visit the Shadowbrook on a wintry Wednesday.
The Shadowbrook is one of those places that we just don't go to very often; one, it's on the other side of town, and two, it is expensive. However, nice restaurants such as this one tend to have scaled-down bar menus, offering equal ambience for a lower price. Not only does the Rockroom Lounge have a comprehensive menu of salads, sandwiches and wood-oven pizzas, but it also features discounted specials from a local winemaker every Wednesday.
We were enveloped by welcoming firelight and heat upon entering the bar after the lovely, landscaped switchback descent down to the sparkling restaurant below. This time of year brings even more festive excitement and decorative embellishments to this romantic and sprawling destination.
The lounge area is artfully built, mixing booths, tall tables and cozy low seating together to create a diverse spatial feel within the rock, rich linear wood, and glass architecture.
The one empty table was quickly ours and we proceeded to strip off layers of clothing as we ordered the special flight of four wines from Windy Oaks paired with hors d'oeuvres($16). We were presented with a page of tasting notes and the discounted price list, quite high even at 50 percent off, while we waited for the accompanying snacks to arrive. When dining at the Rockroom, as with most bars serving food, a more leisurely, sipping-friendly pace is encouraged.
The chardonnay was paired with an artichoke heart, fresh mozzarella and olive skewer perched over sun-dried tomato pesto, bringing a lingering sweet finish. A tiny ramekin held romanesco sauce topped with a fried sweet potato croquette and was served along with Diane's Block Pinot Noir. This was a less distinct coupling.
The reserve pinot was matched with baby puff pastry stuffed with Brie and dried cherries. Finally, an espresso cup held a shot of cream of mushroom soup, fragrant with truffle oil, to go with the Henry's Block Pinot Noir, showcasing the herbal notes in this deep wine.
Since we shared the flight, the small bites were a tease, piquing our appetites for more substantial fare. Dave grappled between the classic French dip sandwich and the Reuben ($11.95), finally settling on the latter with our server's recommendation, along with a pint of Santa Cruz Mountain I.P.A ($4.50).
Ultrathin pastrami was layered with melted Swiss cheese and tangy sauerkraut between caraway-heavy rye. The bread was a touch too pale and needed a bit longer in the sandwich press to crisp up. "It's still not New York," Dave bemoaned, referring to his never-ending West Coast pastrami search.
With a choice of green salad, potato salad and veggie slaw, he opted for the perfectly dressed baby greens in a savory, soy-sauce-hinted vinaigrette with Gorgonzola crumbles.
I started with a cup of cream of artichoke soup ($4.95), thick with pure artichoke sweetness and a beautiful cursive "S" of sour cream adorning the top, not the first Shadowbrook-centric decal scattered about.
My full glass of Windy Oaks Henry's Block Pinot Noir ($7.25, regular $14.50) was a generous pour trapped in a small glass. I swapped it out at the bar for a larger, more nose-worthy glass, savoring this pricey "discounted" selection with every sip.
Anxious to try the wood-oven pizza, I chose the Italian sausage ($9.95) with fennel, roasted green and red peppers and not quite caramelized onions. The outer crust was great, both chewy and crisp with dark oven blisters, but the inner bottom crust was soggy from the weight of too much sauce. Apparently the cooks didn't adhere to a "less is more" philosophy of pizza making.
Hearty food, wine, a roaring fire and the extravagant luxury of the Shadowbrook heated us up enough to brace for the rest of our cold night. We are ever thankful for places of such warmth and comfort during these bitter, bone-chilling times in our beachside "paradise."
---
Rockroom Lounge
Address: 1750 Wharf Road, Capitola
Phone: 831.475.1511
Hours: Daily 4-10pm
Price Range: $5-$20.
Send a letter to the editor about this story.