October 25-November 1, 2006
home | the papers | metro santa cruz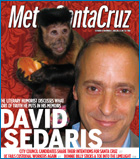 David Sedaris
A Metro Santa Cruz interview.

City Council Candidate Forum
Metro Santa Cruz queries the six candidates running for City Council about a number of topics, including a variety of specific issues that are likely to be of interest to local voters.
Nūz: Santa Cruz News and Politics
UC disregards pleas of protesting workers.

Cult Leader: 'The Texas Chainsaw Massacre: The Beginning'
Meat is murder—and so is every 'TCM' spin-off.
Movie Review: 'Conversations With God'
Because, in your heart, you know He's right.

MORE MOVIE REVIEWS

SANTA CRUZ COUNTY MOVIE TIMES

Music Profile: Bonnie 'Prince' Billy
The eccentric musician slightly lifts the veil of secrecy.
Music Profile: Dreambeach
Members Pipa Pinon and Daniel V. Lewis get off the road.
Music and Nightlife Calendar Picks
Our critics pick this week's most interesting gigs.

MORE MUSIC AND NIGHTLIFE

MUSIC AND CLUBS LISTINGS

Dining: Rumble Fish
Offers creative options for sushi lovers.

BOOK A RESTAURANT RESERVATION

FIND A RESTAURANT REVIEW

Letters to the Editor
October 25-November 1, 2006.