October 18-25, 2006
home | the papers | metro santa cruz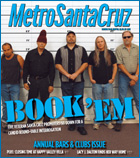 Santa Cruz music promoters
Gary Tighe, Michael Horne, Tom Miller, John Sandidge and Bill Welch sit down for a candid round-table interrogation.

Happy Valley Villa closing
The night before their deadline to move out, paroled sex offenders wonder where they'll move next.

Film Review: 'The Prestige'
Christopher Nolan pulls a thrilling rabbit out of his hat with this tale of dueling magicians.

MORE MOVIE REVIEWS

SANTA CRUZ COUNTY MOVIE TIMES

Music Profile: Lacy J. Dalton
The Santa Cruz country singer makes her way back home.
Music Profile: Tim Jackson of Kuumbwa Jazz Center
The Santa Cruz institution's founder on 30 years of bringing jazz to the Central Coast.
Music and Nightlife Calendar Picks
Our critics pick this week's most interesting gigs.

MORE MUSIC AND NIGHTLIFE

MUSIC AND CLUBS LISTINGS

Dining: Hoffman's
The Santa Cruz restaurant offers up traditional German feasts, but try to save room for dessert.
Metro Santa Cruz's 2006 Guide to Bars & Clubs

BOOK A RESTAURANT RESERVATION

FIND A RESTAURANT REVIEW

Stage Review: 'The Last Days of Judas Iscariot'
Pisces Moon straddles heaven and hell.
Letters to the Editor
October 18-25, 2006.