October 18-25, 2006
home | metro santa cruz index | music & nightlife | profile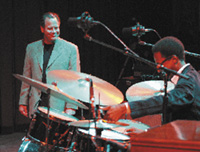 Take a solo, Tim! Jackson at the Monterey Jazz Festival with drummer Brian Blades.
Booking the Kuumbwa
Tim Jackson on 30 years of bringing jazz to Santa Cruz
By Paul Davis
Since Tim Jackson formed the Kuumbwa Jazz Society in 1975 with Rich Wills and Sheba Burney, he has been one of the most dedicated booking agents and promoters in the Santa Cruz area. Since its opening in 1977, the Kuumbwa Jazz Center has brought incomparable jazz legends such as Dizzy Gillespie, McCoy Tyner and Stan Getz to a town that once was an afterthought on booking agents' routing lists. After 31 years, it's hard to think of the Kuumbwa as anything but a local institution, yet Jackson says the jazz society's early days were tight as the founders scraped together meager resources and learned the ins and outs of the industry on the fly.
"For a small town, we've always been lucky to have a very dedicated and committed and passionate jazz crowd," says Jackson. "After all these years, I still marvel at how many music venues there are, how relatively successful they are, and the incredible variety of music that's here--it's pretty astounding for a town of this size. I think it's a combination of passionate presenters in concert with a receptive community that in general is willing to take some chances on the arts and try and experience new things."
Despite its stability in the local community, the Kuumbwa still faces challenges today. "I think the demographic for jazz seems to be getting a little bit older," says Jackson, who also produces the Monterey Jazz Festival. "One of our challenges is to find that fountain of youth, if you will, in jazz. I think that's important, not just for us but for the jazz industry in general. I think the main thing is to constantly keep listening and finding the young groups that are vital and try to present and market shows in a way that is attractive to a younger audience."
Jackson sees Kuumbwa's youth programs as an essential part of that mission, as it helps develop a new generation of jazz players and listeners. "When you're focusing on jazz education and outreach," he says, "you're not only developing artists for the future but you're also developing jazz listeners for the future."
An internationally known jazz venue, the Kuumbwa still has an artist-friendly reputation in which Jackson takes pride. "When you've been around for 30 years it's because you're doing certain things right," he says. "Artists enjoy playing here. They know that they're going to be treated well and paid fairly and that the audience here is great."
Send a letter to the editor about this story.