October 18-25, 2006
home | metro santa cruz index | music & nightlife | feature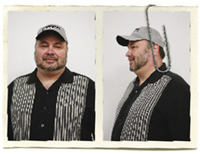 Photographs by Carlie Statsky
'I think it was the Specials, from England, when they were really happening--the guy comes in the office and he says [adopting British rude-boy accent], "The rider specifically said blue towels!!" We all looked at each other because we thought the guy was kidding.' --Gary Tighe, Catalyst
Book 'Em
Five veteran Santa Cruz music promoters sit down for a candid round-table interrogation
By Bill Forman
Together they've spent more than 100 years booking Santa Cruz's top venues, bringing a who's who of artists to a town that's really too small to attract so much musical talent. Yet each year it continues, from Neil Young's gigs at the Catalyst to B.B. King's headlining appearance at this year's Santa Cruz Blues Fest. So exactly who are these kingpins who've been booking Santa Cruz's bars, clubs and concert venues for, in most cases, more than a quarter-century each? And what can they tell us about Santa Cruz's role in an ever-changing musical universe?
Gary Tighe started working at the Catalyst the first week it opened in 1976, initially as a dishwasher and busboy. That would changed soon enough as Ed Leslie decided to give up booking the club in order to go on the road as manager of the local band Snail, who were landing stadium gigs for the Eagles. Apart from Tighe's one-year hiatus from the club, when he did some booking for the now defunct Palookaville, he's has been at it ever since.
Robert Cray, Peter Rowan and Flaco Jiminez were among the very first artists Tom Miller brought to town back in 1979, when he began his 10-year stint booking OT Price's Music Hall. He later booked Henfling's, which he describes as a "little roadside tavern we kinda turned into a streetside cultural center," before moving on to his present gig booking Don Quixote's International Music Hall up in Felton.
Michael Horne has been booking local shows from 1983 to the present, but he says people still stop him on the street to tell them how much they loved Palookaville, the eclectic Pacific Avenue club that managed to give the Catalyst a run for its money back in the '90s. He currently runs Pulse Productions, whose recent shows have included Ravi Shankar at the Civic and Richard Thompson at the Rio Theatre.
Santa Cruz's own king of all media, "Sleepy" John Sandidge, can be heard throughout the week on public radio as well as KPIG, where he recently celebrated the 402nd edition of his Sunday morning live music show, Please Stand By, with a free parking lot concert by Fred Eaglesmith--who also played two shows last week at the Kuumbwa for Sandidge's Snazzy Productions. He began working benefits for the United Farm Workers and Jane Fonda's Campaign for Economic Democracy back in the late '70s and has been promoting concerts ever since.
The relative newcomer to concert promotion, Bill Welch, books Moe's Alley as well as the Santa Cruz Blues Festival, now in its 15th year. A former road manager for everyone from Joni Mitchell to Kiss, Welch moved to Santa Cruz to get away from the music industry only to end up right back in the middle of it.
We brought this esteemed yet motley crew to an undisclosed location in Santa Cruz last week to talk about what they do and why they do it. The resulting roundtable summit took up the better part of two hours, yielding much insight and lots of laughter. Following are some of the highlights.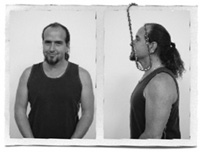 'In most markets, agents love having a couple of clubs all fighting for the same act, because it just racks the money up. They hate it when we have good conversations and say, "Hey, let's not do that."' --Michael Horne, Pulse Productions
METRO SANTA CRUZ: From your perspectives, what do you think it is about Santa Cruz that makes it such a vital market for live music?
Michael Horne: One of the things we've got going for us is our proximity between S.F. and L.A. Because of the anchor dates on weekends, we'll get this nice drive-by flow that doesn't always happen. The good news about the market is that we have access to the same groups that are playing sellout shows for big ticket prices, and then the next night they'll land at the Catalyst.
John Sandidge: We also have the radio that plays a lot more artists than most places do, too. We've got three noncoms and we got KPIG and they really make a big difference in how this community can support it, because people are much more educated in music than any other city our size in the country.
Tom Miller: Absolutely. You've got what was once a sleepy little retirement community until the university came to fruition during the '60s and '70s, which was a very vital time in American music. People moved here for music. I moved here, in part, for the music. I heard that Neil Young played here with some band called the Ducks. I read it in Rolling Stone when I was back in New Jersey, and I said, That's a town I need to check out.
METRO: They used to play the Catalyst, right?
Gary Tighe: They not only played ours, they played a few places: The Sashmill, the Crossroads. But yeah, they played for me maybe like five or six different dates. They would always ask me about upcoming dates, whether they're open or not, and all of a sudden we get to the week and they still haven't really committed to anything. They would never commit!
Bill Welch: One of the things that attracted me to Santa Cruz the most was when I was first here I did the Catalyst with Bill Champlin. I was his tour manager in 1979, and I just dug the vibe and the energy. We get a lot of real music here from an artistic point of view. We're not getting a lot of the formula bands. We're getting a lot of the quality, high-end music. It's just different from any other market I've ever been in. It's consistent, year-round too. We've got like 25 touring acts a week that go through Santa Cruz year-round. Is there any other place in the country that has that? And it's almost all great music. It's amazing. It's because we all book it, but it's also because of the support of people here in town too. They really understand and embrace good music.
Gary Tighe: Another thing about Santa Cruz is that it's not like in San Francisco, where they're more pigeon-holed: all punks go to punk show. Here, we often see the same people coming to all different styles of shows. There's more of an openness to experiencing different styles of music. And even the opening acts. I used to go to a lot of San Francisco shows, and when the opening acts were playing, the people will all have their backs turned to the band and they'll all be talking. Here I've seen opening acts that get encores.
Michael Horne: It's really common to hear artists say this is the best date of the tour. They really love the Santa Cruz audience.
METRO: That's why they play for less for you guys right?
[Derisive laughter]
METRO: But how can a town this small support this many live shows?
John Sandidge: It can't and that's why we all struggle. Gary is in a bit of a different situation, because [the Catalyst is] booking pretty much strictly college and they got a bar to play off of. Michael and I put up the money and don't get bars usually. We all sort of operate differently and our funding is different.
Tom Miller: You don't make money off of ticket sales generally. You pay a lot of your bills off of concessions--food and beverages.
Michael Horne: A lot of times people will come in and say, "It's a great show, it's packed in here. You guys did all right!" and I say, "No, we lost a few grand." I mean, 500 or 600 people might look great and everyone's having a good time, that might pay the band and the overhead. But it's sketchy. A lot of times it's that last 15 or 20 percent of the house is where the money is.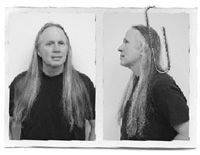 'I heard that Neil Young played here with some band called the Ducks. I read it in Rolling Stone when I was back in New Jersey, and I said, "That's a town I need to check out."' --Tom Miller, Don Quixote's
METRO: What do bands get paid these days?
Gary Tighe: It's all negotiable. If you see a band playing at the San Jose Arena and it's a $40 ticket, I mean they got like, what, 20,000 seats or something. So you do the math. ...
Michael Horne: High end is two or three hundred thousand.
METRO: What's the cheapest a band will work for?
Chorus: Nothing! [general laughter]
Gary Tighe: It varies, we have a showcase night in the front room, it might be 50 bucks they get. I always want to pay them something, I never want to do the thing where you sell them tickets or they have to pay you money, they do that in L.A. all the time. I've never done that. They can get paid from $50 to $40,000. The Civic would be the most, it's not unusual to see somebody there for a $45 ticket. At the Catalyst we do maybe three or four shows a year at that price. ... Some of these things over the hill, like at the Mountain Winery, the tickets are like $85. I'm going, I got my girlfriend, do I want to bring someone else? Forget it!
METRO: So how do you all get along? I can't imagine in Miami or L.A. all the promoters having such amicable relations.
Tom Miller: First of all, we're all doing something very different from each other, at least to a certain extent. Some of the bands that get too big to play in my club automatically go play at the Catalyst. Others that were like Albert King--back in the 1980s when the blues weren't in vogue--could still easily sell out my room. So Albert King fell down to me. The Meat Puppets at one point came down to me. Then some bands turn around and get bigger again. Like Hot Tuna came down to OT Price's but now they've gotten bigger again and they're back to playing at the Catalyst again. It's really a natural process of ebb and flow. So, you know, you're going to lose somebody, but then eventually someone's going to fall down to my level.
John Sandidge: And you better be nice to them on the way up, because you might meet them again on the way back down.
Michael Horne: And they're not happy on the way down.
Gary Tighe: No, some of them are actually even better on the way down, because they're more appreciative. Coco Montoya played for us and we loved him, but he was doing 200 or 250 people. I finally told his agent: Call Moe's Alley and build it up. If you do really good there, you can come back. Tommy Castro was the same way, and just recently we had Johnny Winter was going to play for me and I couldn't do the date. So I called up Bill and he wound up playing there and it did great. He was able to pay him the same money basically, because he doesn't have as high of an overhead. So it worked out and he didn't have to miss coming to the area.
John Sandidge: There have been people who have come into the area, some of them still around, some of them gone, who haven't been cooperative, you know, they're out for themselves. And it doesn't work here. It can't work, it's too small a town.
Michael Horne: And there also is a degree of genre specificity, not so much with Gary--when you're in a club mentality, you have to fill a night so it's a little more aggressive. I remember when Tracy Lee Lawson was doing things, there were certain acts even when the agent would call us--like Ani DiFranco, that was clearly her act. Same thing when I got calls for John's acts. They're trying to bump it up, but I knew he has a history. So there's that passing around, which I don't think typically happens in most markets.
METRO: So you guys have never had fights?
Gary Tighe: It's never been anything really bad. There are little bits here and there where they cross over a little bit: "It should have been my show, it should have been your show." But it's not too much, and we're all still friends.
John Sandidge: We give each other shows. Shows that I couldn't do, I've given to Bill. Tommy and I probably share stuff more than anybody.
Michael Horne: I think in most markets agents love having a couple of clubs all fighting for the same act, because it just racks the money up. They hate it when we have good conversations and say, "Hey, let's not do that."
John Sandidge: We try to meet a couple times a year and talk about what we're doing and who the asshole agent is.
'The Grateful Dead's backstage crew said, "We're not working until you get the Perrier water." So we send somebody out to get the cases of Perrier water, and we bring it back and it turns out that the Perrier water was for their dogs.' --John Sandidge, Snazzy Productions
METRO: Do the booking agents want you to use their artists as opening acts?
Gary Tighe: For me nowadays. I'd say 95 percent of the time it's a package. Here's the three bands, don't put anyone else on. I don't like that at all.
Bill Welch: I have been getting them a lot more now than I ever have. The bigger agencies want to bring their acts in a package deal.
Gary Tighe: They also want to do favors for other agencies too: "We'll take your band on our tour." It really cuts out the locals big time.
METRO: What can a local band do to get around that?
Gary Tighe: I always say the best thing is to play the smallest place you can possibly find and do well there. Then you get the guy from the next biggest place and you say, "Hey, I'm playing this place for the fourth time Saturday night, come see us."
John Sandidge: Devil Makes Three is probably the best example we've had of that kind of a band. And I'm not saying that because I manage them, it's because they had started playing at the Mediterranean, and they packed it, and now they sell out Gary's place. They've sold out Tommy's place two nights in a row. They do really, really well. And they've moved up playing bigger, bigger, bigger. It's rare that it happens though.
METRO: Historically there have been a handful of bands like that: Camper Van Beethoven, the Humans ...
Gary Tighe: Humans, Snail, Pele Juju, the Expendables ...
Tom Miller: But you all just mentioned the few local bands over the last 20 years that can sell out the Catalyst. That's why there's a lot of touring bands playing at the Catalyst. We're different than Austin. Austin has this big homegrown scene, whereas we're situated between L.A. and S.F., like Mikey said earlier. We've all had an opportunity to book all this great music. When you have world-class music coming through your town, you've got to book it. But still, local bands get to play Moe's Alley, they play the Catalyst, they've played ever club I've ever booked.
Gary Tighe: We put on three local bands every Thursday in the front room. It used to be kind of an off-shoot of our dollar night, which was great when it was rolling back in the '80s. We had sold out like 50 weeks in a row on Thursday night. It was actually our biggest night of the week in revenue because of bar sales. But there's nothing like that now. Now, we'll do age 16 and over, but back then, we had a large demographic that was like 25 or 30 years old coming through town. But the thing is, those people can't afford to live here ...
John Sandidge: In my case--and I think in most of our cases--shows have really dropped in the last few years, from back when I was doing two shows a night at the Kuumbwa or even two shows a night at the Rio. You can't do anything like that any more.
METRO: What are the weirdest artists and contract riders that you've had to deal with?
Michael Horne: The shocking thing on riders is when you get like 6 to 8 pages on hospitality. I've had shows where they've requested breakfast, lunch, dinner and load out, full meals for 20. Food riders are off the hook. It's the crazy stuff, when its like condoms and cigarettes and T-shirts and towels.
Gary Tighe: Forty full-size brand new bath towels. I think it was the Specials, from England, when they were really happening. The guy comes in the office and I'm sitting there with Randall Kane and Pat Bryan, the bar manager. This guy knocks on the door and comes in. He says [adopting British rude-boy accent], "The rider specifically said blue towels!!" We all looked at each other because we thought the guy was kidding. We started laughing and the guy stormed out.
METRO: John, don't you have a Grateful Dead story to tell?
John Sandidge: Yeah, well, we put on the Grateful Dead at the Santa Cruz County Fairgrounds. The rider had called for Perrier water, which we hadn't brought, we brought in some other kind of water. The backstage crew said, "We're not working until you get the Perrier water." So we send somebody out to get the cases of Perrier water, and we bring it back and it turns out that the Perrier water was for their dogs. They stopped working and made this big scene for Perrier water for their dogs!
METRO: Did you ever work with them after that?
John Sandidge: No. I went to another of their shows once and my date was Jane Fonda. So I go up with Jane Fonda because they're doing a benefit. The first thing that happens is that Bill Graham is chewing somebody out, he wants to fight somebody about something, maybe some blue towels, I'm not sure. But whenever I was around a Grateful Dead thing, there was always this big anger and unhappiness and weird people wanting to do weird things.
Gary Tighe: The first time I spoke face-to-face with Bill Graham was at a Grateful Dead show at Spartan Stadium in San Jose, probably around '78 or so. He was walking by, sweating and going fast. I say, "Bill, do you have a second?" "No!!" That was our first conversation.
METRO: What did you take from that in terms of inspiration?
Gary Tighe: You know, it really inspired me.
John Sandidge: I've heard him use that exact same wording.
Gary Tighe: Actually, its interesting because later he called a few times and left me messages and I called him back and had some conversations with him. When they did the Earthquake benefit in Watsonville, I remember when he came in a helicopter and I had said to people, "Man, I don't know, I don't like that helicopter thing." And then that's how he died.
'We've got like 25 touring acts a week that go through Santa Cruz year-round. Is there any other place in the country that has that?' --Bill Welch, Moe's Alley
METRO: So you guys don't fly in helicopters a lot?
Tom Miller: When I moved to California, I wanted to save up enough money for a helicopter, because in an earthquake you can just go straight up and everything can shake, rattle and roll around you and you'll be fine. So far, American and international roots music hasn't afforded me that helicopter. But to show you the esteem that some artists held for Bill Graham, I did a number of shows with Albert King at OT Price's. [King] was a big guy, a formidable guy, his band was scared to death of him. They kind of lined up against the walls anytime he walked in, but he was always very sweet to everyone in the club. We got to talking about Bill Graham and he started to cry, he had tears in his eyes, because it was Bill Graham who got him in front of the rock & roll audiences.
Bill Welch: He was one of those guys that we all--or at least I--aspired to be. He did everything right, he thought through every facet of a concert. He was excited about seeing live music, not just going to a show, but really getting into the show. It was a different time frame that he started, it's a lot different than it is now. We have a lot of the fruits from his labor over the years too. He developed all this talent, developed the idea of doing live concerts more than anyone else in the '60s.
METRO: How has the record industry fallout affected live music? My theory was always that once the record industry totally went down the toilet, bands would have to learn how to play live again because that would be the only way they could make money. Selling stuff at the gig, playing the gig ...
Tom Miller: Well, you have to separate rock & roll out from every other kind of music. Again, you have Gypsy bands from Paris, and you have African bands and you have Brazilian bands. There's all this marvelous music from everywhere. Even in America there are bluegrass bands, there are Cajun bands and all kinds of stuff. In some ways we're in a golden age of music. Maybe not for pop radio, but on a grassroots level, on a public radio level, there is so much talent and opportunity out there right now.
METRO: I imagine you guys all use the Internet a lot?
Bill Welch: The Internet has been an amazing tool for us since we started our Santa Cruz Blues Festival. Over 14 years we've developed it now to where we sell 90 percent of our tickets online, we have an email list of like 5,000 or 6,000 people on that. Everyone goes to the site and pretty much does everything there. You can just email off to 5,000 people the announcement of the show and they can go right back on the site and buy the ticket, and you can send them a thank-you note over the email after the event. So it is an amazing tool for what we do in terms of promoting music.
John Sandidge: So who's the headliner going to be next year?
Bill Welch: Gee, I don't know. The Blues festival is one of the bigger shows in town--so we actually have a budget--but it's also an isolated date, so it's one of the tougher things to book, to get a touring rate from a band.
Gary Tighe: Especially when you try to buy it that far in advance.
Bill Welch: Yeah, when you need it six months in advance and you need this one date, that's when they really nail you to the cross.
METRO: I've got two last questions and I thought it would be good to go out on a positive note. So who here hasn't even been arrested?
Michael Horne: Hasn't what?
Gary Tighe: Hasn't been arrested?!
Michael Horne: I haven't been arrested ...
John Sandidge: You haven't been arrested? I have ...
Tom Miller: I plead the fifth amendment.
John Sandidge: I have, for pot.
Gary Tighe: This is supposed to be positive! What's the next question?
METRO: But you haven't answered.
Gary Tighe: I'll give you an answer.
Bill Welch: The fifth.
Gary Tighe: The fifth!
John Sandidge: So four of us has been arrested, one of us hasn't.
Gary Tighe: So get positive. Whad'ya got?
METRO: Who are the acts that you're most proud of putting on?
Michael Horne: I think my two favorites are probably Johnny Cash and Fela Kuti, and they weren't together. Although one of the most amazing shows for me was actually the Moby Grape reunion at Palookaville. The agent called up and said, "I'm thinking of getting a hold of Grape for a reunion. One of the guys is living under a freeway off ramp ..."
Gary Tighe: "... But he's available!"
[One full minute of laughter]
Michael Horne: And then at the load in we got a phone call saying they wanted to bring Skip Spence in. We were going to walk him in the back door to say hello to the band and then walk him right back out. So we had security all set up and it was definitely a wild card, what was going to happen. I remember the van pulled up, and out comes Skip, and he was this big guy with a bottle of wine in his hand and this big beard. And kinda crazy arms flailing--he had arrived late so the band had just got onstage and he walked right through the dressing room--we were going to land him in the dressing room--but he just walked right onto the stage. The band was playing and they all stopped and hugged and it was a love fest. He actually grabbed a mic and started to sing and grabbed a guitar that wasn't really plugged in and he was kind of playing air guitar and laughing out loud. So, his caretaker--he was in a San Jose hospital--started weeping and she says, "I don't know who that guy is, that isn't the guy I've been taking care of all these years." It was like a switch was thrown, the whole audience started crying, it was heavy.
John Sandidge: Mine was the smallest show that I ever had privilege to see. The audience was two people. It was the Austin Lounge Lizards and they had been coming to town for a long time, playing shows at the Kuumbwa. And my parents came to every show and they loved the Austin Lounge Lizards, but finally they got to a point where they couldn't come anymore. So the next day the whole--I'm kind of choking up here--the whole band came to their house and did a show for them in their living room.
METRO: Bill?
Bill Welch: Yeah, Ray Charles at the Santa Cruz Blues Festival a few years back. I've always been a fan, he was my all-time musical hero. I flew my mom out for the day and got to meet him. During the show I was putting out fliers and doing all the things we do at festivals. And the monitor guy comes up and says, come up on stage, there are no monitors, so get out of your motor home and get up onstage and see your hero. So I got to sit up onstage and just watch him. And I got teary-eyed and goose bumps. It was just one of those things, seeing one of your heroes do something he's been doing for so long and make it special, still 50 years later. He was just incredible with the 22-piece band, smiling, going through doing his thing. He did "Georgia" and I just lost it.
Michael Horne: I will never forget BB King. I was so star-struck backstage and the promoter introduced us and he shook my hand and said, "Thanks for the work."
Tom Miller: I have a story with a similar theme: Johnny Cash walks up to me backstage and he was 6-foot-5. He was a huge guy and I'm like 5-foot-7-inches. He leans over and he had found out that I had something to do with the show, he looks down, turns sideways, and he says "Thanks for having me." And I'm just like, "Yes, sir. Thanks for being here." I also have a Willie Dixon story. I picked Willie Dixon up at the San Jose Airport in my Datsun 510 wagon. He was this big, beautiful guy with a beautiful white suit and a white derby hat. We pick him up and the Datsun is kind of leaning and I drive him over the hill and he wants to go to dinner first. So we go up to the Italian restaurant, [the now defunct] Aragona's up in Soquel, and I get out of the car and go up to the door and it's raining and we were there 15 minutes early. I knocked on the door and the guy says, "Oh, we're not open yet." I'm just stunned, there's Willie Dixon standing behind me in the rain getting wet. So I blurt out, "The guy standing behind me He has written a third of the greatest blues songs ever written, you gotta let him in." This well-dressed wine saleslady comes up and says, "That is Willie Dixon." So they let us in and served us a beautiful meal. And I've done over 8,000 shows and, you know how you feed the artists you work with, well, that was the first and only time an artist actually fed me. He bought the dinner. And that night when I saw Willie Dixon up on my stage, I cried.
John Sandidge: I got John Prine for a whole day. We had done a festival in the park and he had wanted to go to Big Sur. That was one of the better days for me in this business--being with John Prine and hearing his stories. It's really the privilege of our job to get to be with some of these really amazing people who have created the anthems of this country.
Michael Horne: I remember when we did Al Green two nights and he needed a driver. We were doing the Flint Center and Cocoanut Grove and I'm the biggest Al Green fan, this was 20 or so years ago. So I said, "I'll do that." He wanted a limo, so I rented a Lincoln Continental, and put on my nicest tank top and shit [laughs all around]. I dressed up and everything, and over the course of two days driving him around in that limo, I asked him just every question. It started off real stand-off, but after a while we got into it. Like "Who played that killer guitar riff on this track?" That was a powerful couple of days in that limo.
Gary Tighe: I always wondered why it was--back when they came to me and they wanted to play the Catalyst--that they said, 'We want a driver who won't talk to him."
[Laughter all around]
Gary Tighe: All right, are we done?
Send a letter to the editor about this story.