October 18-25, 2006
home | metro santa cruz index | music & nightlife | preview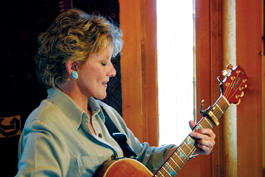 Lacy days and crazy nights: The former Jill Croston will return to her old stomping ground for a two-night 'double-30th birthday' run at Don Quixote's.
To Nashville and Back
Lacy J. Dalton makes her way back home
By Paul Davis
A country siren who tasted Nashville success in the early '80s, Lacy J. Dalton isn't your typical representative of the slick and overproduced sound of Music Row. While her contemporaries at the time were breaking through and going pop, Dalton retained her soulful heft and idiosyncratic persona. Although in time this alienated her Nashville crowd, Dalton's idiosyncrasies have come from a source far out West--she earned her chops performing Santa Cruz clubs in the late '60s and '70s, and you can tell the town has never left her. Her soulful, bluesy swagger and ruminative material maintain a signature mixture of both quirkiness and soulfulness that seems unique to denizens of the area.
"I ran off at 21 with a rock & roll guitar player and came out to Santa Cruz and formed a psychedelic rock & roll band," explains Dalton, reminiscing about her time in Santa Cruz. "I was always making money on the side, playing folk music at places that don't even exist anymore. Big money was the Crow's Nest for $50 on a Saturday Night, or playing at the Catalyst for $75 on Thursday night on the folk stage. I've been very fortunate to be able to make a living, more or less, since about 1970 with music. There have been many times when I really did not know where the next meal was coming from--but Santa Cruz supported me. It's a wonderful place for a musician to come of age; you're rubbing elbows always. When I talk about Santa Cruz onstage, I say there are more musicians there than people."
Though Nevada is where she now hangs her hat, Dalton's band still resides in Santa Cruz, and she often yearns to return, but is kept away by the highly inflated housing prices. "It's really home to me--I think about moving back there, but the houses are so expensive," she says. "You can get an outhouse on a postage stamp for $450,000. Sometimes you just can't go, though once you move you realize it was the best place to live. My whole band is there, and they have been for years. We have to rehearse with CDs and MP3s, which isn't nearly as fun, and I don't get to live in Santa Cruz, which is truly the best place in the world to live. It's the best weather, and politically I belong there--my old keyboard player used to call me 'left-wing dyke-witch for nuclear-free-whales!'"
Dalton abandoned Music Row for the high desert of Nevada as the Nashville machine white-washed its fringes and went pop-rock in the late '80s and early '90s. Aside from a handful of releases, Dalton remained out of the mainstream eye during the '90s, with the country music industry becoming more concerned about crossing over than preserving its greatest talents. With her first release of new material in a decade, the Last Wild Place Anthology, Dalton has turned away from what country has become, returning to her folk roots.
"I was singing folk music a long, long time ago and I've sort of come back to that," says Dalton. "It's what I really love ... the Americana stuff. I'm the queen of the minor keys. I love singing and writing songs in minor keys. I know it's the best work I've ever done. We produced a perfect record for me ... there's nothing I would change. The new music that's coming out of me is interesting to me, because it's a marriage of different forms that seems to work really well."
Unfortunately, Dalton's comeback has come with a bittersweet lining. The singer is currently separating from her husband, Aaron Anderson, who produced and performed on the Last Wild Place Anthology. Though Dalton is noticeably shaken by the experience, she is handling it with the bluntness and candor that has been a hallmark of her work. "The sad thing is, we really did make a beautiful record together," she says. "It's tough to be married to someone for 20 years and work with them so closely ... he was my producer, my live sound engineer, my recording engineer, and handled our business, so I feel like I've lost a limb or a head even. You feel like everything you thought was real is suddenly gone and everything you built your life around is gone."
"I'm going through this process of grieving, as the awareness has come about how I feel--first completely devastated and desolate, a little bit angry--I've written some incredible songs about it, probably the best songs I've ever written in my life. Most of the songs I write are autobiographical, it's the only thing I know about--what's happening to me and how I'm feeling. I have a song called 'What Don't Kill You Makes You Strong,' and I actually wrote it before all of this happened. One of the lines in it is, 'You might be old, you might be young--it's the same for everyone, sometimes lives just come undone.' When I wrote it, I thought, 'Does that need to be in there, do we need to even say you might be old,' but the fact is that these hard changes come on us no matter what. I always thought middle age would be really comfortable, you know, like my parents' friends, getting fat and sitting around watching TV and seeming really dumpy but comfortable. Or they were real successful and have sailboats. That's what I always thought middle age would be, and it kind of was, and then it wasn't. We think when we reach a certain age, things will lighten up and become more comfortable. I think we need to know that these hard changes can happen to us at any time."
"I put in mind my Aunt Em," says Dalton. "She was in her 80s and had been battling breast cancer for many years. She had a car accident, and she broke her ankle. Aunt Em came down to Texas and was sitting in my cousin's limo with a bandaged ankle, on chemotherapy, and my uncle John crawled in the car and stepped on her broken ankle. I'll never forget--she looked out at me and said, 'Jesus Christ, they'd step on 'em if you stuck 'em up your ass!' I will never forget thinking, 'I guess it never ends--the hard changes never end.' When these bad things happened to me in the autumn time of my life, I thought, 'Jeepers, people do need that line, they do need to know it's the same for everyone.'"
Despite the bittersweet memories that the material on the Last Wild Place Anthology represents, Dalton sees music as her primary therapeutic outlet, and hopes that the songs resonate with others going through similar difficulties. "'What Don't Kill You Makes You Strong' is one of the songs I'm going to have on my next record. I wrote it before all of this happened, and it gives me strength to sing it. It helps me, so I know it will help other people. The main reason I do music is that I came into this world to be more of a healer than a musician. It is what I need to do--I need to say, 'Gee, I had that happen to me, and this is what I did.' The fact is, that is the reason I am in music and why I keep doing it."
Lacy J. Dalton performs Saturday, Oct. 21, at 9pm and Sunday, Oct. 22, at 7pm at Don Quixote's (6275 Highway 9 in Felton). Tickets are $18 advance or $20 at the door. For more information, call 831.603.2294 or go to www.donquixotesmusic.com.
Send a letter to the editor about this story.