October 18-25, 2006
home | metro santa cruz index | santa cruz county restaurants | review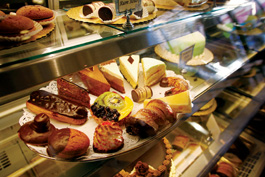 Photograph by Carlie Statsky
Sweet deals: Hoffman's pastry shelves are calling your name.
Oktoberfestive
Hoffman's offers up traditional German feasts, but try to save room for dessert
By Selene Latigo
Any occasion that provides an excuse for feasting and beer drinking is fine by me, so when a holiday happens to be named after my birthday month, I'm in even more of a celebratory mood. With its specialization in traditional German fare (plus a few California-bent additions like seafood, pastas and salads), Hoffman's felt like a fitting destination for an authentic Oktoberfest and is much closer than the winding car ride up to the Tyrolean Inn. Their Oktoberfest special featured hearty offerings such as goulash or sausages, with all of the necessary accoutrements of potato-laced sides and cabbage, plus a choice of three desserts, all included in the affordable set price of $14.50.
We began with some wine, to sip and enjoy with the plate of saturated garlic buttery Parmesan bread, warm and crusty, that arrived just in time before Dave's shaking, low blood sugar nerves made him (and me) freak out. Since we were celebrating this European event, I chose a glass of the McFadden Mendocino Riesling ($7), cool and balanced with fresh green apple and tropical notes. Dave ordered the Limerick Lane Zinfandel ($8), full and bright with that unmistakable Russian River depth.
While we thought about our dinner choices, a trio started to play. Live jazz during a meal always makes it better, I think, and Hoffman's has it every night from 6:30 to 8:30pm. Plus, an array of appetizers and wines by the glass are half off Monday-Friday from 5 to 6pm during happy hour, quite a tempting offer as we trade our sunny outdoor time for cozier early autumn evenings.
Dave immediately chose the pork roast, which arrived sliced thin, slightly overcooked and smothered with an appropriately fall-inspired gravy, thick with apple and pie spices. A side of warm German potato salad was smoky with chunks of bacon mixed into the red potato cubes infused with caraway seeds, bits of onion and red pepper. The huge plate also held a pile of dark burgundy cabbage, tangy and sweet; it had the perfect ratio of both to make it a nice counterpart to the rest of the rich meal. To top it all off, literally, a perky little baked apple sat in the middle, its core filled with plump golden raisins, cooked until just tender and covered with a soft, golden, sugar-dusted biscuit.
I admit that my order may seem contrary to the whole point of any good Oktoberfest abundance, but I honestly didn't feel like consuming a huge, heavy, meat-centric meal. I timidly asked our server if it was possible to get a more veggie-friendly dish, perhaps with a sampling of those sides that I love so much. I couldn't have been more satisfied with the generous portion that arrived and was glad that my well-crafted custom-made platter held the same red cabbage and one of the beautiful baked apples that accompanied Dave's roast. There were also lightly steamed zucchini, buttery asparagus spears and a whole roasted tomato as vegetable sides, along with two triangular cornmeal cakes, lighter than polenta, with a savory baked crust. But my favorite was the spaetzle; the large flaked pieces of slightly chewy dough remained delicate and enhanced with a crisp, pan-fried skin. Every element of this platter paired well with the others as I mixed and matched bites, adding a little mustard from time to time for some lively heat.
Partway through our dinner we switched to more festively appropriate beverages, Czech Pilsner Urquell, full of hops and extremely refreshing paired with hearty food. We took our last gulps as the dessert tray appeared. Due to the absence of two out of the three desserts offered in this deal, we were presented with the complete house array; the tray was heavily laden with sweets, something out of a child's fantasy (or mine). I opted for a pecan triangle, thin sandy shortbread topped with pecan halves encased in toothy dark caramel and dipped in chocolate. After one bite I no longer felt saddened by the Black Forest cake shortage. Dave selected the apple strudel, the only remaining Oktoberfest option, and classic in every way. The apples were saucy and sweet, sandwiched between pastry layers that absorbed each and every drip.
This dinner certainly appeased my annual Oktoberfest cravings, definitely ample enough for the whole month or even year. It also made me want to return to Hoffman's for more jazz, wine and another peek at that dessert tray.
---
Hoffman's
Address: 1102 Pacific Ave., Santa Cruz
Phone: 831.420.0135
Hours: 8am-9pm, daily
Price Range: $6-$23.
Send a letter to the editor about this story.