November 15-22, 2006
home | the papers | metro santa cruz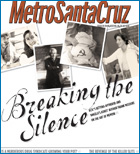 Bettina Aptheker and Frank McCourt
Aptheker and McCourt talk about the process of bringing their pasts to the printed page.

Campaign Against Marijuana Production
If you smoke pot, there's a chance your bag of weed was produced by a murderous drug syndicate that pays poor immigrant laborers to camp out in the woods with guns and threaten hikers, shoot cops and foul the environment. Does that bring you down?
Nūz: Santa Cruz News and Politics
Sam Farr keeps hope alive.

Movie Review: 'Fast Food Nation'
Richard Linklater's fictionalized 'Nation' is chewier than the burgers he skewers.

MORE MOVIE REVIEWS

SANTA CRUZ COUNTY MOVIE TIMES

Music Preview: The Slits
With a new CD on Aptos-based S.A.F. Records and two upcoming shows, the legendary post-punk band continues to confound.
Mūz: Santa Cruz Media, Music and Arts
Lee Perry keeps it up.
Music and Nightlife Calendar Picks
Our critics pick this week's most interesting gigs.

MORE MUSIC AND NIGHTLIFE

MUSIC AND CLUBS LISTINGS

Dining: Cafe Cruz
Cozy atmosphere and locally sourced menu items make the Capitola restaurant a hidden treasure.

BOOK A RESTAURANT RESERVATION

FIND A RESTAURANT REVIEW

Letters to the Editor
November 15-22, 2006.