November 15-22, 2006
home | metro santa cruz index | music & nightlife | preview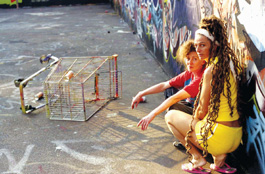 Agit pop: Ari and Tessa crouch near the remains of a dead shopping cart.
Slippery When Wet
With a new CD on Aptos-based S.A.F. Records and two upcoming shows, legendary post-punk band the Slits continues to confound
By Paul Davis
Perhaps one of the most divisive bands of the late-'70s/ early-'80s punk wave, people have long harbored strong opinions of England's the Slits. In their early days, the group bashed out furious two-chord punk that was as much a testament to their novice musician status as to their unique vision. But by the time the Slits got around to releasing their debut album, Cut, they had morphed into something much odder than the straight-ahead punk rock of the day, wedding the bash 'n' bop of their earlier work to eerily trance-like, dub and reggae-inflected grooves. As the band's work grew increasingly experimental and confounding, they further alienated early fans and long-time detractors alike.
Yet ultimately, irascibility paid off, securing the Slits' legacy as artistic trailblazers who, while only releasing two full-length albums, became a touchstone for outward-leaning female-fronted rock music. All of which may explain why the recent reunion of the band, after 25 years of hibernation, spearheaded by bassist Tessa Pollitt and singer Ari Up, has been hailed in the sort of critical circles that generally scoff at late-career comebacks.
Through random circumstance, Pollitt found that she and Up were on the same page, even if they hadn't spoken in 18 years.
"I hadn't seen Ari for 18 years and then I went to one of her solo gigs," she explains. "Incidentally, we'd both been thinking it would be great to get the Slits back together. She was already singing some of the Slits' songs in her solo band, the True Warriors. We got on really well, after not having seen each other so long, and we found these new members in a week in England and it fell so smoothly into place. We tried to get the old guitarist and [original drummer] Palmolive, but I think they've moved on in their lives really."
Revenge of the Killer Slits, their new EP distributed in the United States by upstart Aptos label S.A.F. Records, finds the duo accompanied by ex-Sex Pistol Paul Cook and former Banshee Marco Pirroni. Currently in the middle of a 12-date U.S. tour that included a rapturously received CMJ showing, Pollitt sounds markedly optimistic about the future of the band. "[We're playing] quite small, out-of-the-way gigs, but I'm really enjoying it because you're reaching an audience who might not normally see you, and they're really grateful everywhere we go," she says, echoing her punk rock roots. "That side of it I really like ... they're not big venues, but they're more special and intimate. I prefer them, myself."
Unlike bands who have re-formed to become state-fair-worthy nostalgia acts, Pollitt and Up are adamant that the new incarnation will produce music just as vital and relevant as their earlier work. "It's evolving, we're not interested in being a retro group," she emphatically notes. "We want to get an album done as soon as possible with the new members. It's impossible to say how long it will take, because we're going to record it in different places, while we're traveling, and get a chance to go into the studio."
They may even end up working with industrial-dub studio wizard Adrian Sherwood (with whom Up collaborated in the New Age Steppers immediately after the Slits broke up). "We did some gigs in London this year and recorded some tracks for the radio with Adrian, but it depends on if he's available," says Pollitt. "He's got a family so it's hard to say, really."
Pollitt remains vague on the direction the Slits' upcoming work will take, though, not wanting to isolate a particular strain of their creative process. "Who knows how it's going to develop," she says. "I like the unpredictability of it until you really get down to [recording]. It's always going to have that reggae-ish feel, and punk, but I don't like to label it ... those are the most obvious labels we get, but as with past Slits, it's hard to define it."
The Slits play Sat., Nov. 18 at the Mezzanine in San Francisco (www.mezzaninesf.com) and Sun., Nov. 19 at the Uptown in Oakland (www.uptownnightclub.com). 'Revenge of the Killer Slits' on S.A.F. Records is available now at Streetlight Records in Santa Cruz.
Send a letter to the editor about this story.