November 1-8, 2006
home | the papers | metro santa cruz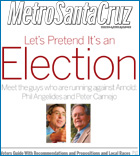 Phil Angelides and Peter Camejo
Meet the guys who are running against Arnold.

UCSC protests
The UC community has yet to recover from violence that erupted at UC Regents meeting.
Nūz: Santa Cruz News and Politics
'Brazen' square dancers take to the Santa Cruz streets.
Clip 'n' Go: Metro Santa Cruz's Recommendations for the Nov. 7 Elections

Movie Review: 'Borat: Cultural Learnings of America for Make Benefit Glorious Nation of Kazakhstan'
This 'Ali G' spinoff foists a faux foreigner on clueless Americans with high hilarity.
Movie Review: 'Jesus Camp'
The year's scariest movie.

MORE MOVIE REVIEWS

SANTA CRUZ COUNTY MOVIE TIMES

Music Profile: James Hunter
The Londoner resurrects the '60s soul sound.
Mūz: Santa Cruz Media, Music and Arts
The former Club Zayante burned down.
Music and Nightlife Calendar Picks
Our critics pick this week's most interesting gigs.

MORE MUSIC AND NIGHTLIFE

MUSIC AND CLUBS LISTINGS

Dining: Gabriella Cafe
An incredibly intimate brunch experience.

BOOK A RESTAURANT RESERVATION

FIND A RESTAURANT REVIEW

Author Profile: 'Santa Cruz Coast: Then and Now' by Gary Griggs
UCSC professor explores history of Santa Cruz coast.
Letters to the Editor
November 1-8, 2006.