November 1-8, 2006
home | metro santa cruz index | music & nightlife | mūz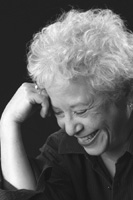 Janis Ian: An election night antidote
Mūz
No More Nude Swimming
By Bill Forman
Classic Cruz We lost a piece of local music history last week when the former Club Zayante burned down. The Santa Cruz Mountains roadhouse--which closed up shop in the early '80s--played a seminal role in the history of Santa Cruz music. Reminiscing in these pages a few years back, owner Tom Louagie recalled an ongoing lineup that included Jill Croston--later to become Lacy J. Dalton--every Monday, Bob Brozman on Tuesdays and Ron Thompson's blues night every Thursday, featuring drop-in guests like Albert Collins and John Lee Hooker. Combine that with international music Fridays, Begonia Luau Barbecues and the ever popular nude swimming pool out back, and you've got the stuff of which legends are made. At presstime, Louagie had reportedly been flown from the scene after suffering second and third degree burns. We wish him well.
Society's child Felton music hall Don Quixote's is, in many ways, the spiritual descendent of Club Zayante (or would be, if they'd just install a nude swimming pool). They've played host to most of the artists listed above, and come election day, they'll be bringing in none other than Janis Ian. Audrey Auld Mezera, who was playing the club last week, was so impressed that she told the audience how she'd seen Ian perform at an Australian festival where she captivated an audience of 10,000 with just herself and her guitar. Sounds like the perfect antidote for those election day blues.
Stairway to Fredheads Fred Eaglesmith's appearance at Kuumbwa was sublime in every sense of the word. Despite the protest of one audience member for comments he made in Metro Santa Cruz about Santa Cruz audiences ("We're not all stoned," she shouted), Eaglesmith was more than happy to hold forth on why he thinks Californians are constantly giving everyone the finger. (Admit it, we do.) You live in the most beautiful place on earth, said the iconoclastic Canadian, so why are you all so pissed off? Eaglesmith's theory: Thanks to all that dope, Californians are carrying around decades of unexpressed anger. While Eaglesmith's blue collar folk-rock was as brilliant as ever, his onstage shtick just keeps getting better, and there wasn't a dry eye or straight face in the house when he came out for an encore all alone with an acoustic guitar and started playing Stairway to Heaven.
Mark your calendar Events to watch out for this week include the ambitious SoWat Now Festival of Contemporary Arts Nov. 3-5, featuring more than 20 performers ranging from Mir & A Company to the Flaming Puppet Sisters. (For a complete schedule visit the Santa Cruz Institute of Contemporary Arts online at www.SCICA.org.) Also, in the midst of the recent Sedaris family visits, we would be remiss to overlook the upcoming appearance by UCSC's Bettina Aptheker, whose Intimate Politics: How I Grew Up Red, Fought For Free Speech and Became a Feminist Rebel is sure to stir up its fair share of controversy. She'll give a reading and sign copies at Bookshop Santa Cruz on Thursday, Nov. 2, at 7:30pm.
Send a letter to the editor about this story.