November 1-8, 2006
home | metro santa cruz index | santa cruz county restaurants | review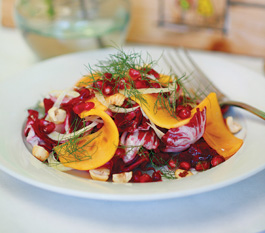 Photograph by Carlie Statsky
Gabriella Cafe: High seasonal standards and beautiful food no matter which meal you choose
No Regrets
An incredibly intimate brunch experience at Gabriella Cafe
By Selene Latigo
There's nothing more enjoyable to me than sitting down to a well-crafted selection of dishes, presented by welcoming and knowledgeable servers in an engaging ambience. However, I have to say that sometimes I leave an establishment with empty pockets and a feeling of frustration that comes from spending hard-earned money on a meal that didn't fully live up to its price tag. Instead of entirely abandoning the joys of dining out, I have found a compromise in the value of brunch and/or lunch. These menus often have lower prices than dinner, with the same high-quality ingredients we expect from our finer local restaurants. On Sunday, Dave and I had a long, leisurely and extremely affordable brunch at Gabriella Cafe, a destination that has always lived up to high seasonal standards and beautiful food no matter which meal you partake in.
Since this Santa Cruz favorite hardly needs much introduction, it should suffice to say Gabriella's is incredibly intimate. At night, when the festive lights are twinkling and the candles are flickering, Gabriella's may be unmatched as a romantic destination. It would be a shame, though, to miss out on the cheerful sunlight hours here, when the small dining space sparkles with casual comfort and warmth.
We were led to a cozy window table for two, fully stocked with crayons for the paper covering and a colorful bouquet. After being informed of some minute menu changes, we proceeded to order our drinks: some inky dark roast coffee for Dave ($2) and a personal pot of tea for me ($2). The ceramic cow creamer is reason enough for me to have a morning cup here. Sunday's brunch menu featured a balanced selection of market-driven items, spanning both breakfast and lunch dishes, but with appeal for anyone at any point in the day.
I was definitely in the mood for a protein-packed start to my morning and selected the veggie omelette ($9.50). The eggs were light and fluffy, encasing bright yellow pear tomatoes, caramelized onion, slices of fresh mozzarella and a sweet yet earthy spinach pesto that held the silky essence of spinach without any of the grainy or slimy textural aspects. The omelette itself was the perfect temperature, but the cheese remained quite firm and could have used a bit more heating time to coalesce with the rest of the ingredients. My order also came with baby red potatoes, their skin translucent, crisp and rich with butter, thyme and rosemary. Instead of toast, we were blessed with a small plate of oven-fresh focaccia, a house signature that is always so enjoyable fresh from the source. While the interior crumb was soft and tender, the golden crust had a flaky crisp texture from olive oil and an addictive dusting of salt.
Dave was tempted by the trout special with dill crème fraîche and polenta, but then realized his cup of coffee would be better suited to the French toast ($9.50). His platter arrived with three thick triangles of pillowy potato bread, garnished with sweet late-season strawberries and golden raspberries. He poured the warm, all-natural maple syrup over the cinnamon-infused bread, which soaked into the soft middle to create a custardlike feeling in his mouth, countered by the grill-kissed crust. He also ordered a side of sausage ($3), one large link splayed in half, which he dredged through the syrup pooled on his already empty plate.
I promote dessert anytime, and so we chose to top off our meal with a chocolate chip scone ($2). Again, some things are worth going directly to where they originate. I have had Gabriella's scones at the West Side farmers market and thoroughly enjoyed them every time, but this one exemplified the art of scone making. It was light and rich at the same time, held together with a crumbly crisp crust and flecked with feathers of bittersweet chocolate. Even though I was full, I still couldn't leave a morsel behind. Almost reluctantly, I gathered my things for departure, holding onto this pleasant late morning meal like a good friend.
---
Gabriella Cafe
Address: 910 Cedar St., Santa Cruz
Phone: 831.457.1677
Hours: 11:30am-2:30pm lunch, 5:30-9:30pm dinner
Send a letter to the editor about this story.