October 15-22, 2006
home | metro santa cruz index | music & nightlife | mūz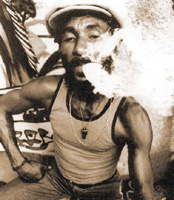 Ol' Scratch: Lee Perry enjoys some aromatherpy.
Mūz
Lee Perry Keeps It Up
By Bill Forman
MADE FROM SCRATCH Lee "Scratch" Perry (born Rainford Hugh Perry in Jamaica and subsequently known as Pipecock Jackxon, Super Ape, Ringo, Wonder Man and other noms de plume) doesn't sing about "shooting battybwoys" to demonstrate his virility; instead he just steps out onto the Catalyst stage accompanied by his stunning wife Mireille and their two young children, adorably dreaded moppets who groove along with their papa for the opening number of what turns out to be one of the most satisfying reggae shows in recent memory.
It's not that the legendary--and legendarily idiosyncratic--godfather of dub is all that masterful a singer or performer, especially when compared to many of the legends he's sponsored. After all, it was Perry who produced early sessions for the Wailers, tracks like 'Small Ax' and 'Mr. Brown,' which still rank among my personal favorites from Bob Marley and company. Perry was also the mastermind at the controls for the Congos' seminal classic, 'Fisherman.' Released on his Upsetter label back in the '70s, it has just been reissued as the centerpiece of the new double CD, Fisherman Style, on Britain's influential Blood and Fire label, where it sits alongside renditions by Big Youth, Gregory Isaacs, Luciano, Dillinger, Horace Andy and Black Uhuru's Mykal Rose--24 tracks all based around Perry's phenomenal backing track.
What Perry may lack in vocal refinement, he makes up for in spirit and charisma. When not regaling the crowd with an unlikely mix of poetic musings mixed with bawdy commentary (Perry, we learn, can still get it up at 70 and would rather eat his own excrement than snort cocaine), he brought down the packed house with a spirited set that included Bob Marley's 'Kaya,' his own classic 'Roast Fish and Cornbread,' and the always entertaining 'LSD-LSP.' The latter is a track from his one-off Technomajikal collaboration with Yello's Dieter Meier (Perry's been living in Switzerland for about a decade now). With sympathetic and surprisingly nuanced backing by the New York City-based band Dub Is A Weapon, Perry strutted the stage in the jewel-encrusted regalia--including a scepter topped with a skull in a fool's hat--that befits one of reggae's most celebrated royalty. If he should find his way back to California again, do yourself a favor and don't miss him.
PAST HIS PRIME Luke Lehman, the prime mover behind the rock musical Prime, is previewing songs from his forthcoming CD, Goin' for a Ride, at the Kuumbwa this coming Friday, Nov. 17. In addition to a core band of Gary Regina on sax, guitarist Yuji Tojo, vocalist Lisa Taylor, drummer Jim Norris, bassist Nat Shuirman and keyboardist Bill Spencer, the singer-songwriter is expecting cameo appearances from local heroes Rick Walker, Dale Ockerman and Alan Heit.
Send a letter to the editor about this story.