November 15-22, 2006
home | metro santa cruz index | santa cruz county restaurants | review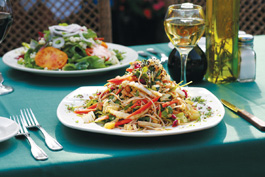 Photographs by Carlie Statsky
Dig in: Hefty helpings and stunning salads are part of the Cafe Cruz ethos.
Comfort Cafe
Cozy atmosphere and locally sourced menu items make Cafe Cruz a hidden treasure
By Selene Latigo
I completely understand the space-saving motivation behind square- and rectangle-shaped tables in restaurants. In twos, threes or fours, this arrangement works wonderfully, but as the party grows, the dynamic of the table can become less and less convivial, limiting the conversations to only those closest to your station. On a recent chilly, dark evening, a group of us gathered for a warming dinner of comfort food at Cafe Cruz, happily circling a round table, fully engaging and plate-passable for all.
Although our table was quite large and came with a skilled and efficient server, it was unfortunately located in the small alcove directly next to the busy front door. One of the main attractions of this popular restaurant, set among industrial sprawl and 41st Avenue traffic, is how the meandering beauty of the interior erases the dreariness of the exterior. The juxtaposition is enthralling. With a multitude of rooms, corners and views of the copper-walled open kitchen or the expansive brick and glass patio, Cafe Cruz really achieves hidden-treasure status. And so, I was a little disappointed to miss out on some of those features in our little side room. However, the fairly recent addition of a colorful wall mural depicting a lively farmers market supplied ample visual accompaniment as well as a thematic introduction to the locally sourced menu items we would receive.
As we nibbled on fresh franchese with chopped garlic, we ordered draft beers ($4.75), cocktails and a cozy glass of Soquel Vineyards Zinfandel ($8.25). The unfortunate rancid flavor of the table's unidentifiable oil was a deterrent, so we all opted to slather on soft, sweet butter instead. We labored over the specials and regular classics, and were finally ready to order by the third time our server checked in.
One immediate choice was the spit-roasted Harris Ranch prime rib ($26.95), a nightly special. As with all of the entrees, two out of the eight side dishes are available, in tune with the American-comfort-food influenced menu. The meat was thick, pink and juicy, with crisp-coated and fragrant rosemary edges accompanied with soft, cheesy polenta and black-pepper-spiced candy-sweet butternut squash at its best.
The Caesar salad ($6.95) was quite large, a common trend here, with a tangy, creamy and pleasantly fishy house dressing, if a bit too much, topped with a narrow crostini and a pile of parmesan. Several plump anchovies arrived on the side, as requested, and soon disappeared.
The huge trio platter ($21.95) was a great way to sample a variety of Cafe Cruz signatures, including a quarter of the rotisserie garlic chicken, golden-crisp skin encasing tender white and dark meat. A picture-perfect pork chop had bold grilled hatch marks set in a pool of house-made applesauce, capturing this season's fruit in a pure and simple form. And finally, one lightly breaded and fried crab cake was bursting with the sweetness of crab yet a bit over-salted and soft in texture. The two sides of choice were appropriately paired with the trio's diverse selections, crisp, earthy fries and subtle bi-colored coleslaw with a hint of peanut oil.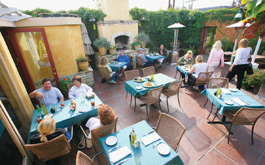 Hidden treasure: Customers enjoy Cafe Cruz's expansive brick and glass patio.
The soup special, Boston clam chowder ($5.95), was chock-full of little clams and soft onion with flavors of thyme and black pepper, all mingling with just a few potato chunks in a delicate cream base, not at all overly thick or starchy like some.
Two more stunning salads were presented with large-scale aesthetic. The heart of Romaine ($6.95) featured long spears of lettuce leaves, intact and crisp, with a generous amount of unevenly distributed, very creamy bleu cheese dressing. Big, dark quarters of perfectly roasted beets nestled in the crevices, topped with fans of rich avocado and buttery bread crumbs. The skirt steak salad ($16.95) was vibrant with tomatoes, red onion, strips of grilled meat and a pile of crumbled Gorgonzola on top of lightly dressed baby greens, just one out of at least eight entree-sized salads for which Cafe Cruz is famous.
To top off our jovial time, we selected the special dessert, a ginger pecan bread pudding with pumpkin ice cream ($5.95). A tooth-achingly sweet caramel sauce took away from the gracefully paired flavors of the dessert, and it was good that we also had the bittersweet chocolate pot de creme ($5.50) to balance out the ending of a joyful night.
---
Cafe Cruz
Address: 2621 41st Ave., Capitola
Phone: 831.476.3801
Hours: Lunch Mon-Sat 11:30am-2:30pm Dinner daily 5:30pm-close
Price Range: $7-$27.
Send a letter to the editor about this story.