November 29-December 6, 2006
home | the papers | metro santa cruz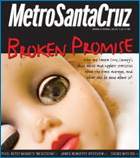 Child abuse in Santa Cruz County
A newly released community assessment study focuses attention on abuse in the county.

'Mexicocina: The Spirit and Style of the Mexican Kitchen' by Betsy McNair
A Santa Cruz author brings home the flavors of Mexico.
Nūz: Santa Cruz News and Politics
For most, the first rains of winter offer an excuse to light up the fireplace, brew a cup of hot tea and relax. The 71 volunteers of First Flush, however, have no time for such luxuries.

Movie review: 'Shut Up and Sing'
Barbara Kopple's latest documentary tracks the fallout from the Dixie Chicks' modest demur.
Movie review: 'Bobby'
June 1968, Los Angeles: a politician dies while a hotel full of lonely souls learns to connect.
Movie review: 'The Fountain'
Rachel Weisz and Hugh Jackman meet cute three times in Darren Aronofsky's eon-spanning love story.

MORE MOVIE REVIEWS

SANTA CRUZ COUNTY MOVIE TIMES

Music preview: James McMurtry
'Lonesome Dove' author Larry McMurtry's son gets in-your-face with the Bush administration.
Mūz: Santa Cruz Media, Music and Arts
Ritual Trio violinist Billy Bang had the Kuumbwa crowd roaring.
Music and Nightlife Calendar Picks
Our critics pick this week's most interesting gigs.

MORE MUSIC AND NIGHTLIFE

MUSIC AND CLUBS LISTINGS

Dining: Sushi on the Run
The Aptos restaurant trades fancy decorations for affordable quality.

BOOK A RESTAURANT RESERVATION

FIND A RESTAURANT REVIEW

Stage review: 'Sleeping Beauty'
The Shakespeare Santa Cruz production is a holiday treat.
Letters to the Editor
November 29-December 6, 2006.