November 22-29, 2006
home | the papers | metro santa cruz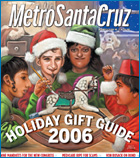 Holiday Gift Guide
Intro | Gifts made by Santa Cruz artisans | Made in Santa Cruz | Book gift ideas | CD gift ideas

Senior scam?
Confusing changes and ambiguous names set stage for privatization of Medicare and possible fraud.
Nine questions for Congress
Capitol Hill is way overdue for a blockbuster investigation. Veteran journalist James Ridgeway has nine questions to get Congress rolling--if it has the guts.
Nūz: Santa Cruz News and Politics
Porter Poddy.

Movie preview: Holiday releases
Herewith your holiday film organizer with a brain, if not a heart.
Confessions of a James Bond fanatic
A new book says 007's cultural relevance as the savior of the British Empire and the world is over. But one lifelong fan will never say never again.
Movie review: 'Fur: An Imaginary Portrait of Diane Arbus'
Director Steve Shainberg imagines the Diane Arbus we never knew.
Movie review: 'For Your Consideration'
The Oscar buzz stings the cast and crew of an indie film in Christopher Guest's latest comedy.

MORE MOVIE REVIEWS

SANTA CRUZ COUNTY MOVIE TIMES

Music and Nightlife Calendar Picks
Our critics pick this week's most interesting gigs.

MORE MUSIC AND NIGHTLIFE

MUSIC AND CLUBS LISTINGS

Dining: The Chaminade
The Santa Cruz restaurant's elaborate, satisfying and potentially decadent fare makes any brunch a special occasion.

BOOK A RESTAURANT RESERVATION

FIND A RESTAURANT REVIEW

Letters to the Editor
November 22-29, 2006.