December 6-13, 2006
home | the papers | metro santa cruz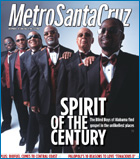 The Blind Boys of Alabama
They still maintain a work ethic that would put musicians a quarter of their age to shame.
Clarence Fountain of the Blind Boys of Alabama
The Blind Boys founder reflects on gospel's checkered crossover history.

Gonzales biofuel plant
The first biofuel plant on the Central Coast opens its doors.
Drunk parking pass program proposal
Tony Madrigal's proposal stirs council debate.
Nūz: Santa Cruz News and Politics
Nūz suspected that the recent controversy over activities at the Seabright Cannery, posed by the Sentinel as a classic neighbor vs. business brouhaha, might actually be a subtler story. And, after talking with some of the principals involved, we found that indeed it is.

Movie review: 'Blood Diamond'
A cinch to win the 2006 Bad Hemingway competition.
Movie review: 'Tenacious D: The Pick of Destiny'
Jables and Kage's movie is a pipe dream for fans.

MORE MOVIE REVIEWS

SANTA CRUZ COUNTY MOVIE TIMES

Roy Zimmerman
The satirical songwriter is home for the holidays, even the pantheistic one he invented last year: Christma-Hanu-Rama-Ka-Dona-Kwanzaa.
Mūz: Santa Cruz Media, Music and Arts
If a Danzig show comes to the Catalyst, and Glenn Danzig isn't there to play it, does anybody care?
Music and Nightlife Calendar Picks
Our critics pick this week's most interesting gigs.

MORE MUSIC AND NIGHTLIFE

MUSIC AND CLUBS LISTINGS

Dining: Davenport Roadhouse
Newly re-created Davenport restaurant reneges on some menu promises, but still pleases the palate.

BOOK A RESTAURANT RESERVATION

FIND A RESTAURANT REVIEW

Stage review: 'Buddy: The Buddy Holly Story'
PacRep Theatre scores a hit with their stage retelling of Holly's life.
Letters to the Editor
December 6-13, 2006.