December 27, 2006-January 3, 2007
home | metro santa cruz index | features | santa cruz | feature story
2006 Year in Review
A lurid but luminous look at the year's hypes and highlights
JANUARY
SC COPS INFILTRATE PARADING TERRORISTS
Santa Cruz rings in the new year with a permit-free Last Night celebration. Last Night's Wes Modes (a.k.a. Rico Thunder) tells Metro Santa Cruz that organizers were "upset and flattered" that the Santa Cruz Police Department--possibly inspired by December's revelation that the Defense Department had been monitoring UCSC's Students Against The War--went so far as to send undercover officers to "infiltrate" planning meetings held at the "big yellow house on Branciforte Avenue." "They were just kind of bro dudes, surfer guys, which in a surfer town is not that surprising," said Thunder of undercover agents "Tim" and "Wes." "But given the people who were involved in making the Last Night parade, it was a little different."
Free Market KENNEDY
Robert F. Kennedy Jr., promoting his speech at the Santa Cruz Civic, tells Metro Santa Cruz that a "truly free market" is the key to the environmentalism. "You show me a polluter, I'll show you a subsidy," says Kennedy, adding that "the free market encourages efficiency, and efficiency means the elimination of waste, and pollution is waste." Free market economist Milton Friedman dies shortly thereafter.
Wage Against the Machine
City Councilman Tim Fitzmaurice and other advocates rally outside City Hall to launch the campaign for a city measure to increase the minimum wage to $9.25.
PRAY HARDER
Literary Guillotine proprietor David Watson and UCSC prof John Brown Childs publish the hurricane benefit book, Hurrricane Katrina: Response and Responsibilities, whose release coincides with a day-long conference at the university, where professors from across the country discuss the degree to which race or class informed the government's flawed response to the disaster. "Our governor advised us to try to pray the hurricane down to a Level 2," says New Orleans SEIU organizer Jordan Flaherty at the conference, adding that some folks prayed that the hurricane would head east toward George W's old stomping ground. "I want to apologize to the people of Mississippi for that," he joked. "I think we were a little bit successful, but we didn't quite pray hard enough."
FEBRUARY
JOINT TASK FORCE
Santa Cruz Citizens for Sensible Marijuana Policy begin collecting signatures for an initiative to put pot-related enforcement at the bottom of the cops' to-do list. "This would free up police to focus on legitimate safety concerns in the community," Santa Cruz CSMP's Theodora Kerry tells Metro Santa Cruz. "Nobody is safer because someone doesn't get to smoke a joint tonight."
COPING MECHANISM
California Department of Education administrator Sharon Hawley meets with some 200 Hispanic parents and their children at Watsonville Community Hospital to address a last-minute plea to save Watsonville's three-decade-old Cope Centro Familiar day-care center from being shut down by the state. Despite the day-care center's success in winning a last-minute judgment against a fraudulent contractor to pay back $700,000 in state funds, Hawley declines parents' request to take the restitution into account without having a check in hand. "It sounds terrible," says Hawley, apologizing for her bureaucratic language after answering, "It's not my department."
FRANTI AND THE FRESH PRINCE
Santa Cruz Civic headliner Michael Franti tells Metro Santa Cruz how he knew his time with Capitol Records was coming to an end. "The first thing he [the band's new Capitol rep] wanted us to do was a record with Will Smith," recalls Franti. "I said, 'Maybe I'm not communicating effectively what I want to do.'"
WHAT DID I KNOW AND WHEN DID I KNOW IT?
Santa Cruz Deputy Chief of Police Kevin Vogel investigates why the department sent undercover agents to spy upon Last Night celebration planners, an idea that originates with him. City Manager Dick Wilson who publicly praises the department's internal investigation and declares the matter settled, is forced to reverse his position after police auditor Robert Aaronson declares it "incomplete and flawed" ...
MARCH
BORN-AGAIN SCHWARZENEGGER CRITIC
Following a campaign appearance in Salinas, gubernatorial candidate/eBay millionaire Steve Westly tells Metro Santa Cruz that "until a few years ago, I was living a middle class life and I think of lot of those lessons of hard work and humility are still part of my being." But Santa Cruz County Supervisor Mardi Wormhoudt, who supports Westly's primary opponent Phil Angelides, still remembers the TV ads that Westly and Schwarzenegger did together. "Westly was a supporter of Schwarzenegger's," says Wormhoudt. " Now he's sort of a born-again Schwarzenegger critic." (After Angelides wins the nomination, the Schwarzenegger reelection campaign use Westly's attack ads against Angelides in their own campaign.)
NOBODY EXPECTS THE SPANISH INQUISITION
Former City on the Hill editor Dana Priest, en route to Santa Cruz to accept a university alumni award and talk about breaking the CIA's secret prisons story in the Washington Post, remembers her intelligence sources explaining the process of waterboarding, an interrogation technique that simulates drowning and dates as far back to the Spanish Inquisition. "I think waterboarding actually began there," she tells Metro Santa Cruz. "I'm thinking, 'What world am I in?'"
FASHIONABLE EXIT
County Supervisor Mardi Wormhoudt announces her decision not to run for reelection, leaving Seagate attorney Eric Pesik as the only candidate to have filed his candidacy papers in time. Election officials extend the deadline. Envisioning the Board of Supervisors' future, Wormhoudt tells Metro Santa Cruz, "No one will have as good accessories; shoes and jewelry will be lacking."
FREE SPEECH (WITH MINIMUM PURCHASE)
Some 2,000 protestors march in Watsonville to protest immigration bill H.R. 4437. "The Constitution gives people the right to assemble and protest," Brown Beret member Ramiro Medrano tells Metro Santa Cruz. "But cities tweak that right by saying yes, but we'll tell you when and how you exercise it--and how much it'll cost you." Of the 2000 marchers, only the 26-year-old Medrano was singled out by Watsonville police, who charged him with multiple traffic violations.
DICK CHENEY JOKES GO HERE
Artist Darryl Ferrucci turns the Attic into an indoor shooting gallery, allowing spectators to take turns using a high-powered pellet gun. Ferrucci explains the higher calling of his art to Metro Santa Cruz: "Some Americans still perform a tradition ritual of Freedom, Individuality and the Right to Bear Arms," he says, "by hauling old cars and other pieces of metal junk out to desolate areas and blasting them full of bullet holes."...
APRIL
THE CROWDS ARE MUCH WHITER THERE
Reacting to a forthcoming ordinance that makes it illegal for people to loiter in public parking lots, the Santa Cruz Guerilla Drive-In hosts a Flim Flam Film Festival in the Cedar Street parking garage. After the distribution of lyrics, revelers engage in a new rendition of Petula Clark's "Downtown," featuring the chorus, "The crowds are much whiter there/ They walk past all your troubles, step over your cares."
MYSPACE CADETS
Describing the hypocrisy of having her art censored on the Rupert Murdoch-owned MySpace, Santa Cruz artist Koak tells Metro Santa Cruz, "Every time I log on to MySpace, I see photographs of naked and half-naked girls." But not everyone's displeased. "The Chop Tops now have four times as many fans as before," says Gary "Sinner" Marsh. "We've seen huge returns form MySpace and have turned a lot of other bands onto it."
THAT'S TELLIN' 'EM!
A half-dozen West Side SUV owners wake up to find their vehicles spray-painted with messages like "Oil for blood" and "Guzzle." Assuming the perpetrators are students, one woman responds by repainting her SUV with the retaliatory slogan "Die UCSC."
TRANE KEEPS A ROLLIN'
In an interview previewing his Kuumbwa show, saxophone genius Pharoah Sanders remembers his former bandleader John Coltrane: "Trane, I think he could play a song for maybe two or three hours! I always wished I could be that creative, the way he was." Sanders ends up playing a healthy selection of Coltrane classics at the Kuumbwa, including "Giant Steps" and Naima."
THE PLAME GAME
On the eve of his Santa Cruz lecture, Joe Wilson (former diplomat and husband of outed CIA agent Valerie Plame) comes clean to Metro Santa Cruz. "In 2000, I thought Mr. Bush would be a better candidate for the presidency than Mr. McCain," he admits. "I was clearly wrong in that judgment." ... Jesse Thorn, host of The Sound of Young America, names his final KZSC broadcast after the Thrills' song "Santa Cruz (You're Not That Far)"
SHANKAR SOARS
Ravi Shankar, previewing his Festival of India concert at the Civic, tells Metro Santa Cruz about his tour mate. "From the very first day I started teach her at the age of 8 1/2, I realized she was tremendously talented," he says of his daughter Anoushka. Does she ever challenge him? "In India we observe a lot of respect, so that kind of thing doesn't come up," he says. "But there is a lot of playfulness there."
MAY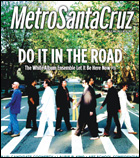 BEATLE BREAKDOWN
The White Album Ensemble debuts "Let Abbey Road Be." Explaining some of the liberties the group takes, Dale Ockerman tells Metro Santa Cruz, "Even the biggest Beatles fans will admit that Let It Be is the sound of the world's most popular band falling apart."
DO YOU HEAR THOSE ADJECTIVES?
The Santa Cruz County Arts Commission's "Artist of the Year," novelist Laurie R. King, composes a short story live onstage at the Simpkins Family Swim Center in Live Oak
HOT DANM!
UCSC's Digital Arts and New Media festival blurs the lines between science and the arts. "Say I want to figure out the difference in the statistics between a bad dancer and good dancer," muses computer science professor James Davis. "What are the underlying functions, how do we map one function to another?"
FILM FESTIVAL FAVES
Area director Luane Beck shows her film, Gods and Gays, at the Santa Cruz Film Festival. Other films include Genie in a Bottle, an experimental documentary about the making and dropping of the atomic bomb made by two sixth graders. "My friend Brett--we kind of tease him about looking like Hitler, because he has that hair," says Stephen Sotor of his casting decisions. "And my grandpa had an old wheelchair, so we put my friend Brook in it, even though he doesn't really look like Roosevelt."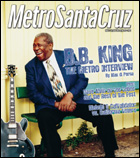 B.B. KING'S CONFESSION
Blues Festival headliner B.B. King tells Metro Santa Cruz of the first time he and U2 played together onstage. "I was scared half to death," he claims. "The Edge is a whole orchestra by himself on the guitar. He plays chords of all kinds and I don't play no chords worth anything. And I was scared. I was like a cat with a dog in front of him." Other performers include Dave Alvin and Los Lobos. "I've known Los Lobos forever," says Alvin. "We know all of each other's dirty secrets!"
A TRAGIC END
UCSC Chancellor Denice Denton's suicide triggers waves of shock, sadness and soul searching here in Santa Cruz. "We should not make this woman into an abstraction of psychology or politics," writes Neal Coonerty in the following Wednesday's Metro Santa Cruz. "Instead, we should sincerely mourn the person we have lost to a terrible sorrow. We should comfort her family and friends. And we should remind ourselves to be more gentle and kind with each other."
JUNE
BAMBOO-YA
On the eve of New Music Works' 25th annual Avant Garden Party, featuring bamboo flutes in a bamboo garden, NMW founder Phil Collins expresses his debt to the late Lou Harrison. "He always encouraged me to put on my own concerts and do things myself," Collins tells Metro Santa Cruz. "He'd frequently turn down more monoey to be able to do his own thing. He was often quoted as saying, 'I prefer to be an amateur.'" Meanwhle, Collins refuses to discuss rumors of a Genesis reunion.
GLOBAL WARPING
Semipresident Al Gore, talking to Metro Santa Cruz to promote his newly opened film, An Inconvenient Truth, explains how life changed--after his appearance on Futurama. "My daughter Kristin worked for Matt Groening for three years," recalls Gore. "I was invited to do a comeo appearance as a disembodied head on the show. So I was walking down Townsend Street [in San Francisco] and some business associates and I were on our way to the Paragon restaurant. Coming toward us are some mean and women in their late 20s, making the transition, I'm thinking, from punk rockers to responsible business persons. One of them recognizes me and shouts, 'I have ridden the mighty Moon Worm!' My colleagues are saying, 'Whaaaa?'"
CHRIS DID WHAT?
An 11th-hour hit piece from the Chris Krohn campaign for county supervisor featuring the image of a shocked child exclaiming, "Neal did what?!" is subsequently condemned by fellow candidate Jonathan Boutelle, outgoing supervisor Mardi Wormhoudt and her predecessor Gary Patton. Later in the week, the Coonerty campaign celebrates its victory by using the same picture on a cake. "It had the image of the little girl holding her face going, 'Neal did what?'" Coonerty tells Metro Santa Cruz. "And then underneath it we wrote: 'He won.''' No word on whether the Krohn camp sued for copyright violation.
COME FOR THE WASTE, STAY FOR THE VIEW
In a story on how to recycle anything, Chris Moran invites folks to visit the local Resources and Recovery Center, located three miles up Highway 1 at 605 Dimeo Lane, for what he insists is "the best view of any landfill, ever."
JULY
THE ROTKIN STRIKES BACK
City Councilman Mike Rotkin reacts to Last Night parade's Wes Modes' claim that Rotkin was being "bullied by the city manager and police" to put a positive spin on a new police surveillance policy that Modes claims falls short of equivalent policies in S.F., Seattle and D. C. "Hey, those guys work for me, not the other way around," counters Rotkin, insisting he hadn't talked to either of them before giving his public endorsement. "So that makes it a little hard for them to bully me."
TIME OFF FOR GOOD ACTING
The Rio Theatre screens Shakespeare Behind Bars as a benefit for the William James Association, a Santa Cruz-headquartered group that brings arts programs into prisons. "Inmates are thirsty in an environment void of creation, where everyone is wearing the same clothes and eating the same food," says the association's executive director Laurie Brooks, who goes on to liken prison arts programs to "a beating heart of humanity in a monochromatic and dehumanizing environment."
IT COULD HAPPEN HERE
A cluster of high-profile crimes in Santa Cruz, including several gang-style shootings, prompts the Police Department to hold a town meeting. "It almost seem incomprehensibe that somebody could just take a gun and start shooting at people's houses," police spokeman Zach Friend tells Metro Santa Cruz, "or that they could be driving through a community and shoot two people standing at a street corner."
AUGUST
LIFE BACK IN BALANCE
August heats up with the annual Cabrillo Music Festival. Among the highlights is renowned local photographer Frans Lanting's multimedia collaboration with Philip Glass called Life: A Journey Through Time. When asked what separate us from the wildlife he shoots, Lanting responds: "What separates us? Perhaps only a belief that we are not connected ultimately, and that we can exist independently of everything else. The notion of a living planet is a very inclusive concept, and we cannot exist apart." Meanwhile, director Marin Alsop, returning from her Baltimore Symphony Orchestra post to conduct the festival, likens the celebrated event to a fling as opposed to a marriage: "If it was 52 weeks," she laughs, "it would probably be fraught with politics!"
HOG HELL
KPIG is still scrambling to cover air shifts after the replacement of overnight team Jessie and Terrance with automated programming as a cost-cutting measure triggers an exodus that includes fellow DJs Dallas Dobro and Ramblin Ror. "Radio's turned into real estate," mourns Dobro, who will later emigrate to KZSC. Meanwhile, former KZSC programmer Jesse Thorn resurfaces with his Sound of Young America show on KUSP. "This is a show with a real point of view," proclaims Thorn. "Mine."
THE QUEEREST OF THEM ALL
UCSC lands among the Top 20 Best Campuses in The Advocates College Guide for LGBT Students, but ends up ranking behind UCLA and even (shudder) Ohio State. The two areas where UCSC flunks are in actively recruiting LGBT students to enroll on campus and training campus police on LGBT sensitivity.
SEPTEMBER
CHARGE OF THE LIGHT BRIGADE
Santa Cruz Institute of Contemporary Arts director Kirby Scudder has to downsize his "Night-Light" project from 40 miles of coastline down to three, but otherwise it goes off without a hitch. "We need to be talking about peace," says Scudder of the project, which lights up the coastline as a statement. "It needs to be on everybody's mind all the time."
GANG TASK FORCE? WHAT GANG TASK FORCE?
Prompted by the Sentinel's breathless coverage of Santa Cruz's "gang task force," Metro Santa Cruz makes a date to go on a gang squad ride-along, only to be stood up on a Saturday night standing outside police headquarters. Lt. Rick Martinez later explains that the gang task force is not granting ride-alongs to the public, so as not to compromise the integrity of the program. Later still, SCPD spokesman Zach Friend admits that there really is no gang task force, that it actually consists of some regular officers picking up overtime shifts on weekends. "What about all those articles in the Sentinel?" we ask. "They're all wrong," he says.
PARKING METER TASK FORCE RIDE-ALONG
Undaunted, Metro Santa Cruz turns its attention to the more pressing problem of parking meter fraud after the department announces the cracking of a large-scale meter theft ring. Sadly, we are unable to line up a Parking Meter Task Force ride-along--those meter maid vehicles are awful little--but we did join other concerned citizens in heeding SCPD request for downtown and beach area patrons to keep an eye out for "prolonged or supicious meter interactions."
OCTOBER
DOW JONES DUMPS SENTINEL
The Birmingham, Alabama-based chain Community Newspaper Holdings, Inc. (CNHI) stakes out its first community west of the Rockies with its purchase of the Santa Cruz Sentinel from Dow Jones. "We love isolated markets," insists a CNHI representative, while editor Tom Honig says he doesn't expect further layoffs, enabling countless fans of Don Miller's columns to breath a sigh of relief.
GEOGRAPHY LESSON
This year's Pacific Rim Film Festival features works from Thailand, India, Korea and--the Great Lakes? Festival spokeswoman Ann Parker admits that organizers have taken a "fairly relaxed view of what the Pacific Rim includes," noting that this particular film's subject matter (surfing on the Great Lakes) has obvious coastal origins.
SEX OFFENDERS EXIT HAPPY VALLEY
Neighbor complaints and subsequent code violations lead to the closing of Happy Valley Villa, a Branciforte Drive rental property that was home to 17 sex offenders. On the eve of eviction, one resident who had yet to find housing nevertheless sang his former landlord's praises to Metro Santa Cruz: "This man deserves a lot of credit," says paroled offender Jess Flores. "He actually tried to give us a start."
PROMOTERS REVEAL ALL
With more than 100 years of booking our top venues between them, five veteran Santa Cruz music promoters sat down with Metro Santa Cruz for a landmark round-table interrogation. In addition to discussing their arrest records, the group told stories about the Grateful Dead's road crew refusing to work until their dogs were served Perrier and remarked on what a unique market Santa Cruz can be. "It's really common to hear artists say that this is the best date of the tour," says Pulse Productions' Michael Horne. "They really love the Santa Cruz audience."
LACY J. DALTON ASSESSED HOUSING MARKET
Back for her "double-30th" birthday run at Don Quixote's, Lacy J. Dalton says she still longs for Santa Cruz. "I think about moving back there but the houses are so expensive," she tells Metro Santa Cruz. "You can get an outhouse on a postage stamp for $450,000."
THE WHOLE TOWN IS WATCHING
A protest outside a UC Regents meeting held at UCSC suddenly turns violent after protesters learn that they won't be granted access to the public comment period unless they signed up prior to the event. "The crowd surged forward and the community leaders were spit at and struck physically," university spokeswoman Liz Irwin tells Metro Santa Cruz, adding that the UCSC police were "acting to protect their guests" when they used pepper spray on protesters.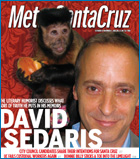 WHAT MAKES DAVID SEDARIS SPECIAL
In a Metro Santa Cruz cover story on the eve of his sold-out Civic appearance, humorist David Sedaris reveals the secret of his success: "The same things happen to everybody. It's just that some people know how to type and some people don't."
NOVEMBER
ELECTION DAZE
Republican Gov. Arnold Schwarzenegger handily defeats opponents Phil Angelides and Peter Camejo. However, Schwarzenegger's hand-picked secretary of state--former Santa Cruz legislator Bruce McPherson--is defeated by Democratic opponent Deborah Bowen, running as the anti-Diebold candidate. Local measures favoring marijuana and opposing university expansion are passed, but the measure to raise the local minimum wage to $9.25 is voted down, in part because of a raise in the state minimum wage. Still, says Sam Farr, such efforts are never in vain. "What you observe in Washington is that all progressive reform starts at the state and local level, and when you get a critical mass of states who are in agreement, then you get a change in national policy," says Farr, who will be part of the new Democratic majority in Congress pushing for a change in the federal minimum wage. "So I applaud the effort at making it a debatable issue.
TIMMY WE HARDLY KNEW YE
Termed-out City Councilman Tim Fitzmaurice steps down after eight years in office, including one as mayor. "I was hoping to get a job as a staff assistant to Neal Coonerty, the new supe," jokes Fitzmaurice in a Metro Santa Cruz essay recounting his years in office, "but I guess that's out."
BROKEN PROMISE
A new report reveals that Santa Cruz County's child abuse and neglect statistics are above the state average. County public information officer Linda Kerner says it's not just up to child protection agencies to solve the problem. "It's a community problem and we look to the community for their help," she tells Metro Santa Cruz. "We need them to be our eyes and ears for these kids who can't speak up for themselves."
DECEMBER
THIRD TIME'S A CHARM
After two less successful appearances in Santa Cruz, the Blind Boys of Alabama put on a triumphant sold-out performance at the Rio Theatre. In a Metro Santa Cruz cover story earlier in the month, septegenarian Blind Boy founder Clarence Fountain says that while peers crossed over to secular music, the Blind Boys continued to keep the faith. "Of course if I was singing the blues," he can't help but add for the record, "I'd tear it up just like B.B. King."
NOT YOUR PARENTS' NATIONAL ANTHEM
Fresh from a trip to New York, where he accepted the National Book Award for Splay Anthem, UCSC's Nathaniel Mackey tells Metro Santa Cruz that he was midway through writing the book when 9/11 happened. "It seemed like what I had already been writing about," he says, "now had this very huge and momentous resonance."
STRAIGHT OUTTA WATSONVILLE
Watsonville's Los Dryheavers enjoy bringing some diversity to the often white-washed local punk scene. "We played the Catalyst last week and there were 100 Mexicans out there from Watsonville, Salinas and all around," bassist Cory Atkinson tells Metro Santa Cruz. "It add character to the show."
Send a letter to the editor about this story.