December 13-20, 2006
home | the papers | metro santa cruz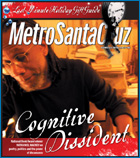 Nathaniel Mackey
The National Book Award winner Nathaniel Mackey talks about poetry, jazz and the alchemy of creating beauty from discord.
Last-minute gift guide
Twenty excellent and/or eccentric gifts to help rescue the holiday procrastinator in all of us.

Battle against Los Gatos Creek logging plan
Mountain residents find an endangered species could decide their battle.
Nūz: Santa Cruz News and Politics
Numerous races are still undecided across the state and the nation due to close elections, including two right here in Santa Cruz County.

Movie review: 'Apocalypto'
Mad Mel indulges his bloodlust in the jungles of Mesoamerica.
Movie review: 'The History Boys'
This adaptation of Alan Bennett's successful 2004 play examines the class learned in class.
Cult Leader: 'Fitzcarraldo'
Herzog vs. Coppola: Bet on 'Fitz.'

MORE MOVIE REVIEWS

SANTA CRUZ COUNTY MOVIE TIMES

Mayim
The revolution will not be instrumentalized.
New Music Works
Phil Collins turns up a new species of counterpoint.
Mūz: Santa Cruz Media, Music and Arts
Me First and the Gimme Gimmes--the world's greatest cover band--play the Catalyst Saturday.
Music and Nightlife Calendar Picks
Our critics pick this week's most interesting gigs.

MORE MUSIC AND NIGHTLIFE

MUSIC AND CLUBS LISTINGS

Dining: Center Street Grill
Offers a balance of fried treats and fresh vegetables.

BOOK A RESTAURANT RESERVATION

FIND A RESTAURANT REVIEW

Letters to the Editor
December 13-20, 2006.